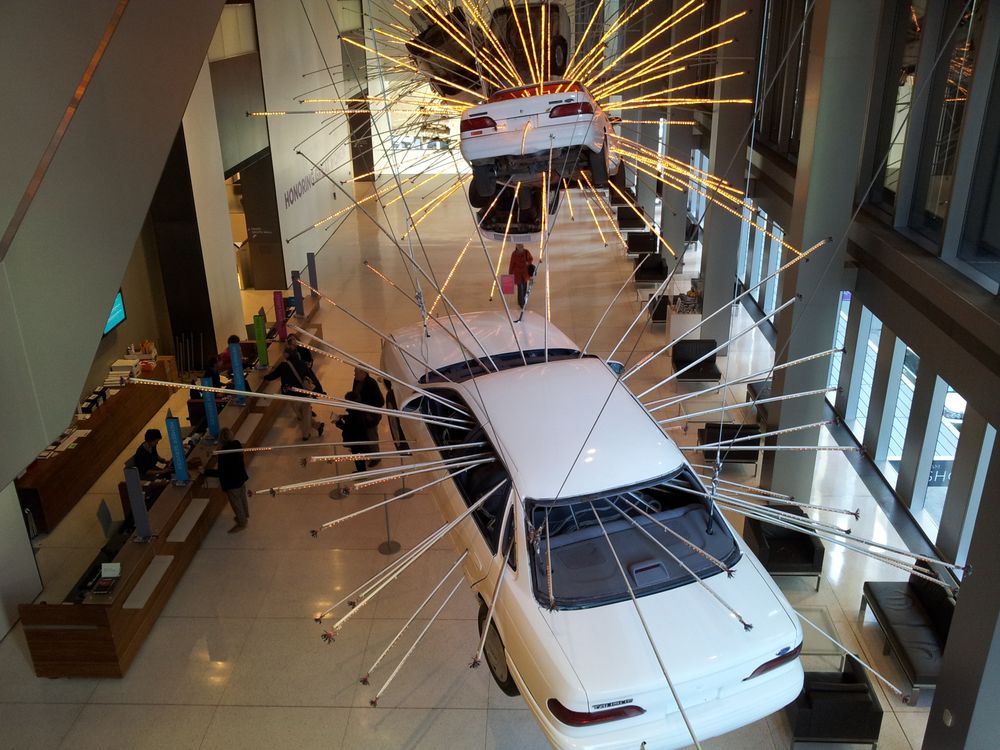 As I discussed last week, Cai Guo-Qiang's Inopportune: Stage One is a powerful headlining piece for the retrospective of his work at the Guggenheim. This installation, perhaps rightly so, gets the lion's share of the attention and press. But the show as a whole goes a long way toward giving a sense of Cai's methodology, thematic interests and creative scope.
Cai grew up during China's Cultural Revolution in the 1960s and 70s. In many ways, his artistic interests were conceived during that period. His standout innovation, however, is drawn from a far more ancient Chinese source. Harnessing the combustive power of gunpowder, Cai ignites canvas, paper, and even clothing. The resulting burn-marks patterns and scorches are incendiary and atypical, meticulously executed yet spontaneous. These pieces are often presented in counterpoint to photographs documenting Cai's explosion events, which have taken place all over the world.
His focus on the juxtaposition of individual actualization and the societal collective is one of his latest tangents. Producing "social projects" as they are called, Cai has opening museums in out-of-the-way sites that are not the standard venues for art viewing, bunkers for example. The artist takes on the role of museum curator, and orchestrates events that require a great deal of logistical groundwork and social involvement. Complicating these efforts is the staggering amount of resources—assistants, volunteers, laborers—the artist brings together for these events.
Photo credits: Cai Guo-Qiang, Fetus Movement II: Project for Extraterrestrials No. 9, 1992. Realized at Bundeswehr-Wasserübungsplatz military base, Hannover Munden, June 27,1992, 9:40 p.m., 9 seconds. Land area 15,000 sq. m. Gunpowder (90 kg), fuse (1,300 m), seismograph with nine sensors, electroencephalograph, and electrocardiograph. Commissioned by The Kassel International Art Exhibition. Photo by Masanobu Moriyama, courtesy Cai Studio.