Broadway's Top Ten Musical Flops
With the imminent re-opening of Spiderman: Turn Off the Dark, we look back on some of the most memorable failures in musical theater history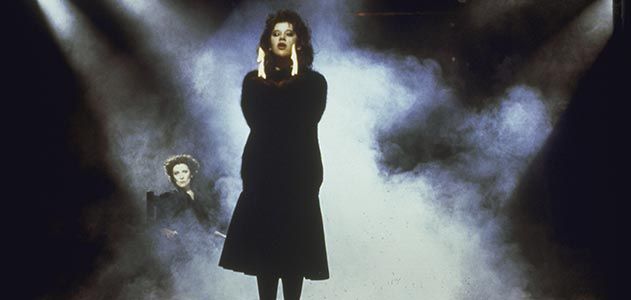 In Mel Brooks' The Producers, washed-up theater producer Max Bialystock and wishy-washy accountant Leo Bloom figure they can get rich quick with a Broadway flop if they raise more money than they need to stage the show. (Their plan ultimately backfires and the pair end up in prison for fraud.) In real life, the creative minds that conspire to put on a show aim for greatness, but in the highly competitive New York theater scene, more shows bomb than succeed. Some of these failed productions have managed to attain a degree of fame—or infamy. Here are ten musicals that were spectacular flops in their Broadway debuts.
1. Pipe Dream (1955)
Richard Rodgers and Oscar Hammerstein ushered in the era of the modern Broadway musical with Oklahoma! in 1943 and followed up their success with shows such as Carousel, The Sound of Music and the Pulitzer Prize-winning South Pacific. But even these legendary figures were not immune to creating a flop. Pipe Dream started off as an adaptation of John Steinbeck's Cannery Row; however, when that novel proved difficult to turn into a stage show, the author penned a sequel, Sweet Thursday, hoping it might prove more suitable for a musical. But the songwriting duo tried to shoehorn Steinbeck's cast of affable bums and prostitutes into a more traditional Rodgers and Hammerstein mold. It didn't work. "It is so warm-hearted about a cold world," Louis Kronenberger wrote in Time magazine, "so high-minded about its lowlifes as to emerge mere hootch-coated butterscotch." A Tony nomination for best musical still couldn't save the show from shuttering after 246 performances—the shortest run of any Rodgers and Hammerstein musical and their only show to lose money and not go on tour. Never revived on Broadway, some of Pipe Dream's songs were transplanted into the 1996 staging of Rodgers and Hammerstein's State Fair, which ran for 110 performances. A year after Pipe Dream, another major musical theater composer had similar rotten luck: Leonard Bernstein's Candide, adapted from Voltaire's satiric novella, lasted only 73 performances in its original run. However, that flop had the rare distinction of going on to become a hit. When revived in 1973, Candide ran for 740 performances. It has since entered the repertory of opera companies, standing as one of the great achievements of American theater.
2. Kelly (1965)
In 1965, theatergoers had the opportunity to see now classic musicals such as Fiddler on the Roof, Funny Girl and Hello, Dolly! on Broadway. But only a handful had the opportunity to see Kelly. Offhand, Steve Brodie, the man who in the 1880s claimed to have jumped off the Brooklyn Bridge, seems an unlikely basis for a musical. And yet the creative team of Eddie Lawrence and Mose Charlap devised a story about a daredevil busboy named Hop Kelly who runs afoul of a group of Bowery gamblers that try to prevent him from surviving a jump from the Brooklyn Bridge so they can win a bet—but of course a resourceful Kelly ultimately succeeds. Lawrence had never written a musical, and the team of producers handling Kelly had never produced a Broadway musical, critical factors that did not work in the production's favor. Even script revisions by Mel Brooks—among a bevy of other writers—prior to the New York opening could not save the show. Song titles are now tragicomic in their irony: "Everyone Here Loves Kelly" and "I'll Never Go There Anymore." In the end, nobody loved Kelly. It ran one performance, the night of February 6 at the Broadhurst Theater, and closed at a $650,000 loss amid universal critical pans. The sets were buried in the muck of a New Jersey dump a few days later.
3. Breakfast at Tiffany's (1966)
There has yet to be a successful musical adaptation of a Truman Capote work: House of Flowers ran for 165 performances, The Grass Harp ran for seven. Breakfast at Tiffany's, one of the most anticipated productions of the 1966-1967 theater season, didn't survive previews. The source material itself was problematic for a successful adaptation: Capote's 1958 novella about enigmatic society girl Holly Golightly was a mood piece without a linear plot. Furthermore, the story had already been morphed into an Oscar-winning film featuring Audrey Hepburn and the hit song "Moon River," so audiences already had an idea of how the story should play and sound. However, in crafting the musical's heroine, writers ditched the disarmingly charming Holly of the film in favor a harsher characterization that was truer to the brazen call girl in Capote's book. Tryouts on the road didn't fare well with audiences, and Who's Afraid of Virginia Woolf playwright Edward Albee was brought in to completely rewrite the story just before the show reached Broadway. Nevertheless, by the time Tiffany's limped into the Majestic Theater for previews, audiences were appalled to see leading lady Mary Tyler Moore—better known to all as the sweet-natured Laura Petrie on The Dick Van Dyke Show—play a foul-mouthed tramp. The show played four previews before closing at a total financial loss. A 2009 musicalization of Breakfast at Tiffany's that ran in London's West End fared somewhat better and ran some 140 performances.
4. Via Galactica (1972)
In the late 1960s, Broadway embraced youth culture with rock musicals such as Hair and Jesus Christ Superstar. And then there's the short-lived science fiction spectacle Via Galactica. The musical set some 1,000 years in the future was technically ambitious with its laser beams, flying spaceships and trampolines embedded in the stage floor to simulate weightlessness in outer space. Its plot, however, was so incomprehensible that synopses were inserted into the Playbills to assist befuddled theatergoers. Featuring country and gospel-infused music by Galt McDermott, the composer who helped to successfully bring '60s counterculture to the Broadway stage with Hair a few years before, the show closed after a mere seven performances.
5. The Rocky Horror Show (1975)
Richard O'Brien's campy sendup of science fiction movie schlock debuted in a gritty, 60-seat British theater in 1973 and made its way across the ocean, opening at Broadway's Belasco Theater in March 1975. The tenuous story of Brad and Janet, the all-American couple held hostage in the glittery and depraved clutches of a transvestite-cum-mad scientist from another planet, did not pass critical muster and said "hello" to oblivion after 45 performances. The musical fared far better in its motion picture incarnation, although that too was not initially a box office success when it premièred in September 1975. The film version of The Rocky Horror Picture Show grew into a worldwide cult phenomenon after the film's distributors began screening the film at midnight. The movie remains in circulation as a late-night attraction, with audiences talking back to the film and employing props—such as squirt guns, rice and toast—at appropriate moments in the story. Audience participation has become so integral to the Rocky Horror experience that when the stage show was revived on Broadway in 2000, theatergoers were offered ready-made kits of things to throw. The revival fared much better, with a 437-performance run; however, Rocky Horror, along with other shows on the Great White Way, went on hiatus after the September 11, 2001, terrorist attacks. Although it reopened in October of that year, the Rocky revival couldn't regain its footing and permanently shuttered in January 2002.
6. Bring Back Birdie (1981)
Sequels to musicals have always struggled: shows such as Let 'Em Eat Cake, George and Ira Gershwin's continuation of their Pulitzer Prize-winning Of Thee I Sing; The Best Little Whorehouse Goes Public, which detailed the further adventures of madam Mona Stangley; and A Doll's Life, Betty Comden and Adolph Green's sequel to Ibsen's A Doll's House, all tanked. The same fate was in store for Bring Back Birdie, composer Charles Strouse's attempt to follow up on his 1961 breakout success, Bye Bye Birdie, which garnered a Tony Award for best musical. The show picks up 20 years after agent-turned-English teacher Albert Petersen and fiancée Rosie Alvarez walked off into the sunset. The now happily married couple is offered a sum of $20,000 if they can locate Conrad Birdie, the teenage heartthrob and rock idol they managed in the original show, so he can make a special appearance at the Grammys. Lacking the charm of the original, Bring Back Birdie forewent the usual string of out-of-town tryouts, which most productions use to make tweaks and adjustments, and opened outright in New York. Although Chita Rivera, reprising her role as Rosie, nabbed a Tony nomination, Bring Back Birdie closed after four performances. Strouse later tried to write a sequel to his other major musical hit, Annie, with Annie 2: Miss Hannigan's Revenge, which closed during tryouts at the Kennedy Center in Washington, D.C. Love Never Dies, Andrew Lloyd Webber's sequel to The Phantom of the Opera—the longest-running musical of all time—received mixed reactions from critics and fans of the original show when it opened in London in March 2010. Revisions are expected before it opens in New York.
7. Into the Light (1986)
Offhand, science and archaeology don't seem like musical theater material. And yet there is Into the Light, which was based on a 1978 scientific examination of the Shroud of Turin to determine if it could indeed be Jesus Christ's burial cloth. The musical told the fictional story of physicist James Prescott whose obsessive work with the shroud alienates him from his son, who copes by way of an imaginary friend in the form of a prancing mime. Clerical kick lines or displays of smoke and lasers were hard pressed to hide the fact that subjects such as molecules and metaphysics are not best explored in song—especially with lyrics like "science without data will not get you from alpha to beta." Short of divine intervention, nothing could save the show from closing after six performances.
8. Carrie (1988)
Stephen King's Carrie, a horror story about a high-school girl with telekinetic powers and blood lust, was a best-selling novel and a popular 1976 film. It did not, however, make for an equally successful Broadway musical. Reconceived as a riff on Greek tragedies—with high-school girls in togas and red body stockings and boys in studded leather—the show was an almost entirely sung pop opera. There were inherent problems in staging a supernatural thriller: Carrie's telekinetic powers were fatally downplayed, and in one scene where the character prepares for prom—the token moment where the audience sees her full prowess over inanimate objects—the display of brushes and powder puffs whizzing around the stage was inappropriately comic. "Puppetry has its uses," theater critic David Richards wrote in his Washington Post review, "although advancing terror is not one of them." Furthermore, Act II opened with a group of spiteful teenagers slaughtering pigs to use in an elaborate booby trap whereby an unwitting Carrie is to be drenched with a bucket of blood. Setting animal slaughter to music—"It's a simple little gig / You help me kill a pig"—somehow seems grossly ill-advised. Opening on a Thursday, it closed that Sunday, playing five performances at an $8 million loss. The show's reputation of being one of the most spectacular flops to grace the Broadway stage earned it a cult following, and the off-Broadway MCC Theater plans to mount a heavily revised version of Carrie—which omits the pig murder number—during the 2011-2012 season.
9. The Civil War (1999)
Civil War musicals have a troubled history, as seen by failed shows like My Darlin' Aida, which transplanted Verdi's Aida to the American South, and two adaptations of Margaret Mitchell's Gone With the Wind. Nevertheless, in 1999 composer Frank Wildhorn presented his take on the deadliest conflict ever to take place on U.S. soil. Told from the perspectives of the Union, Confederacy and Southern slaves, The Civil War was a musical revue without a plot that covered the span of the war by way of Top 40-style pop songs infused with rock, country and R&B. Although it was nominated for a Tony Award both for best score and best musical, The Civil War closed in June after playing 35 previews and 61 performances. While this show has yet to resurface on the Broadway stage, it has been reconceived, reworked and remounted elsewhere, such as a 2009 concert version produced at Ford's Theatre in Washington, D.C.
10. Taboo (2003)
Daytime talk show host Rosie O'Donnell always made a point of highlighting the latest in Broadway entertainment on her late-afternoon television program, and she herself appeared on the Great White Way as Rizzo in the 1994 revival of Grease. With Taboo, a musical about 1980s performance artist, promoter, fashion designer and London nightclub personality Leigh Bowery, O'Donnell took on the role of the producer and used $10 million of her own money to bankroll the show, after seeing a version of the musical in London, where it had minor success. With a score by Boy George, formerly the lead singer of the British pop band Culture Club, the show was faulted for having a convoluted storyline overpopulated with underdeveloped characters. Themes of celebrity, drug addiction and sexual confusion may have made it a tougher sell to American theatergoers. Opening to mixed and negative reviews, and in spite of an aggressive advertising campaign, Taboo played 100 performances and closed at a total loss. As the character Max Bialystock said in The Producers: "Never put your own money in the show!"