Bringing the Color Back to Ancient Greece
The white marble statutes we revere were originally dressed in eye-popping pigments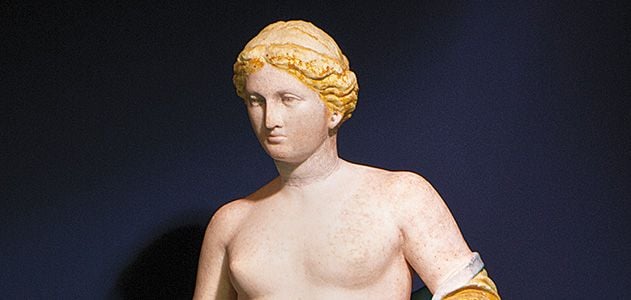 The Greeks took their beauty seriously. It was a beauty contest, after all, that touched off the Trojan War. Athena, Hera and Aphrodite vied for Paris to decide who was the fairest among them. After Aphrodite promised him the love of the most beautiful mortal woman, Paris carried off Helen to Troy. Thus began the true mother of all wars.
As the goddess of love, beauty and sexual pleasure, Aphrodite inspired cult worship and challenged artists to render her in suitably magnificent form. We have inherited an image of her as an idealized nude chiseled in white marble, immortalized by works such as Praxiteles' Aphrodite of Knidos or the Venus de Milo.
That image is dead wrong, according to modern scholars. Ancient sculptors were very much interested in color as well as form; the white marble statues we admire looked stunningly different in antiquity. They were painted with a palette that displayed a sophisticated understanding of color and shading.
To illustrate how a marble Aphrodite might have appeared to the ancients, we asked German archaeologist Vinzenz Brinkmann, who has pioneered techniques of color restoration, to create a photomechanical reconstruction—never before published—of the first-century A.D. Roman Lovatelli Venus. It was excavated from the ruins of a villa in Pompeii. Unlike most ancient statues, this one gave Brinkmann a head start, because copious evidence of original paint survived. "There are rich traces of pigment which we analyzed using noninvasive methods such as UV-Vis absorption spectroscopy," he explains. "What we do is absolutely faithful, based on physical and chemical measurements."
Brinkmann is struck by the synergy of form and color in modeling the goddess's act of disrobing. "The spectator," he says, "awaits the next second, when her nakedness will be displayed. The sculptor creates a mantle that is heavy on the upper rim, to clearly explain that it will slide—and enhances this narrative by giving the rim its own color."
The Lovatelli Venus may be one of the earliest examples of private art collecting, Brinkmann says. The work lent a decorative flourish to a nouveau-riche household.
To the Greeks, the marriage of color and form had deeper connotations, suggests Harvard art historian Susanne Ebbinghaus. She points to a passage in Euripides, in which a remorseful Helen bewails her role in sparking a catastrophic war:
If only I could shed my beauty and assume an uglier aspect
The way you would wipe color off a statue.
"The passage is very interesting," Ebbinghaus says, "because it conveys the superficial, transient nature of paint—it can be easily removed. But at the same time, if we take the words literally, what the paint contains is the very essence—the beauty—of an image."