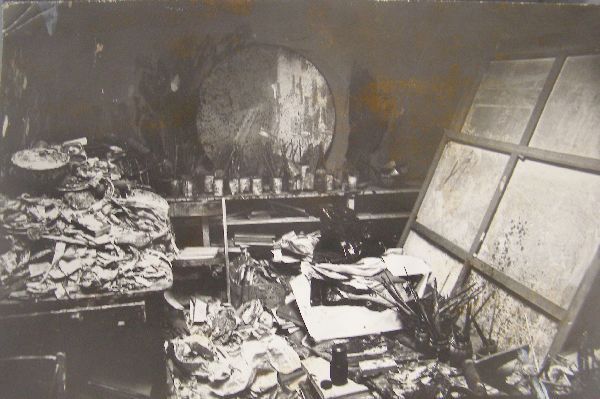 That's great news for one of Bacon's old drinking buddies. Thirty years ago, electrician Mac Robertson took home three trash bags worth of stuff from the artist's studio and put them in his attic for safekeeping. Bacon was about to dump the items—which included portraits, photographs, notebooks and letters—after becoming enraged that workmen had disturbed his studio (pictured above is Bacon's studio in its naturally chaotic state, circa 1975). "It's yours—take what you want," Bacon reportedly told Robertson, now 75.
On April 24th, the 15th anniversary of Bacon's death, the 45 lots of "The Robertson Collection of Items from the Studio of Francis Bacon" will be auctioned by Ewbank Auctioneers. Among the lots are three oil portraits, three sketches of dogs and four spooky, mutilated portraits in which Bacon hacked holes where the faces should be. Also included in the sale are letters to and from Bacon, his personal papers and photographs. eBay is now accepted absentee bids.
Meanwhile, Sotheby's should soon push the auction record for Bacon's work even higher. The auction house has just announced that they will offer Bacon's Study from Innocent X (1962) in their contemporary evening sale on May 15. The painting, which has never appeared at auction before, is expected to go for more than $30 million.
The work (above, right) comes from an important series of paintings by the artist that he based on Diego Velasquez's 1650 Portrait of Pope Innocent X (above, left), which Bacon called "one of the greatest portraits that has ever been made." Bacon claimed never to have seen the original Velasquez, which is at Rome's Galleria Doria Pamphilj, relying on a reproduction.
And the other inspiration for this work? The iconic image of a screaming, bloody nurse from Eisenstein's Battleship Potemkin. "Images also help me find and realize ideas," Bacon once said. "I look at hundreds of very different, contrasting images and I pinch details from them, rather like people who eat from other people's plates."