Bringing Andy Warhol's Shadows to the Hirshhorn
Later in his career, the 20th century painter explored abstract art in numerous large paintings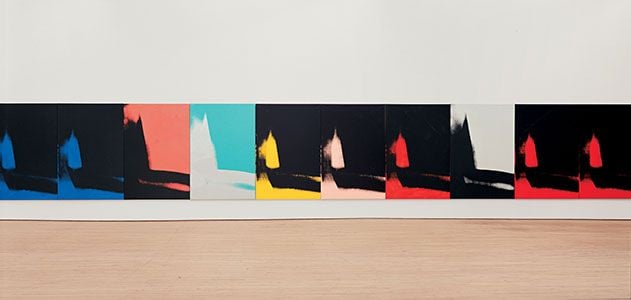 It was five o'clock and lightly snowing when a limo picked up Andy Warhol and took him to the Heiner Friedrich Gallery at 393 West Broadway in SoHo. Earlier in the week, Warhol's assistants, Ronnie Cutrone and Stephen Mueller, had hung his latest work there, a series of boldly colored paintings titled Shadows. And, on this late-January night in 1979, the gallery was hosting a preview.
In his diary, Warhol described how "all the usual fantasy kids that go to openings" circled the gallery with cameras, looking to snap photographs of celebrities, who hummed around the artist. Truman Capote was there. But the only thought Warhol cared to scrawl down about the 83 paintings themselves—each measuring 52 by 76 inches and featuring one of two shadows—was self-deprecating. "The show only looks good because it's so big," he wrote.
Two nights later, on Saturday, about 3,000 people, if Warhol's diary serves correct, flocked to the Heiner Friedrich Gallery for the show's formal opening. Yet, again, Warhol's response was deadpan. "Someone asked me if they were art and I said no," wrote Warhol in his only statement about the piece, published the following week in New York Magazine. "You see, the opening party had disco. I guess that makes them disco décor." Playing on this idea that his work was closer to wallpaper than high art, Warhol later staged a fashion shoot for Interview, his own magazine, using Shadows as the backdrop.
But despite Warhol's best efforts to undercut its artistic value, viewers were awed by what he called his "one painting in 83 parts." Richard Koshalek, current director of the Hirshhorn Museum and Sculpture Garden, was fortunate enough to be at the first installation. "Never before had I seen any museum or gallery showing a group of works like these, whose cumulative effect achieved such sustained force," he says. Particularly among artists in the room, Koshalek recalls, "there was an unspoken but palpably clear recognition that something truly new and influential was at hand."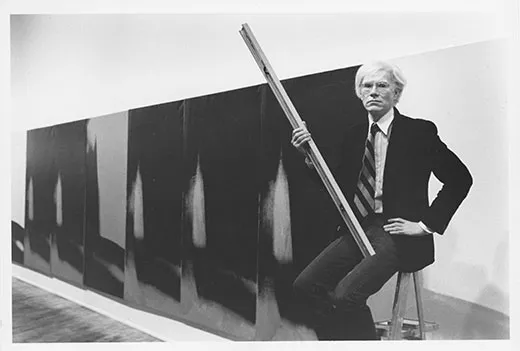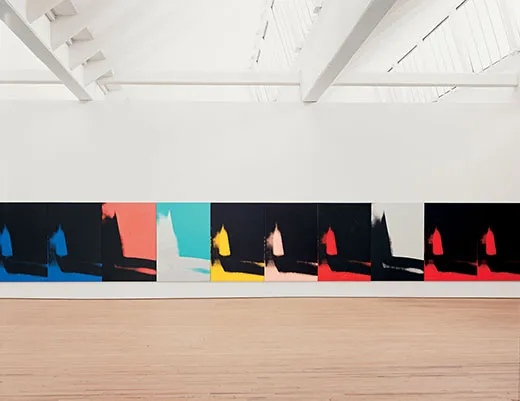 The way Shadows is exhibited has always been dependent on the gallery space. For the inaugural show, 67 canvases were hung edge-to-edge in a rectangular gallery and 16 others were in a back room. The Dia Art Foundation, which purchased the series in 1979, has long had 72 of the panels on display at Dia:Beacon in New York's Hudson River Valley. But, now, for the first time ever, all 102 of Warhol's Shadows are installed together, at the Hirshhorn through January 15.
It also happens to be the first time that the series is being shown on a curved wall. Designed by Gordon Bunshaft, the Hirshhorn is doughnut-shaped, and the installation extends an impressive 450 feet, or about two-thirds around the building's uniquely round perimeter. Walking along the sweeping panorama, the hypnotic sequence plays out like a filmstrip, with the shadows dancing in motion.
In 1979, Koshalek and others could feel the "mysterious, unusual resonance" of Shadows. But, with the advantage that time bears on understanding a piece of art, art historians today have a better handle on why it is so monumental. The series is one in a group of works in the 1970s that mark a shift from Warhol's more familiar pop art, with celebrities and soup cans as subjects, to the abstraction that defines his late career.
Warhol experimented with shadows in his Skulls and Hammer and Sickle series in the mid-'70s. But this was different. In Shadows, wrote Lynne Cooke, former curator at the Dia Art Foundation, "Warhol confronted shadows as a subject in their own right." Many argue he was successful. "There is almost nothing on them. Yet they seem to be pictures of something and as full of imagery as any of Andy's other paintings," wrote artist Julian Schnabel.
Cutrone, Warhol's painting assistant, once took credit for the idea of Shadows. "Andy had a burning desire to do abstract art. . . and I said, 'You're Andy Warhol; you should paint something that is something, but it's not. . . you should paint shadows,'" he said. Cutrone collected 150 photographs of shadows, and Warhol selected two to be silk-screened onto canvases sponge-mopped in acrylic. There is some debate over what produced the shadows—all Warhol said was that the series was based on "a shadow in my office." But one theory is that they used maquettes, or small models, made to cast shadows in abstract shapes. Both of the images repeated in Shadows look like blips in an electrocardiograph. The taller, slimmer one, called "the peak," is reproduced as a positive image, in black, onto a background painted one of more than a dozen colors—"aubergine, chartreuse, carmine red, yellow, midnight blue. . . and white," as Cutrone noted. The shorter, stubbier "cap" appears in reverse, as a negative image, in color, on a black canvas.
With the subject of all 102 paintings being one of two shadows, "your instinct is to think it's all about repetition and seriality," says Evelyn Hankins, associate curator at the Hirshhorn. Certainly, Warhol's prints of repeated images of Marilyn Monroe, for instance, or her lips, set a precedent for this thinking. "But I think what the big surprise to visitors is going to be is that it is actually about the differences between the canvases," says Hankins. The way the shadows are positioned varies. Some of the surfaces are matte, and others have thick streaks where Warhol clearly dragged his sponge mop. Decidedly unlike Warhol's pop art, which evokes a sense of mass production, "these have a real hand and a touch to them," says Hankins. "If I were to play psychoanalyst, I would say here's an artist who was finally comfortable in his own skin and reputation and standing and was willing to take on abstraction."
Shadows, for this reason, is a milestone in Warhol's multifaceted career. "He wasn't just a one-hit or one-idea wonder," says Hankins. "He was really innovating on a number of different levels."