Bottoms Up for the Burgess Shale Centennial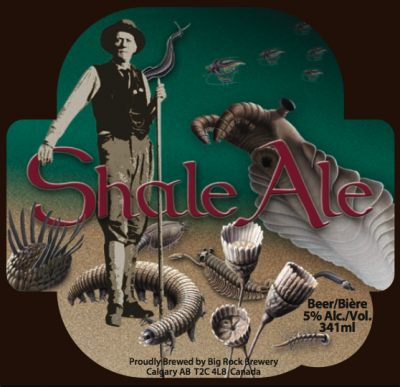 This year marks the 100th anniversary of the discovery of the fossil-rich Burgess Shale in British Columbia by Charles Doolittle Walcott, the fourth secretary of the Smithsonian Institution. The centennial is being celebrated many ways, from articles to conferences, but one tribute has caught more media attention than others.
The Burgess Shale Geoscience Foundation, a nonprofit educational organization, has partnered with Big Rock Brewery, in Alberta, Canada, to create Shale Ale. As Randle Robertson, executive director of BSGF, said in a press release:
This is the champagne of beers to celebrate the contribution geologists have made to science. Shale Ale kicks off our 1909-2009 centennial celebrations, which are designed to engage the public in geology, climate change and the history of exploration and discovery in the Rocky Mountains.
Combining beer and science, Shale Ale's label features Walcott and recreations of animals whose fossils he found. The vast majority of fossils that Walcott recovered were of soft-bodied creatures that are normally not preserved, making the Burgess Shale discovery one of the most significant in paleontology. The time period in which the Burgess creatures lived also adds to their importance. The fossils date to 505 million years ago and give a glimpse into life in the Cambrian Period—a time described by some as evolution's big bang.
Unfortunately, Shale Ale is available only through the Burgess Shale Geoscience Foundation because of provincial liquor laws.
Even if you can't enjoy a bottle of Shale Ale, you can still relax while watching this animated video of the Cambrian ocean from the Field Museum in Chicago with a glass of wine; it's oddly soothing.