Bloom Time at the Smithsonian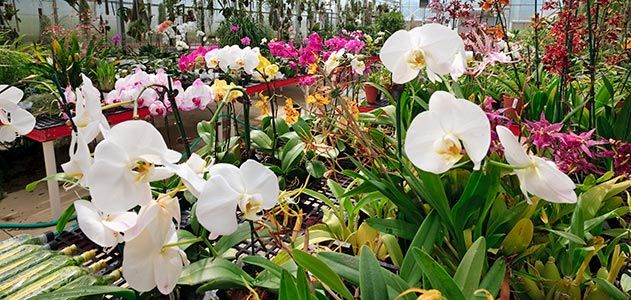 Glorious garden views, particularly in spring, brighten rooms on the south and east sides of the Smithsonian Castle, including, I'm happy to say, my own office. The Kathrine Dulin Folger Rose Garden becomes a multi-colored delight with its award-winning ornamental hybrid roses. The Enid A. Haupt Garden comprises the Moongate Garden, inspired by the Temple of Heaven in Beijing; the Fountain Garden, modeled after the Lion Court in Spain's Alhambra palace; and the Parterre, influenced by France's Palace of Versailles. In April a flurry of showy saucer magnolia blossoms takes center stage. Visitors also see thousands of tulips, violas and other flowers.
You don't have to visit Washington to enjoy our gardens. Carole Ottesen's brand-new Guide to Smithsonian Gardens (published by Smithsonian Books) is packed with beautiful photographs by Smithsonian photographers, including Eric Long; the book explains what makes our many gardens and landscapes unique, captivating and educational. (See a preview and purchase a copy at gardens.si.edu.) "The Smithsonian experience does not begin and end at the doors of its museums," Ottesen writes. "Beyond the museum walls are gardens and interior courtyards that have been designed to augment and complement the collections within."
In summer the Butterfly Habitat Garden, next to the National Museum of Natural History and a favorite with visitors, is home to at least 15 species of butterflies, including black swallowtails and red admirals. Maintaining public gardens is a major undertaking, one that begins in the state-of-the-art Smithsonian Gardens Greenhouse Facility. Opened in November 2010 at our Museum Support Center in Suitland, Maryland, its 14 greenhouses contain thousands of plants, including our prized collection of nearly 8,000 orchid specimens (orchids.si.edu). More than 25,000 orchid species exist. Working with the U.S. Botanic Garden, we curate a special orchid exhibition each spring. This year's show, "Orchids: A View from the East" (mnh.si.edu/exhibits/orchids), closes on April 24.
Our greenhouses are only a small part of our pan-institutional "go green" initiative. Last year, I charged an executive committee with making the Institution a leader in sustainable practices. Our gardens are some of the most visible elements of that commitment, and they illustrate the importance of being good stewards of the Smithsonian's own properties, which include 19,000 acres in the nation's capital, eight states, Panama, Chile and Belize. If we cultivate them responsibly, future generations will be able to enjoy our gardens as much as we do today.
G. Wayne Clough is Secretary of the Smithsonian Institution.