Benny Goodman's Clarinet
Late in his career, jazz musician Benny Goodman favored a Parisian "licorice stick" as his instrument of choice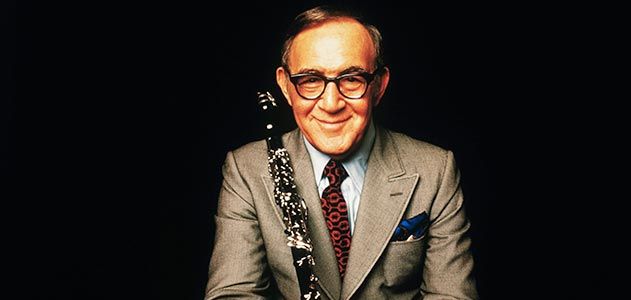 In the hierarchy of musical instruments, the clarinet tends to get short shrift—at least compared with the violin, cello or piano. But the inauguration of Barack Obama raised the instrument's profile when Anthony McGill, principal clarinetist of the Metropolitan Opera orchestra, performed with cellist Yo-Yo Ma, violinist Itzhak Perlman and pianist Gabriela Montero before a global television audience estimated at a billion viewers. (The fact that cold weather forced the musicians to finger-sync to their own recording hardly diminished the clarinet's star turn.)
The clarinet's other notable high notes include 1771, when Mozart composed the first of his clarinet works, a divertimento, and 1920, when 11-year-old Beno Goodman first picked up the instrument in a Chicago tenement. Beno, the ninth of 12 children born to Russian-immigrant parents, would of course become Benny Goodman, and would perform some of the greatest music of the big-band or any other era.
One of Goodman's clarinets now resides within the collections of the Smithsonian National Museum of American History (NMAH), where Jazz Appreciation Month is celebrated each April and where Goodman's centenary year—he was born May 30, 1909—will be enthusiastically observed next month. In the hands of a man who was equally at home in jazz and classical music, the clarinet was—to use its affectionate nickname—one sweet licorice stick.
"Benny Goodman was the most popular clarinetist in American history," says curator John Edward Hasse. "As a clarinetist and a band leader, he played a key role in moving jazz from the margins of American society to the mainstream. He led the most influential, for a time the most popular, and perhaps the most polished of the big bands of the swing era."
Goodman's NMAH clarinet was crafted in the workshops of the legendary Parisian woodwinds manufacturer Buffet Crampon in 1967. The maestro used it during the latter part of a long career. "He was playing in smaller jazz groups by then," says Russ Connor, author of Benny Goodman: Listen to His Legacy. In the years after the big-band heyday, Connor adds, Goodman "had more time to play classical music. He was very choosy about instruments and reeds; even though he'd played Selmer clarinets and advertised for them earlier in his career, he had a natural affinity for the Buffet."
In 1990, four years after Goodman's death at age 76, his daughters Rachel Goodman Edelson and Benjie Alice Goodman Lasseau donated the instrument, along with a music stand and chair used by their father during practice sessions, to the Smithsonian. "He practiced all the time," recalls Lasseau, "and he always seemed to have a clarinet handy. He even practiced during the commercial breaks of the World Series."
Goodman performed until the end of his life. "He died of a heart attack in his New York City apartment in June 1986 while rehearsing for a Mostly Mozart concert," says Susan Satz, business manager for the Goodman estate.
Goodman's crossover genius—he brought classical training to jazz, even as he raised the stature of jazz and expanded its audience—was on brilliant display in the now-legendary Carnegie Hall concert of January 16, 1938. On that memorable night, Goodman brought his big band, including such greats as drummer Gene Krupa, trumpeter Harry James and vibraphonist Lionel Hampton, to the great Manhattan bastion of the classics. When Goodman and crew lit up the hall with hot-jazz composer Louis Prima's number "Sing, Sing, Sing," people began dancing in the aisles, a first for the venerable symphony space.
"I grew up listening to all of [Goodman's] recordings," McGill told me in a phone interview after the Obama inaugural. "His recordings of works by Aaron Copland, Morton Gould, Igor Stravinsky and others are still available, so he's still enormously influential. Goodman was such a superstar that you really have to listen."
Owen Edwards is a freelance writer and author of the book Elegant Solutions.
Editor's note: An earlier version of this article incorrectly stated that Mozart composed only two clarinet works. This version has been updated.