Bat Art Isn't Bad Art
The genre of bat sculpture might not get much attention, but among the finest examples is a bronze by the great French actress Sarah Bernhardt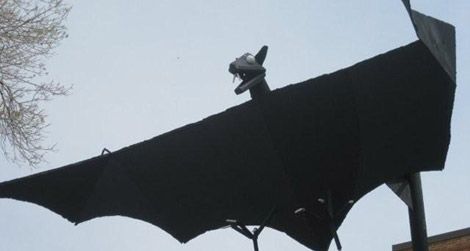 The town of Belfry, in Carbon County, Montana, lies on the route from Cody to Billings, just 11 miles north of the Wyoming border. It is chiefly known for cattle and sheep ranching, and for growing sugar beets, alfalfa and feed corn. With a population of just 219, it's not a place that you usually think of for an art pilgrimage.
In fact, Belfry contains an outstanding work of public sculpture, The Bat in Belfry, which stands in front of the public high school, whose sports teams are called the Belfry Bats. The piece carries no label or inscription. But I heard it was fabricated in the school's shop. And the Smithsonian Institution Research Information System says that the sculptors were Dale Cristman and Doug Brost and that the sheet-metal work was erected in 1980.
Anyone who has bats in his belfry will quickly grasp the concept. In addition to the piece's rich verbal innuendos, it has remarkable formal qualities: what's wonderful is how the "battiness" of the animal is reduced to a geometric essence. The piece's handling of crisp angles reminds me of the famous statue of The Pharaoh Khafre, in the Egyptian Museum, Cairo, with his head being protected by the wings of the falcon-god Horus. And there's also a hint of early Cubism, reminiscent of Picasso's Bread and Fruit Dish on a Table of 1908 in the Kunstmuseum in Basel.
Belfry's Bat is American folk art at its best. It's well worth a pilgrimage, particularly since it's only a short distance from Bear Creek, where you can attend the pig races at the Bear Creek Saloon and Steakhouse.
Bat sculpture is a fascinating sub-genre of the art form, and one of the greatest masters of bat sculpture was the relentlessly romantic and melodramatic 19th-century French thespian Sarah Bernhardt (1844-1923). Most actresses of her era were distinctly chubby; Sarah was gaunt and haggard (batlike?) and pioneered a look that was the 19th-century's equivalent of Goth.
For some reason she identified with bats. This was an age when huge hats helped define a woman's personality, and when Sarah was not declaiming on the boards she paraded on the boulevards of Paris with a stuffed bat on her hat.
She also made sculpture of bats. And she was gifted—no kidding. I'm particularly fond of a wonderful sculpted bronze inkwell that she made; dated 1880, it's a self portrait with bat wings in the Museum of Fine Art in Boston. (The work is in tune with The Bat in Belfry, for there are elements of visual and verbal punning in both.) Bernhardt's sculpture, Self-Portrait as a Sphinx, seems to caricature her batlike appearance and play on the fact that bats are as black as ink. Why would men be attracted to this vampire look? I won't attempt to explain this, but Bernhardt knew how to captivate and manipulate men.
So far Bernhardt's inkwell and Belfry's Bat are my two favorite bat sculptures, but I'd be interested to learn of other examples. I must confess that I've only recently started to focus on this genre.