Baseball on the Screen
In honor of baseball's Opening Day, here's a list of baseball-related films that may be new to you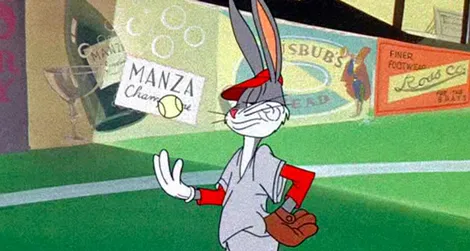 Despite the fact that football is now the king of the professional sports leagues—baseball remains our national pastime, and at this stage of the season anyone can still win the World Series.
In a sense baseball and the movies grew up together. While the game's roots stretch back to the 18th century, many baseball rules weren't codified until the 1880s, when Thomas Edison first started thinking about a device to record and play moving pictures. Baseball may have been a well-established sport, but in many particulars it would be almost unrecognizable to us today, as a still from 1899′s Casey at the Bat or The Fate of a "Rotten" Umpire indicates.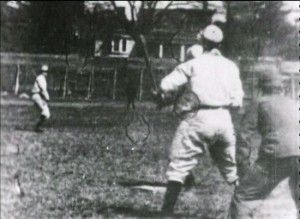 By some accounts, baseball's modern era began in 1903, when rules were standardized, the two dominant professional leagues reorganized, and the first World Series scheduled. It was also the year the first American movie blockbuster, The Great Train Robbery, was released.
The "dead ball era," roughly 1900–1920, resulted in a phenomenal rise in baseball popularity, one that was paralleled in the movie industry. It was a time that saw the construction of large stadiums like Wrigley Field and Fenway Park, soon to be matched by ornate movie palaces. Scandals struck both baseball and movies, like the Black Sox of the 1919 World Series and the still-unsolved murder of movie star William Desmond Taylor.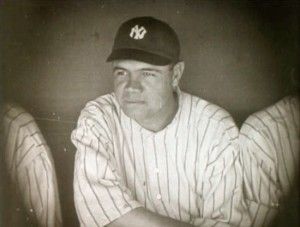 Baseball was depicted on film as early as 1899, but apart from newsreels the sport is almost always used as a background or setting, and not as the main thrust of a movie story. Like football, baseball became an all-purpose metaphor, a way to examine character, to reflect on society, to question or affirm authority.
His Last Game (1909), for example, tied together illegal gambling, alcoholism, and capital punishment into its plot about a Choctaw baseball player who is forced to throw a game. The lead character in The Ball Player and the Bandit (1912), directed by John Ford's older brother Francis, learns integrity as well as physical skills from the sport, which come in handy when he is sent to a bandit-heavy Arizona frontier. Both films are part of a compilation of silent movies from Kino called Reel Baseball.
Real-life baseball legend Babe Ruth appeared as himself in the amusing and highly fictionalized Headin' Home (1920), also featured on Reel Baseball. You can catch glimpses of other baseball stars in newsreels of the time, although they sometimes show up in unexpected places. For example, Cleveland Indians manager and center fielder Tris Speaker has a cameo in Heroes All, a Red Cross fund-raising film.
To see athletes actually playing baseball on screen, it's best to turn to comedy. Hearts and Diamonds (1914), starring comedian John Bunny, features footage shot at a pro ball stadium; the comedy shorts Butter Fingers (1925) and Happy Days (1926) both include extended playing sequences. (All three are on Reel Baseball.)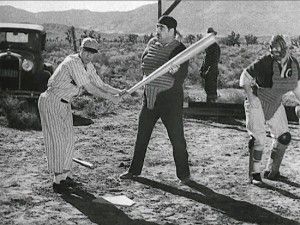 Buster Keaton loved baseball, and included jokes about it in several of his movies. He even plays a prehistoric version in The Three Ages. A wistful vignette in The Cameraman shows Keaton miming pitching and batting in an empty Yankee Stadium.
Whenever he was stuck during production, Keaton would stop shooting and put together a game with his crew. (According to friend and actor Harold Goodwin, Keaton gave this questionnaire to prospective hires: "Can you act?" "Can you play baseball?" A passing grade was 50%.) He also staged many charity exhibition games featuring other movie stars.
One Run Elmer (1935), a sound short he made for Educational Pictures, pulls together his favorite baseball jokes: an enormous bat, a base attached by elastic string to the player, a spitball that sticks to the bat, an onlooker who switches a grapefruit for the ball, and so on.
That same year comedian Joe E. Brown starred in Alibi Ike, adapted from a 1915 short story by Ring Lardner. Bob Meusel and Jim Thorpe have cameos, a tradition that continued in several features. Doris Day manages to get Mickey Mantle, Roger Maris, and Yogi Berra thrown out of a game in That Touch of Mink (1962), for example. (Mantle and Berra also appear in the 1958 musical Damn Yankees.)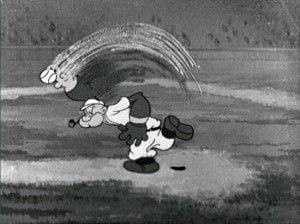 Cartoons had a field day with baseball. Felix Saves the Day (1922), starring Felix the Cat, mixes animation with live-action footage. In The Twisker Pitcher (1937), Popeye and Bluto battle each other on the diamond. Some of the gags in this Fleischer brothers cartoon end up in Baseball Bugs (1946), a Bugs Bunny outing in which he single-handedly takes on the Gas-House Gorillas. Clips from Baseball Bugs were incorporated into His Hare-Raising Tale (1951), while the jokes themselves were recycled Gone Batty (1954), a Warner Bros. vehicle for Bobo the Elephant. (I still haven't tracked down Porky's Baseball Broadcast, a 1940 short directed by Frez Freleng.)
Perhaps because so many viewers dream of playing pro ball, fantasy has been a durable genre for baseball films. Usually the story comes with a tidy moral attached. In It Happens Every Spring (1949), a college professor played by Ray Milland discovers a compound that repels wood. He parlays his find into a career as a major-league pitcher, only to learn that he must rely on himself, and not potions, to succeed. In Angels in the Outfield (1951), angels use miracles help the lowly Pittsburgh Pirates to the big game, but only if they give up swearing. (Disney released a loose remake starring Danny Glover, Christopher Lloyd and Joseph Gordon-Levitt in 1994.)
The worst fantasy-related baseball film may well be Ed, a 1996 Universal picture in which "Friends" star Matt LeBlanc befriends a baseball-playing chimpanzee. The best, or at least the one that has resonated with viewers the most, is arguably 1989′s Field of Dreams, written and directed by Phil Alden Robinson and based on the novel Shoeless Joe by W.P. Kinsella. Field of Dreams got everything right, from its depiction of a troubled farmer on his last legs (played by Kevin Costner) to its memorable catch phrase ("If you build it, he will come."). It's a film whose meaning becomes clear only during its final shot (which I will not spoil here). While the ultimate fate of the real-life "Field of Dreams" is unclear, you can still visit this summer.
What is your favorite baseball movie? Let us know in the comments below