Bank Executives See the Forest and the Trees
In a Maryland forest, bankers trade in their suits and ties to study the environment with Smithsonian scientists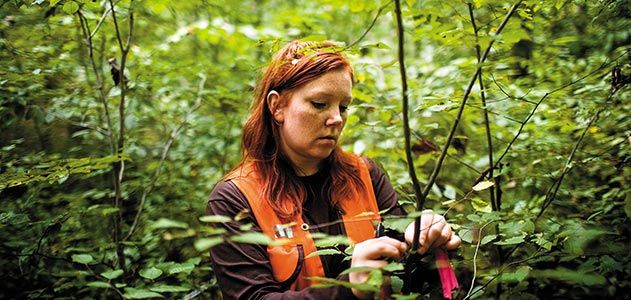 Brian Sheppard examines several hickory nuts on the forest floor at the Smithsonian Environmental Research Center (SERC)—a 2,800-acre campus of forests, marshes and farmland on the Chesapeake Bay. He looks at the branches above, searching for the tree from which they fell.
With the help of Jeff Lombardo, a SERC forest ecology researcher, Sheppard is recording the location, species and size of all the trees in a designated wooded plot—part of an ongoing study of forests and climate change. It's a far cry from a regular day at the office for Sheppard, who is vice president for eBusiness at HSBC-North America in Buffalo, New York. "I couldn't identify a tree to save my life before I came here," he says.
Along with 11 other bank employees at SERC, Sheppard is a volunteer with HSBC's $100 million Climate Partnership program. Assisted by the Earthwatch Institute, an international nonprofit organization, HSBC employees are being dispatched to five climate research centers worldwide in the United States, Brazil, China, India and England.
SERC hosts the North American center, where Earthwatch estimates that 53 HSBC teams will put in 22,000 hours of work over the course of the five-year program. These teams are collecting data for a long-term study on how climate change alters the composition of a forest and how logging affects a forest's ability to store carbon. Without the bank's "citizen-scientists," Lombardo says, "we could never do this kind of project on this scale." He hopes to expand the research to include the Contee Farm, a newly acquired 575-acre SERC property in Edgewater, Maryland, that contains a rare swath of old-growth forest.
HSBC says that giving employees this hands-on experience will eventually lead to a greening of the bank. Before leaving SERC, all participants must come up with an action plan to cut down on energy or water consumption, reduce carbon emissions or lower waste production in their office.
"Becoming a climate champion for HSBC has really opened my eyes and gotten me totally excited in spreading the word to all that will listen," Sheppard wrote in an e-mail. He says his eBusiness department is encouraging the use of online statements and tax forms to save paper.
According to Dan Stover, Earthwatch's field director at SERC, such small changes can have a huge impact when amplified to the scale of a large investment bank. HSBC estimates that reducing paper usage by just 10 percent in their U.S. offices would save about 10,000 trees annually and reduce greenhouse gas emissions linked to global warming by 1,700 tons.
"As a scientist, I spent a lot of time publishing articles in journals, hoping to make a change that really has an impact on the environment," says Stover. "But these guys are really doing it."
Linda Bartos, who works in HSBC's information technology department, took the lead on publicizing a com pany-wide program that shuts down up to 12,000 of the organization's computers at night, saving nearly one million kilowatt hours a month. "Our jobs are pretty intense," Bartos says as she tags another tree, "and at times you can lose track of things like this."