Art's Bold New Direction
The director of the Smithsonian's Hirshhorn Museum predicts how art will engage us as never before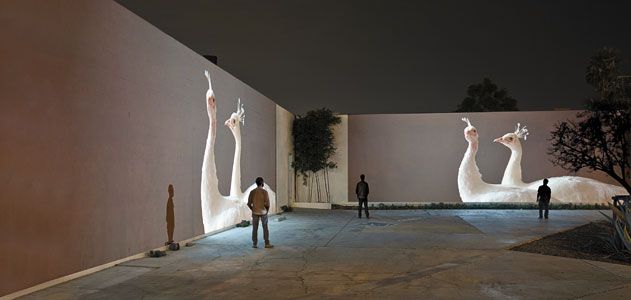 What will happen in the art world by 2050? I predict that all the smashed plates on Julian Schnabel's paintings will fall off on exactly the same day.
Seriously, though, by 2050, I believe that artists will be exploring and affecting all aspects of our daily environment in the most original ways possible. We're already seeing that artists today are moving beyond the four walls of established institutions (such as museums) and are directly engaging and inspiring a range of new audiences. Through new technologies especially, these audiences will grow, as will artists' presence and influence.
At the Hirshhorn, we're organizing two major initiatives for 2012 that reflect this changing dynamic between artists and society. The first is an exhibition, "Animated World," that will dramatically show how the medium of animation has exceeded the wildest dreams of its original film-based creators and is permeating the entire visual landscape around the world. From cellphone screens to urban spaces, animation is increasingly present in our everyday lives and will proliferate in astonishingly inventive ways. Our other project is a major conference called "Open Source," which will explore the effects of new technologies on art, art-making and culture.
We'll also be working with Doug Aitken, a multimedia artist who has a wide view of the world. He's interested in art, architecture, science and the global environmental situation. He's dealing with new media, video and new technology.
Yet despite the focus on new media, we will never abandon our passionate commitment to painting and sculpture. There are always artists advancing these mediums. There is always something new in painting and sculpture. It's just not going to be as straightforward as it has been. In a world changing at warp speed, we will see greater complexity in the types of work produced.
Most excitingly, there will be an increasingly rich dialogue between the artist and the audience. Art is going to reach so many more people and will not be perceived as something "exotic" or marginalized—but rather as a normal mode of existence along with other pursuits. If there's one thing I believe, it's that the primary responsibility of museums is to teach us to live life with greater imagination. The best way to do this is to bring the public into contact with artists in settings that museums are uniquely able to provide.
Art is constantly evolving. Jackson Pollock's seeming spontaneity yet formalism in abstraction changed art forever. Robert Rauschenberg moved us from Abstract Expressionism to Pop and then into new hybrid forms. Because of such breakthroughs and because of new technologies, there is going to be an ever-greater openness in art and art-making. Andy Warhol showed this most dramatically. He explored every medium of his day. He co-founded Interview magazine, he produced remarkable films, he explored new applications of traditional mediums such as silk-screening, and, of course, he completely transformed our perceptions of commercial imagery.
In the future, the art world will be even more liberated to make use of all the media around us—because artists have this passionate curiosity and ceaseless desire for new ideas.
By 2050, you're going to see a new leadership equation emerge based on what happens in the art world. Traditionally, decisions have been made by political and corporate leadership. In the future, creative individuals—artists, architects and designers—are going to be making major decisions having to do with how we shape our society, and especially in the world's urban environments, since by 2050 the majority of people will be living in cities.
Ultimately, entirely new types of artists will also emerge from all of this. Artists are, at heart, opportunity-seekers who transform the world around us. They give me tremendous optimism. I believe the future is unknowable, but it is not unthinkable.