Artist on the Rise
Contemporary artist Maggie Michael shakes up abstract painting by giving control a chance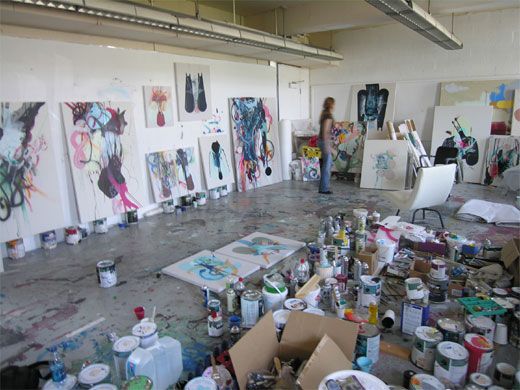 At around 3 feet by 5 feet, the canvases of contemporary artist Maggie Michael are not particularly imposing. But they can electrify a room. Lime green, pale peach, metallic blue—Michael's abstract paintings offer color combinations that clash as well as complement in a variegated apocalypse. Like sculptural skin, the latex paint favored by the artist bunches, folds, tears and bubbles as if it has a mind—or body—of its own. Funky tags of spray paint and whipcord strokes of ink call to mind preternatural blossoms and futuristic worlds suspended in midair.
A young painter working in Washington, D.C., Michael has put a new spin, splatter and drip on the abstract expressionism pioneered by Jackson Pollock, Franz Kline and Willem de Kooning in the 1950s. "Maggie makes abstraction look and feel new and fresh. She is pushing it to the limits," says Stacey Schmidt, former associate curator at the Corcoran Gallery of Art.
Within months of finishing her Master of Fine Arts in 2002, Michael had her first solo exhibition, which met with rave reviews. The show featured her Clone series, paintings created without the artist ever picking up a brush. Instead, Michael poured two puddles of latex paint onto Plexiglas, and then dipped and tilted the entire piece until the paint oozed into the desired shapes. Her intention was for the amorphous pools to look like natural replicas, belying the "hyper-controlled" manipulations that went into making them.
To Michael, these works are a kind of anti-action painting, a contrast to the active, unpredictable and somewhat aggressive motions typified by abstract expressionists. Joe Shannon of Art in America hailed the installation as "perfect, intensifying the riveting presence of the minimally varied shapes." Since the debut, Michael has received several grants and shown her work in a number of exhibitions around the country.
Michael decided she was going to become a painter when she was a junior in high school, but her interest in art began when she was just a child wandering the art section of her hometown public library. Michael's creative inspirations reflect this life-long devotion, reading like a list of art's greatest hits. She has a penchant for the work of many Italian Renaissance men—Duccio, Fra Angelico, Leonardo and Tintoretto. She has also been strongly affected by the works of her fellow female artists, including Louise Bourgeois and Eva Hesse. A close study of Valley and Throw, two paintings Michael created in 2006, reveals a resonance with Chinese landscape paintings and Japanese ukiyo-e woodblock prints that depict "pictures of the floating world." But as Olga Viso, director of the Hirshhorn Museum and Sculpture Garden, points out, "Maggie pushes the possibilities of painting" by fusing the tradition of abstract painting with a potent artistic sensibility all her own.
Michael started incorporating latex paint into her palette in 2001, giving up sumptuous, though noxiously fumed, oil paints with alluring names like cadmium red and cerulean blue. It wasn't a switch she went into happily: "I was appalled. But I got pregnant and I had to." Almost immediately, however, Michael found that the challenge of using water-based paint invigorated her art. "Out of the frustration of having to change, I found that I was able to work in a way that was enjoyable and satisfying," she says.
Using latex paints bought by the gallon has meant Michael spends a good deal of quality time at Home Depot and Benjamin Moore. Initially she toiled over paint chips, spending time and money at her local paint store on specially mixed colors. "I realized that was really unnecessary when I could look through the mistint pile," Michael says. House paints that decorators buy and return ("this color just wasn't quite right") usually end up marked down as mistints at home supply stores. Many of these orphaned pigments have found refuge with Michael, who has over 300 cans of ready-made rejected paint in her studio. "I felt like I was giving them a second chance," she says. "And I don't care what color it is. It can be the most disgusting brownish-green, whatever, it'll look great in a painting somewhere."
The titles of Michael's works—Reign, Cradle, Wind, to name a few—sustain as many meanings as the paintings themselves. To create pieces that are sensual as well as violent, body-conscious and at times grotesque, Michael offers control and chance an equal place in her art: "Whatever I think of, no matter what it could be, will be made to work together. Anything can be resolved. It is just a matter of how you approach it."