Arlo Guthrie Reminisces About Woodstock
The folk musician talks about his new album – a lost recording of a solo concert held days before the legendary music festival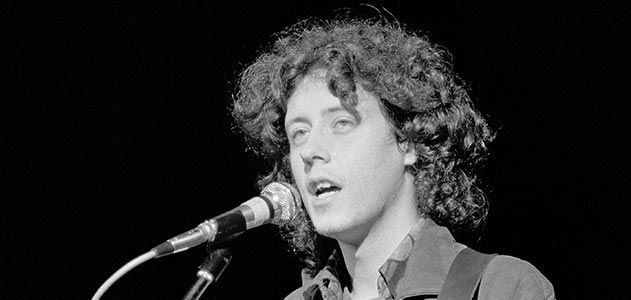 Listen to Coming Into Los Angeles by Arlo Guthrie.
"You can call me Arlo," said the good-natured voice at the other end of the line. Arlo Guthrie, most famous for his extended-version 1967 song "Alice's Restaurant," has carried on the legacy of his prolific folk/protest-singer father Woody Guthrie well. Arlo played at Woodstock 40 years ago, and to mark that anniversary, he's releasing a lost tape of an August 1, 1969, Long Island, New York, show recorded just prior to that iconic festival. And the family tradition continues, as he'll be heading out this fall on the Guthrie Family Rides Again tour with his children and grandchildren in tow.
So it's 40 years after Woodstock – is everything just a pleasant haze, or can you remember the type of stories you'd tell up on stage in the middle of a song?
Yeah, I remember a lot of it. It's fun pretending I don't, because then I get to make stuff up (laughing). But you know, I actually have a good memory. A few weeks ago sitting down with Michael Lang (the co-creator of Woodstock), just by coincidence we were talking about the old days. It's fun when you get together with other people who were there, because you get a bigger picture than just your own memory.
We actually played a number of the anniversaries over the years at the original site. I wasn't part of the Woodstock II event. But me, Richie Havens, Melanie (Anne Safka-Schekeryk) and some other people over the years have gone back to the original site on occasional anniversaries. There'd be some plywood on the ground, and somebody would bring some speakers or something, and we'd do a free event for a few thousand people that would show up. So I've had a long relationship with the original event that continues as time goes by.
Did you get a chance to intermingle with any of the crowd during your short time there?
Oh, sure. I got there the first day and I was under the impression that I was gonna play the second day. . . We got there, they ferried us in by helicopter. So I was just goofing off the first day, not thinking I had to do a performance. I was out behind stage walking around for hours, and I went out into the crowd just to be a part of it. Just to get a sense and a feel on a rainy, muddy level, you know what I mean? It was a visceral recording, as it were. I wanted to remember it.
One of the things that was interesting to me was that everybody at the time knew that we were in a history-making mode. It was plainly evident from the size of the crowd and the overwhelming factors like weather, roads and food that we were in the middle of a disaster. And we knew that it was historic in proportion. Nothing like this had ever happened before, planned or by surprise. When you realize that most historic events are written in hindsight – you don't realize you're in a historic event at the time – so it was special to be in a historic event and know that it was just that.
I hear you're releasing a new album of a live 1969 Long Island show that took place just prior to Woodstock – a cosmic coincidence, perhaps?
It's one of those synergistic moments in time when we were cleaning out our archives and we had all of those magnetic tape sources. Some are two-inch, some are one-inch, some quarter-inch, reel-to-reel -- everything. At this point, the tape is beginning to deteriorate, so we thought we should transfer it to a media that doesn't dissolve. And we happened to find this hour-long concert just by accident. It wasn't even in a box marked correctly. It was marked something else. And when my kids heard it when it came back on the disc, they said, "Hey Pop, we gotta put this out!" I was hesitant - it's not the best thing we've ever done – but it was kinda funny to hear it, and so we're releasing it.
Your family has lots of shows in the archives – what about this particular show captured your attention?
There were songs on it that I had forgotten completely about. There's some stuff on there that since that time has morphed into their own tales. And at that time, though, they were still in their infancy.
So it's the early incarnations of some of your songs?
Exactly. For example there's this story of Moses that came out of that. There's another version of "Alice's Restaurant" that came out of that. There were other things that were still in the infant stage at the time that this was recorded. It's just a little piece of family history that frankly I don't know if anybody would be interested in, but for us, it was funny.
I heard you had to call an old girlfriend about the image you wanted to use on the cover. That's pretty impressive!
Because her handwriting was on the slide, I knew who had taken it. She had taken it with my camera. It wasn't that we needed the permission. Just to identify when and where. . .
So I called up my old girlfriend, and she remembers the day she took the photo. So I said, "Well, you don't happen to remember a gig that I was doing somewhere back in those days?" I said I was playing with Bob Arkin. Bob Arkin is the brother of Alan Arkin, and he was my bass player. There were very, very few shows that we did, just the two of us. And she said, "Oh yeah, I remember that." And I said, "You're kidding!" She said, "No." And I described a little bit of the concert. And she said, "Oh, that was the day you were playing in Long Island, and the Grateful Dead were backstage in the dressing room." My god, not only was she good with the pictures, but she remembered the gig!
You seem so comfortable on stage while you're unspooling stories and anecdotes in the middle of songs – are a lot of these planned or just off the top of your head?
Well that's sort of like asking a magician if you've done this trick before (chuckling). I can't really talk about it without having to kill you. At some point everything is off the cuff. But if it really works, or it's really funny and it's something worth keeping, you try to remember that stuff. And if it's awful, you try to forget it as soon as possible.
I think that's what makes a good political speech, for example. With some of the old guys, for example, you're wrapped in the palm of their hand, and they know how to talk to you because they've been doing it for so long. So if you do anything long enough you can't help but get better and better at it. And I've just been around long enough. And even if you don't intend to, you can't really avoid getting better at it.
Arlo Guthrie: Tales From '69 will be released on August 18, 2009, on Rising Son Records