Argentine Wine: Malbec and More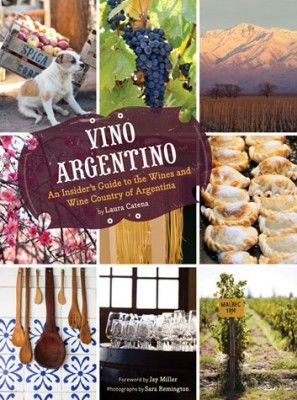 Quick, think of a wine from Argentina.
I bet I can read your mind: Malbec?
That's the first thing I think of, and the first thing I see in wine store displays these days. There's a reason for that: It's consistently good, and often a bargain. Argentine malbec is my go-to red wine in the $8 to $15 range, and although I like some bottles more than others, I've never encountered one I truly disliked. The best ones are rich and smooth, full of dark fruit flavors livened by a peppery zing.
But did you know malbec is originally French? The malbec grape was once a backbone of Bordeaux blends and is still grown widely in France's Cahors region. It's a fairly recent immigrant to Argentina, where other wine varietals (mainly criolla) have been cultivated since the 1500s.
According to Vino Argentino, a new book by Laura Catena, malbec was introduced to Argentina in 1853, when the government hired a French agronomist named Michel Aime Pouget to establish a vine nursery in Mendoza. He brought cuttings of several French varietals, including malbec, which thrived in the semi-arid, high-altitude vineyards.
Not long after that, malbec was hit hard on its home turf by a phylloxera epidemic. Catena writes:
Some 6.2 million acres (2.5 million hectares) of vines in France were destroyed by the disease, caused by an aphid-like insect, from 1875 to 1879. At the same time, in Argentina...Malbec was being propagated through the province of Mendoza by new immigrants from Italy and Spain. The dry climate and sandy soils in Mendoza inhibited the propagation of phylloxera, and Malbec plants are almost never affected here. The grape ripens beautifully.
Though beloved domestically, it took more than a century after that for Argentine malbec to gain international renown. I can remember when I first tasted it—only two years ago, in 2008, which is roughly when its popularity seemed to explode in the American mainstream. That's due in part to economic factors, but it's also due to a lot of hard work in recent decades by Argentine winemakers and promoters, including Catena and her family.
Catena's father, Nicolas Catena, was born into the wine business—his Italian-immigrant father had been making malbec in Mendoza since the 190os—but he was troubled by the turn the country's wine industry took during the financially turbulent 1970s. Price seemed poised to trump quality.
In the early 1980s, Nicolas Catena spent time in Berkeley as a visiting professor and was inspired by the exciting developments in the California wine industry at the time. Napa Valley winemakers were still glowing from their victory in the Judgment of Paris tasting, and maverick geniuses like Randall Grahm were just getting started.
As Laura Catena writes, her father returned to Argentina "obsessed with the quest for quality." He spent much of the next decade studying the soils and microclimates of Mendoza, consulting the experts and developing a rigorous winemaking methodology. By the mid-1990s, Catena wines were garnering critical praise from the likes of Robert Parker, and foreign wine luminaries like Michel Rolland were dabbling in Argentine vineyards. International investors took heed. The U.S. mainstream, however, was still largely oblivious.
"I can remember when I was first selling Argentine wine and no one had ever heard of it," Laura Catena said at a panel discussion organized by the Smithsonian Latino Center earlier this month. "Now, selling malbec seems so easy."
She attributes this in part to the devaluation of the Argentine peso in 2002, which made the wines much cheaper on the international market, and thus more attractive to importers in the United States, Canada and Britain. Consumers were drawn in by the price, then hooked by the quality. Between 2001 and 2005, Argentina's global wine exports doubled in value to $300 million, and had nearly doubled again to $553 million by 2009.
By now, malbec and Argentina have become so closely linked in the public's perception that the grape's heritage is all but forgotten. France seems to know it, says Washington Post wine writer Dave McIntyre, who spotted this slogan on a booth representing malbec's homeland at an international wine expo last year: "Try Cahors—The French Malbec."
Of course, as that Smithsonian panel featuring Catena, McIntyre and others emphasized, there's also much "more than malbec" to Argentine wine. There's also bonarda, a bright, often earthy red, and torrontes, a wonderfully fragrant white, along with better-known varietals like syrah and merlot. Even cabernet sauvignon and chardonnay, the proverbial king and queen of the wine world, have been persuaded to rule there.
There's more than Mendoza, too—although that region accounts for some three-fourths of the country's total production, it's just one of seven main wine regions in Argentina. I was intrigued to learn that grapes can even prosper in the distant deserts of Patagonia, in the regions of Neuquen and Rio Negro. (At the tasting after the lecture, I especially liked a red from the aptly-named Bodega del fin del Mundo, which means "winery at the end of the world," in Neuquen.)
When the panel's moderator, Argentine wine promoter Nora Favelukes, asked if anyone had ever tasted a wine from Argentina, nearly everyone in the packed auditorium raised a hand.
"Twenty-something years ago, had we asked a big room like this...we might have seen only two or three hands," Catena said. "That really touches my heart."