Anyone Having Trouble Hitting the Notes?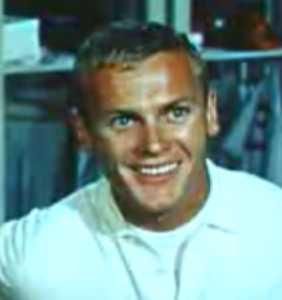 I was lured into joining our community theater group's production of Damn Yankees a while back by the offhand remark of a friend who was playing the lead. "We need ballplayers," he said. "You could be a ballplayer." At 40, I knew I was unlikely ever to hear that again so I decided to go for it.
I had no idea what to expect when I showed up at my first rehearsal. I didn't even know the play was about a man who sold his soul for the chance to lead his beloved Washington Senators to victory over the hated New York Yankees. I did know that I was to play a Senator, and I was trying to pick my teammates out of the crowd of amateur actors in the room when a young woman with red lips walked up to the piano, snapped her fingers, played a chord and began to lead us in vocal exercises.
"Anyone having trouble hitting the notes?" our leader, Heather, asked. She suggested that I stand next to one of the stronger singers and follow his lead. It helped. I stayed close to him when we finished the exercises and started singing real songs. After a while, he casually moved away.
That was the beginning of seven weeks of grinding practice. Heather seemed to think it was hopeless; at times, I agreed with her. But finally, ready or not, it was opening night.
We were in the dressing room at the local high school putting on makeup and costumes, feeling the adrenaline flow. Dave, who played the Senators manager, was in the corner practicing his lines one last time, jutting out his chin and gesturing to the wall. Heather led us through some warm-ups. Barb, our soft-spoken stage manager, came in and stood on a chair. She handed out little awards to cast members for minor achievements. Then she announced five minutes till curtain. We could hear the orchestra begin the overture. This was it.
The ballplayers' entrance came in the second scene. I spoke my line; the world didn't end. I was so amazed, I lost my concentration and flubbed my next line. A teammate had to ad-lib. I tried to stay loose, then realized I was fidgeting. Stand still, I told myself, but not too still.
Our big song-and-dance routine was in the second act. The audience loved it. What a sensation! When it was time for curtain calls, the ballplayers drew another cheer. How far we had come in seven weeks!
The cast was invited to a party at the local inn afterward, and we ballplayers decided to stay in our Washington Senators uniforms. We strutted around the room, elated and basking in adulation.
Then a group of scruffy-looking young people came in and sat down at a large table in the corner. Abruptly, the attention of the well-wishers shifted from us to them. What was this? A friend told me the interlopers were a big-time rock band, just arrived in town for a concert. It was a bitter lesson in the fickle nature of fame. I sank, deflated, into a chair.
Later, my 8-year-old daughter crawled onto my lap and said in my ear, "Daddy, you know when I came into the dressing room after the play and hugged you but didn't say anything? It's because I was so proud of you that I couldn't speak." For a moment I couldn't speak either, but suddenly I was sure of one thing: that's the right kind of fame for a middle-aged ballplayer like me.