A Woodstock Moment – 40 Years Later
On a whim, a young duo went to the legendary festival only to be captured in a memorable image by photographer Burk Uzzle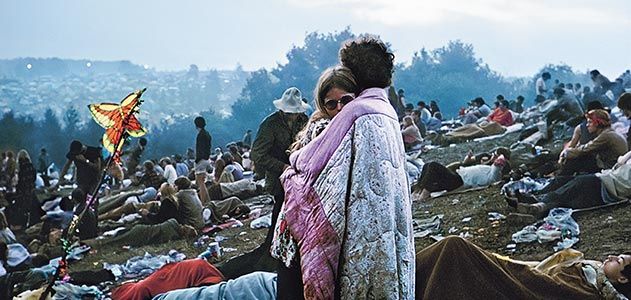 On August 15, 1969, Nick Ercoline was tending Dino's bar in Middletown, New York, while his girlfriend of ten weeks, Bobbi Kelly, sat on a stool, sipping nickel draft beer and listening to the news on the radio. In the past 30 days, Senator Ted Kennedy had driven off a bridge at Chappaquiddick Island, the Apollo 11 astronauts had planted a flag on the moon and the Charles Manson family had murdered eight Californians, including actress Sharon Tate, in Los Angeles. In the soft green hills of Catskills dairy country, such events seemed worlds away.
That Friday night, however, waves of American youths were surging toward Max Yasgur's farm in Bethel, New York, 40 miles up the road, for three days of something called the Woodstock Music and Art Fair. A hush fell over Dino's as newscasters told of epic traffic jams and crowd estimates rising to 500,000. When they heard a rumor (false, it turned out) that a glut of cars had shut down the New York State Thruway, the 20-year-old sweethearts could no longer resist. "We just got to thinking, we were never going to see anything like this the rest of our lives, ever," Nick says.
Earlier that same day, photographer Burk Uzzle, a Life magazine alumnus and a member of the elite Magnum photo agency, had driven upstate from Manhattan with his wife and two young sons to camp on the trout-filled Neversink River. Uzzle had declined an invitation from Newsweek to cover Woodstock, thinking he would just duck in and shoot it his way instead, then retreat to his campsite. "I really don't like to work on assignment, to tell you the truth," he says. "Because then I'm obligated to do what editors want me to do, and that's usually the wrong thing."
As Uzzle walked amid Woodstock's many potential disasters—rain, drugs, food and water shortages—he felt something of an Aquarian spirit in the air. "I'd say to my colleagues down by the stage, 'Hey, you guys, it's incredible out there. The girls are taking their clothes off. The guys, too. It's really beautiful,' " he recalls. "And they'd tell me, 'No, no, no, the editor wants me to stay here and get Ravi Shankar.' "
On Saturday morning Nick and Bobbi, with friends Mike Duco, Cathy Wells and Jim "Corky" Corcoran, a Vietnam veteran fresh from the Marines, set off in Corcoran's mother's 1965 Impala station wagon down country lanes and across cow pastures. In standstill traffic a few miles from Bethel, they parked the Impala, flagged down a van full of naked hippies, then walked the final stretch to Yasgur's farm. A spaced-out Californian named Herbie tagged along, carrying a wooden staff with a plastic butterfly dancing from the tip. The group claimed a patch of mud on the rim of a slope. "It was a sea of humanity," Bobbi says. "Someone with a guitar here, someone making love there, someone smoking a joint, someone puking his brains out, the din of the music you could hear over all of this—a bombardment of the senses."
Early Sunday morning, Uzzle, happily stuck at Woodstock, left his makeshift tent with two Leicas strapped round his neck. "Gracie Slick of Jefferson Airplane was singing, bringing up the dawn," he remembers. "And just magically this couple stood up and hugged." They kissed, smiled at each other, and the woman leaned her head on the man's shoulder. "I just had time to get off a few frames of black and white and a few of color, then the light was over and the mood was over," Uzzle says of what would become his best-known photograph. His subjects never noticed.
One night in 1970, Corcoran brought the just-released Woodstock soundtrack album to Bobbi's apartment. The cover showed a vast hillside strewn with sleepy bodies and a couple locked in a tired, happy embrace. "That's Herbie's butterfly," Nick said, his eye going to the bright spot of color. Corcoran told him to look again. "Oh, hey! That's Bobbi and me!" (Over the years, several people have seen themselves as the couple on the album cover. Corcoran, cropped out of that image, appears in the full frame, lying in an Army blanket. "There is no doubt in my mind that it's me and Bobbi and Nick Ercoline," he says.)
After that first shock of recognition, the couple gave little thought to the photograph for nearly two decades, until Life tracked down Bobbi for a 20th-anniversary article in 1989. "After hearing our story," she says today, "I think some people are disappointed that we were not..."
"...Full-fledged hippies," Nick says.
"That we were not out-and-out flower power and revolution. I was just a country girl. He was just a two-job college student." Married for 38 years with two grown sons, they now live in Pine Bush, 45 minutes southeast of Bethel. Bobbi is an elementary school nurse; Nick, a retired carpenter, is a building inspector for Orange County.
Uzzle, 71 and living in his native North Carolina, is still making photographs. His work hangs in galleries and museums around the world. And his Woodstock photograph hangs, poster-size, above Nick and Bobbi's breakfast table.
"I look at it every day," Bobbi says. "I met Nick, we fell in love and it was the beginning of my best life." The embrace may have been theirs alone, but the image captures a romantic moment in America's collective memory. If that moment would soon seem overtaken by Altamont or Kent State or Cambodia, then Nick and Bobbi's marriage offers reassurance: the Woodstock moment was real, and it endures.
Timothy Dumas, author of the true-crime book Greentown, writes frequently about the arts from his base in Connecticut.