A Tranquil Oasis in the Big Apple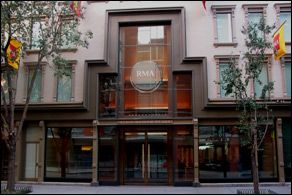 I haven't lived in New York City for about a year, but I'm back now. Maybe it's because I'm taking a different subway train, but I've been seeing striking ads all over for the RMA—the Rubin Museum of Art.
On the corner of 17th Street and Seventh Avenue, the museum, opened in October 2004, is "the first in the Western World dedicated to the art of the Himalayas and surrounding regions." The ads feature a head shot of one of the RMA's average visitors—usually a funky-dressed, aging hippie—"overheard" saying something profoundly Buddhist-sounding, like, "Everything is everything." They're eye-catching, though, and they've done the trick: I'm planning a visit.
Running around like the proverbial poultry with its head cut off for the past two weeks in a city legendary for its chaotic pace, I need an injection of serenity. I haven't been able to pop in to the RMA yet, but I walked by today and even the front entrance exerts a calming influence, owing a debt to its previous incarnation as a wing of Barneys department store.
Even with the proliferation of museums and general art goings-on in Manhattan, the RMA has carved a niche. I'm looking forward to seeing "The Missing Peace: Artists Consider the Dalai Lama," in which artists treat "the power of spirituality, the mystery of transcendence, universal interconnectedness, the need for peace," and I also want to see the mural Pema Rinzin, painted in the museum while he was an artist-in-residence earlier this year. As soon as I can take a break from this move to take a deep breath and rein in my prana, I'll be there.