A Swoopy, Funky Fun House of Rock
Seattle's new Experience Music Project is a $100 million, technology-enhanced repository of American pop music where anyone can be a rock star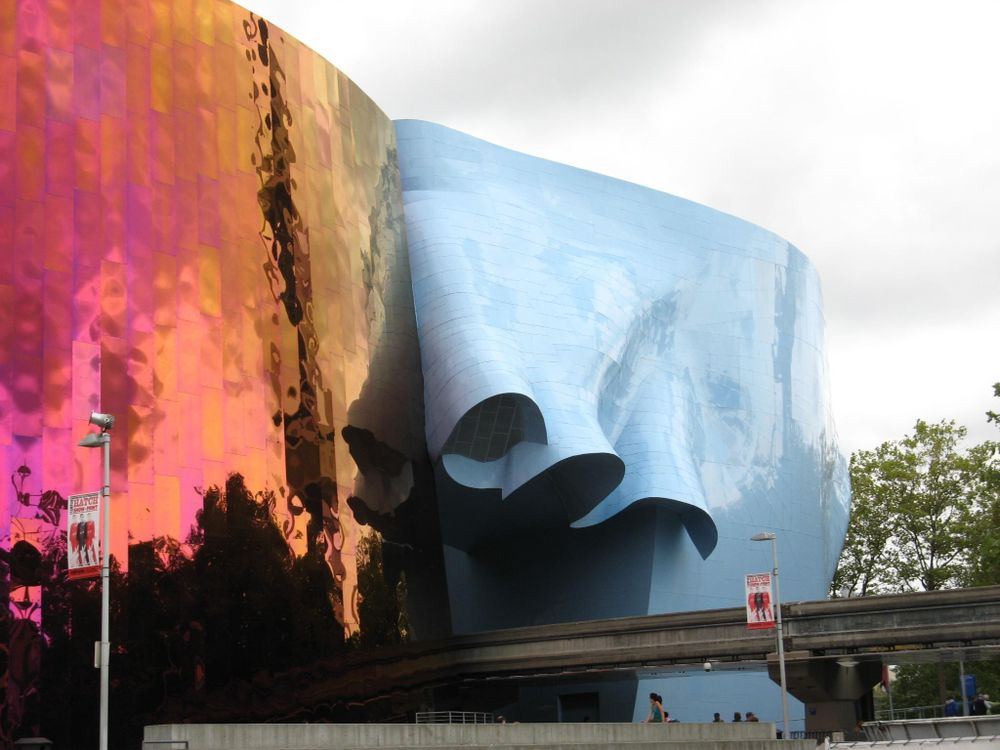 "Here's my chance," writes Richard Covington. "I am sitting at a drum set, ready to play live at the 'On Stage' exhibit at Seattle's Experience Music Project. Through billowing smoke, the lights sweep the stage. The filmed audience roars in front of me. I glance left to the guitar player, right to the singer — we're on. We're moderately terrible, but thanks to the computer program automatically playing the instruments and voice track, we sound like rock stars."
"I want to give people a taste of what it's like to be onstage performing in a rock and roll band," says veteran guitarist Paul G. Allen, front man for the Seattle rock group The Grown Men. "The idea is you'll make music a bigger part of your life if you can make your own music."
Allen, better known as the cofounder of Microsoft and one of the world's richest men, and his sister Jody Allen Patton have created this multimedia repository of American pop music that may well point the way to new kinds of museums in the 21st century.
Designed by Frank Gehry, the Experience Music Project opens June 23 on the grounds of Seattle Center, the site of the 1962 World's Fair. Gehry's wildly experimental building, shimmering in vivid gold, silver, red, purple and blue — colors inspired by guitar finishes — dominates the landscape.
Once inside, visitors can watch videos of Bo Diddley vie with Little Richard for the title of godfather of rock and roll; compare the sound of the white Fender Stratocaster Jimi Hendrix played at the Woodstock festival in 1969 with Byrds' guitarist Roger McGuinn's 12-string Rickenbacker; trace rock's family tree from its blues roots up through hip-hop and punk; and teach themselves a tune on keyboards, guitars and electronic drums as bass shakers literally vibrate the ground beneath their feet. There's a theater for master classes and a nightclub to showcase local and touring bands. There's even a wild ride called Artist's Journey, where the audience is dropped into the middle of a filmed block party with James Brown.
What began as a modest gallery to pay tribute to Seattle native son Jimi Hendrix has mushroomed into a 140,000-square-foot museum celebrating and demystifying musical creativity.