A Refreshing Take on Fashion Television: A Q&A with L.A. Frock Stars' Star Doris Raymond
A new series brings high-end style to vintage wear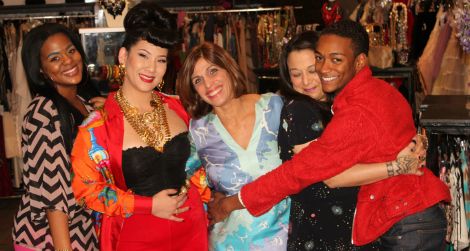 If your wardrobe is seriously lacking the next time you have a red carpet event on the horizon, consider taking a trip to The Way We Wore. The vintage boutique, its proprietor Doris Raymond, and her upbeat staff are the subjects of a new series called "L.A. Frock Stars," which premiered last week on the Smithsonian Channel. Over the course of six episodes, the docu-reality show follows Doris and members of her charismatic team as they travel from California to Texas to New York on the hunt for rare fashions to stock in her Los Angeles shop.
We're not talking run-of-the-mill thrift store finds. From beaded floor-length gowns to ostrich feather-adorned party dresses to one-of-a-kind Christian Dior jackets, the pristine garments and accessories in the LaBrea Avenue boutique have been purchased by A-list celebrities, stylists, designers, and serious vintage clothing aficionados who trust Doris' eye. In between traveling alongside Doris on her treasure hunting shopping marathons, the viewer is exposed to educational tidbits from her encyclopedic knowledge of fashion history, a refreshing feature that distinguishes the show from its superficial, "What Not to Wear"-style reality television counterparts. We spoke with Doris to learn more about her passion for vintage.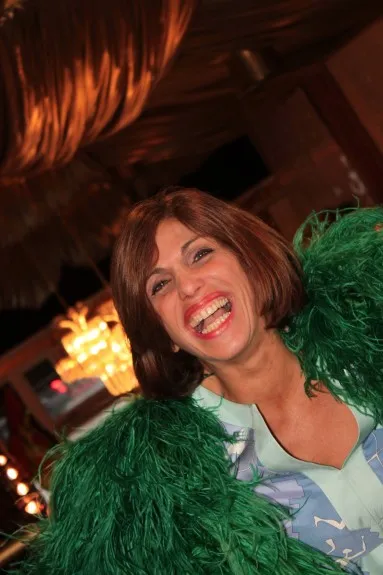 How did you get into this line of work?
In the 1970s, I had bought a ring in the shape of a triangle with a carnelian stone and on either side of the triangle was marcasite. Someone saw it and commented, "That's a really great Art Deco ring." I said, "What's Art Deco?" I went to the library and researched it, and from that research, I wanted to find out more of the context. When you get a little back story about an object, it amplifies the value and makes you appreciate it much more. So yeah, my career basically started all over a ring.
From watching the show, everything at The Way We Wore seems special – unusual, collectible, rare – and the garments have an attention to detail that we see less and less of these days. With the thousands of incredible objects you handle each year, when do pieces really stand out?
I could tell stories from the ridiculous to the sublime. Not to sound like a fashion snob, but oftentimes, the ones that blow my socks off and stick in my mind are the ones that cross the boundary from fashion into art.
One of my favorite examples is a Sonia Delaunay cloche and scarf that I bought in North Carolina about 20 years ago. Someone who had worked for me went to the State University of New York to become a curator and her first exhibition was about Sonia Delaunay. I had never heard of her until that point. The show, and her work, left quite an impression on me, especially because of Delaunay's Cubist influences. The way she put things together was so identifiable that wouldn't you know, six months later I'm in an antique store in North Carolina and I see this cloche and scarf and I think, "This can't be," but I bought it. And that began a journey of spending two years and many thousands of dollars meeting with experts on Delaunay. After two years, I received a certificate of authenticity for the cloche and scarf. I would say that was the most sublime experience.
How about something on the more ridiculous end of the spectrum?
Anything that makes me chuckle or laugh out loud is a piece that I want, either for myself or for the store. Several years ago, I was in Chicago and I bought these 1920s earmuffs and the actual ear coverings were composition faces – similar to a kewpie doll – with fur around each muff. It looked like you're wearing heads around your head. That piece I have kept in my office.
So you've held onto the earmuffs, but how do you decide what to keep and what to sell?
I would say that everything from my collection is for sale because I've learned through the years that when you let go of something, something better will replace it. If I happen to have a client come in who is a good match for something that's not visible in the store, I'd rather pass it on. I take on the role of foster parent. There's nothing I can't let go of except for my books. I keep my books because I use them for reference.
You come upon clothing that has been worn by historical figures on momentous occasions. How interested are you in the provenance of the garment?
Before I opened my store, I was a collector first. After I opened my store in L.A., I had to change my eye and my criteria for retail because 99 percent of my customers are less interested in provenance.
I recently sold two Native American garments to one of my favorite customers. A week or so after she bought it, I called her to let her know it had come from Rudolph Nureyev. The woman I got the pieces from was an extremely close friend of Nureyev's and an executor of his estate. I thought she'd want to know. I rarely toot that horn until after it sells because I feel like the value of piece is in the garment itself, not who owned it.
Generally, it's more widely accepted for people to wear vintage clothing these days. How have you seen the culture of vintage evolve?
There's a reverence and respect for elements of the past regardless of the form it takes. With clothing, that appreciation has increased in the past decade because of social networks and platforms like eBay, where people began to have more exposure to the vintage clothing culture that exists. People began appreciating what was in their closets and what was in their relatives' closets rather than just throwing everything into a dumpster, which is the way things were done in the past.
When I started wearing vintage in the late '60s, early '70s, my mother said, "Don't tell people it's used." Buying at thrift stores was an indication that you couldn't afford to buy new clothing. That was the case – I couldn't afford to buy new clothing. But it wasn't something I was embarrassed about.
Once you attach value, things change. And I think that has a lot to do with celebrity dressing, with people like Winona Ryder, Julia Roberts, and Renee Zellweger wearing vintage. It has become acceptable to wear vintage without having a stigma attached to it.
The Way We Wore boutique is on the more expensive end of the vintage clothing store spectrum with prices ranging from a few hundred dollars to up to $50,000. How do you compare your shop to the thousands of other vintage shops in existence?
Unless you've invested time in understanding the different types of vintage, coming into a store like mine can be off-putting because every piece is curated, cleaned, repaired, and the prices reflect that. My business is for more seasoned vintage clothing shoppers who understand the value of what they're getting.
L.A. Frock Stars airs on the Smithsonian Channel, Thursday nights at 8, Eastern and Pacific times; 7, Central time.