A History of Sequins from King Tut to the King of Pop
As you don your sparkly holiday fashions, think of the trend's start in an Egyptian tomb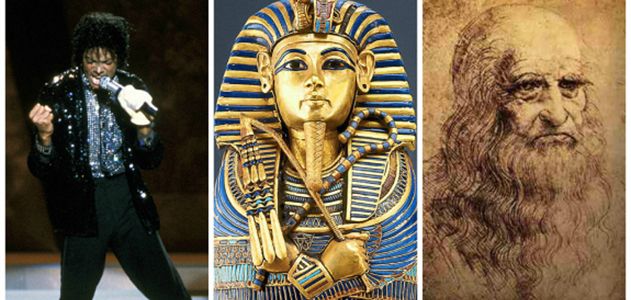 What do Michael Jackson, King Tut and Leonardo da Vinci have in common? A penchant for sequins.
At some point between 1480 and 1482, Leonardo whipped together a sketch for a machine that, using levers and pulleys, would punch small disks out of a metal sheet.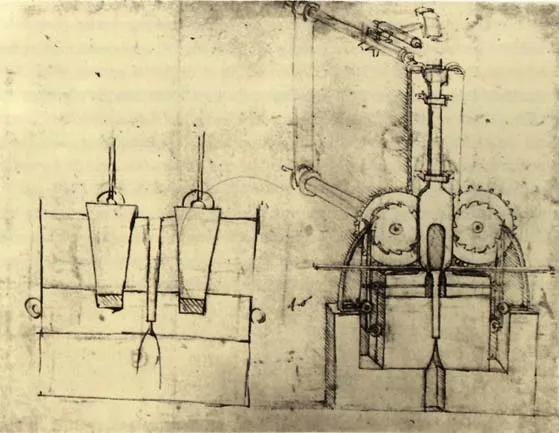 Since the device was never actually made, we don't know if the Renaissance jack-of-all-trades dreamt it up to glamourize the gamurra, a typical women's dress of the time, or if it had some greater utilitarian purpose.
Going back centuries before Leonard, there's Tutankhamun (1341 B.C.-1323 B.C.). When King Tut's tomb was discovered in 1922, gold sequinlike disks were found sewn onto the Egyptian royal's garments. It's assumed they'd ensure he'd be financially and sartorially prepared for the afterlife.
Sewing precious metals and coins onto clothing wasn't just prepping for the hereafter. In fact, the origins of the word "sequin" have always referenced wealth. The Arabic word sikka means "coin" or "minting die." During the 13th century, gold coins produced in Venice were known as zecchino. For centuries, variations of sikka and zecchino were used in Europe and the Middle East. Incidentally, in England, they're not sequins—they're spangles.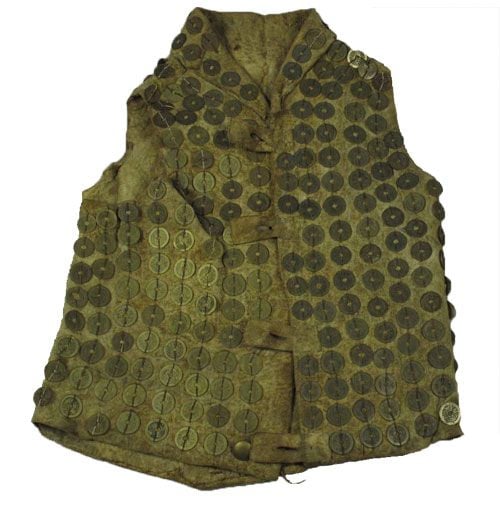 Sewing gold and other precious metals onto clothing was multifunctional, serving as a status symbol, a theft deterrent or a spiritual guide. Especially for those with more nomadic lifestyles, coins were kept close to the body and attached to clothes (see example above).  In addition to safekeeping valuables, sequined clothing doubled as ostentatious displays of wealth in places like Egypt, India and Peru and, with their glaring sheen, they were meant to ward off evil spirits.
An example of how we wear sequins today comes from the Plimoth Plantation women's waistcoat. The museum website explains, "These fashionable items of dress were popular in the first quarter of the 17th century for women of court, the nobility and those who had achieved a certain level of wealth."  The jacket, a reproduction of a garment at the Victoria and Albert Museum, includes an astonishing 10,000 sequins hand-stitched by volunteers using a historic technique.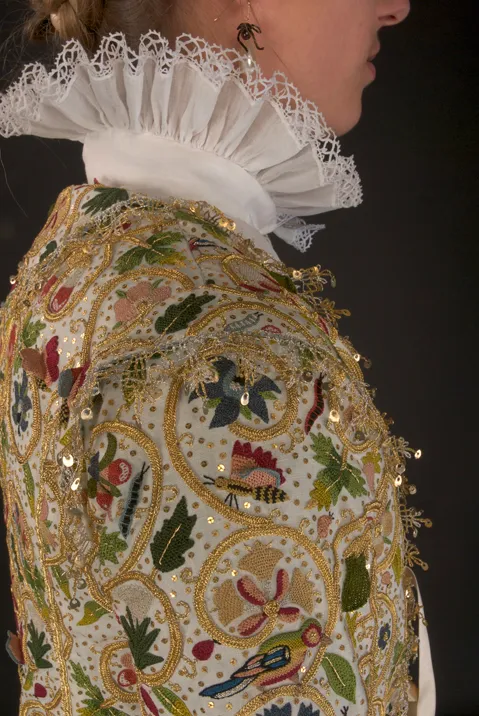 The reflective bits of metal—sewn onto the Plimoth jacket and dresses, bonnets and other jackets during the 17th, 18th, and 19th centuries—made the garments and accessories look fancy. And that trend grew exponentially after the discovery of sequins in King Tut's tomb. The round disks became all the rage on garments in the 1920s and were typically made of metal. (Imagine a flapper dancing in a dress weighed down by thousands of metal sequins.)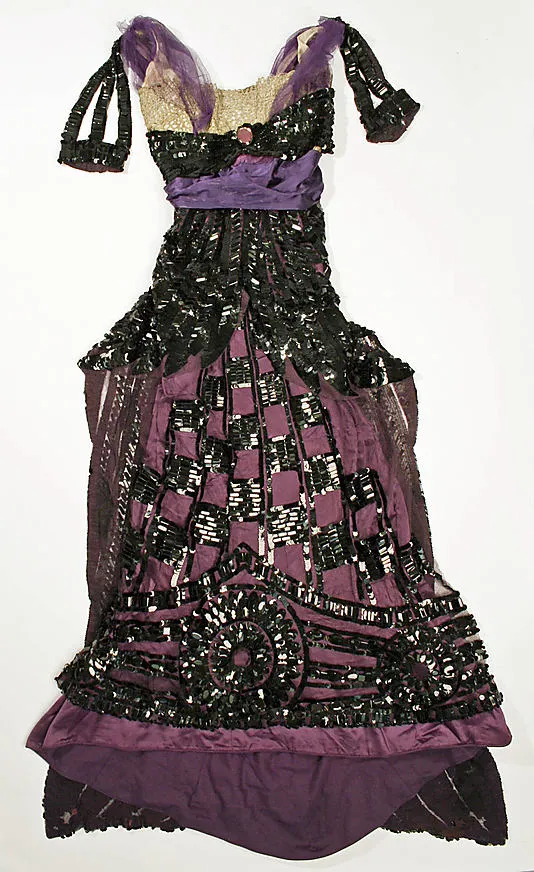 In the 1930s, a process to electroplate gelatin (hello, Jell-O…) produced a lighter-weight version of the shiny metal disks. But one major obstacle (besides the color being lead-based) was that the gelatin sequins were finicky; they would melt if they got wet or too warm. So getting caught in a thunderstorm could leave you in a sequinless sheath. Or, as the blog Fashion Preserved mentioned, "missing sequins can tell tales." For instance, the warmth of a dance partner's clammy hand on the back of a dress could melt the sequins. While not viable for their longevity on clothing, today they've become known for their edibility; it's easy to find recipes to make palatable (although definitely not vegan) sequins from gelatin to decorate cakes and assorted baked goods.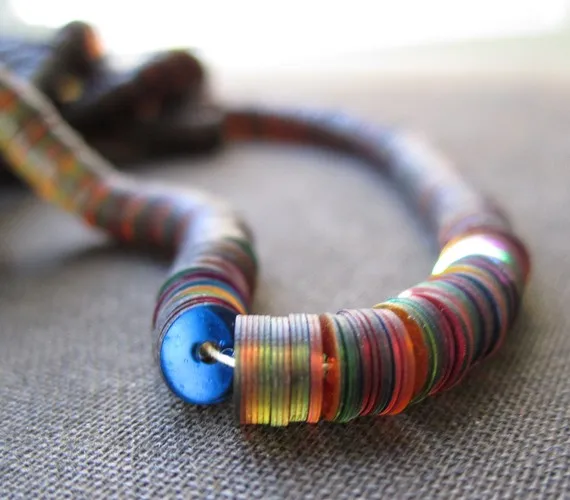 The guy behind our contemporary understanding of sequins is Herbert Lieberman.  After realizing that gelatin sequins wouldn't do the trick, he worked with Eastman Kodak, a company that had begun using acetate in its film stock in the 1930s (acetate film is a specific type of plastic material called cellulose acetate) to develop acetate sequins. They looked beautiful but were still fragile. As Lieberman told Fanzine magazine:
"The light would penetrate through the color, hit the silver, and reflect back," he says. "Like you painted a mirror with nail polish." Brilliant, but brittle. "Acetate will crack like glass. The harder the plastic, the nicer the sequin's going to be."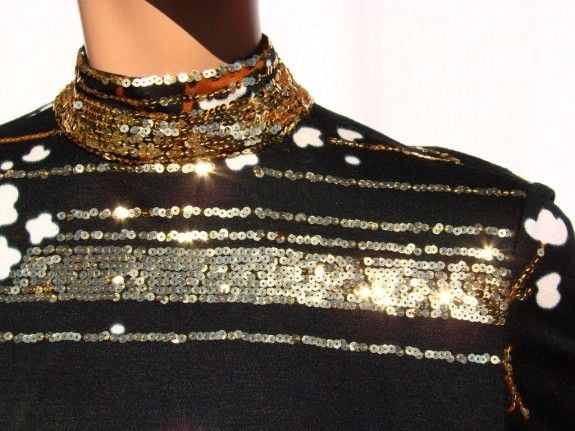 In 1952, DuPont invented Mylar and that changed the sequin game yet again. The largest sequin producer, the Lieberman-owned company Algy Trimmings Co., now based in Hallandale Beach, Florida, adopted the transparent polyester film. Mylar surrounded the plastic colored sequin and protected it from the washing machine. Voila! Or, sort of.
Eventually the Mylar-acetate combination was discarded for vinyl plastic.  More durable and cost effective, yes. (Although we now know that eventually the vinyl plastic curls and loses its shape.) Just as sparkly? Not quite, but good enough.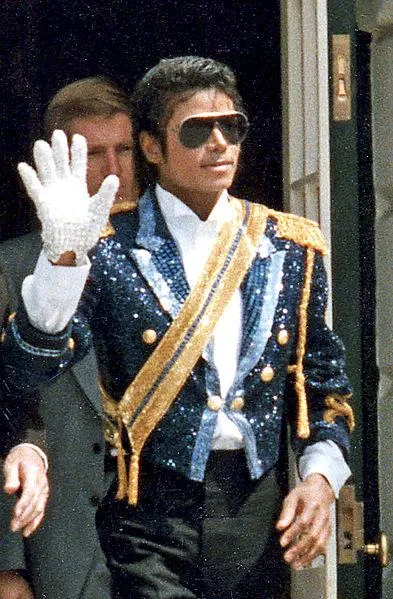 Which brings us to Michael Jackson one night in 1983 when he performed "Billie Jean" and premiered the moonwalk. He wore a black sequin jacket along with his iconic rhinestone glove (see first image in post), a look that made a lasting impression on the 47 million viewers who tuned in to watch the Motown 25: Yesterday, Today, Forever television special. But that wasn't the last time he'd be covered in shiny platelets. How about when he met the president of the United States in 1984 wearing a military-style, sequin jacket?  Or on the HIStory world tour when he wore a white sequin number?
Melting, edible disks be damned, sequins are here to stay (and who knows what they'll be made from 50 years from now). Yes, we expect to see them on a New Year's Eve dress, but we've also grown accustomed to seeing them emblazoned on a basic white T-shirt or pair of flats. With accessibility comes diluted trends and with that comes, well, shapeless Uggs boots covered in what was once a symbol of attention-grabbing glamour.