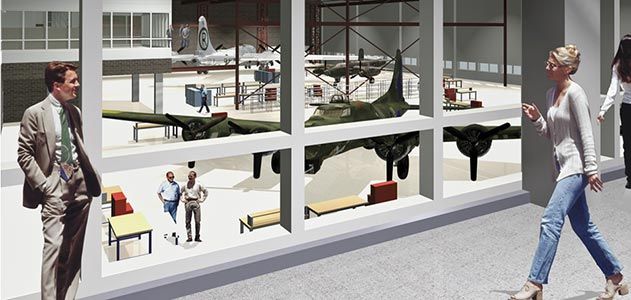 Three museums are by far and away in a league of their own for "world's most-visited museum." Beijing's Palace Museum hosts almost 12 million visitors annually; the Louvre more than eight million; our own National Air and Space Museum, including its Steven F. Udvar-Hazy Center near Washington Dulles International Airport, nearly nine-and-a-half million. Of course just attracting large numbers is not our purpose. Rather we aim to provide a singular and memorable experience to each visitor. In that regard, the Air and Space Museum is about to get even better.
Charles Alcock, who is director of the Harvard-Smithsonian Center for Astrophysics, says he fell in love with space as a child on his first visit to the museum during a trip from his home in New Zealand. He remembers seeing such icons as the Wright Flyer, the Spirit of St. Louis and John Glenn's Mercury Friendship 7 space capsule. As it did for Alcock, the Air and Space Museum inspires awe and imagination in today's visitors. The legendary Lockheed SR-71 Blackbird looks ready to take off on another reconnaissance mission. Viewing the Lockheed Sirius Tingmissartoq that Charles Lindbergh and Anne Morrow Lindbergh flew in the 1930s to chart the flight paths of commercial airlines, you can sense the wonder native people must have experienced seeing their first airplane. Its name derives from an Inuit youth who called it "one who flies like a bird."
How can the museum get any better? Director Jack Dailey and his staff have found a way. In April the Udvar-Hazy Center completed construction of an addition, including the Mary Baker Engen Restoration Hangar where visitors will be able to watch the magic of aircraft restoration—which often starts with planes that come to the museum in parts and pieces.
And the center was recently named as the future home of the space shuttle Discovery; in 26-plus years of operation, it logged 148 million miles, an all-time shuttle record. Early next year, NASA will fly Discovery on the back of a specially adapted Boeing 747 to Dulles Airport and deliver it to the center. The 747 will then transport the space shuttle Enterprise, currently on view at the center, to the Intrepid Sea, Air & Space Museum in New York City.
The Udvar-Hazy Center's new addition and the acquisition of Discovery will continue the tradition of inspiring generations of young men and women with the world of flight and the possibilities that are yet to come.
G. Wayne Clough is Secretary of the Smithsonian Institution.