7-Up Cake and Other Bubbly Baking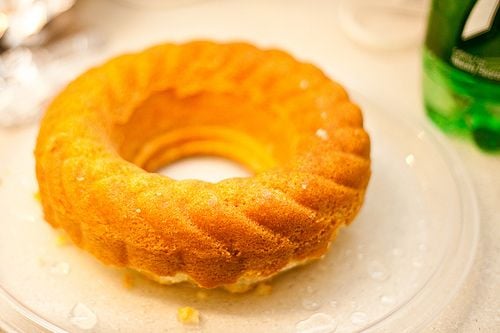 A few years back a friend and I went to see Watts Towers, a fantastic example of folk or outsider art. Unfortunately, because the towers are far from major tourist attractions, in a neighborhood that many people still associate with race riots that happened decades ago, few visitors to (or residents of, for that matter) Los Angeles ever see them. It took me nearly 30 years of living in the city to get there.
Once I went, I was blown away by the obsessive creation of Simon Rodia, the Italian immigrant who spent 34 years crafting the intricate towers and other sculptural pieces of metal and concrete embedded with shards of pottery, tiles, shells and colored glass soda bottles—some of them still showing their brand names.
Which brings me to today's subject: baking with soft drinks. Aside from the art itself, the strongest memory I have of that day is of the unusual pound cake I bought from a bake sale being held on the grounds to benefit the local youth center. It was called 7-Up cake, but even without the name, as soon as I took a bite I would have recognized the distinctive flavor of the soda from my youth. Although 7-Up is still around (unlike the "lost foods" of our latest Inviting Writing series), it now seems less widely available than other lemon-lime sodas, like Sprite and Slice, so I rarely drink it anymore.
In fact, I rarely drink soda at all anymore, since I try to avoid its empty calories. Such sugary beverages should really be considered dessert—so putting them in dessert makes sense. Aside from flavor, the carbonation is supposed to make cakes lighter, and the 7-Up cake certainly was fluffy and moist. I must have been imagining it because of the strong association with the flavor, but I felt as if I could still feel the bubbles popping on my tongue as I ate the cake.
Since the bake sale was in a predominately black neighborhood (and I had never heard of 7-Up cake before), I originally thought the recipe might have African-American origins, but it appears to be part of a more generally Southern tendency to add soda to cakes and other recipes. The blog Southern Plate gives a recipe for 7-Up Pound Cake that comes from the southern comedian Jeanne Robertson, who does a funny bit about sending her husband to the supermarket for the ingredients.
The possibilities for soda-flavored cakes are nearly endless. Last year for my husband's birthday, I made the root beer bundt cake from the cookbook Baked: New Frontiers in Baking by Matt Lewis and Renato Poliafito, which has root beer in both the cake and the frosting. It was a hit.
The Coca-Cola recipe for cola cake includes cocoa and marshmallows. Then there's the Dr. Pepper Texas Chocolate Cake recipe from Dinosaur Bar-B-Que.
Finally, the blogger at Scarletta Bakes came up with the brilliant idea to use Mexican aguas sodas—the brand Jarritos has flavors like hibiscus, pineapple and tamarind, which can sometimes be found in the international foods aisle—for a cake with a different flavor in each layer, separated by frosting and topped with toasted coconut. Must. Try. Now.