35 Who Made a Difference: Frank Gehry
The architect's daring, outside-the-box buildings have revitalized urban spaces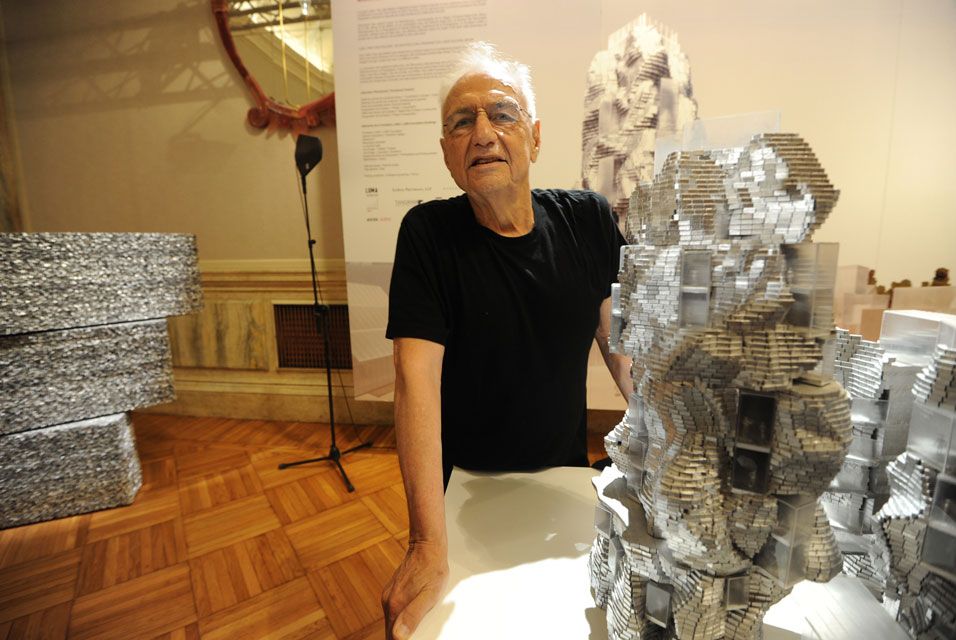 When the exuberant, sensuous Guggenheim Museum in Bilbao, Spain, was finished in 1997, its architect ascended like a rocket into international celebrity. Not that Frank Gehry had been unknown. In 1989, he'd won the Pritzker Architecture Prize, an honor that placed him in the company of such luminaries as Philip Johnson, I. M. Pei and Richard Meier. But with the enormous publicity swirling around Bilbao, Gehry achieved a fame rare among architects. This Basque-country branch of the Guggenheim Museum family, although initially controversial, is the crown jewel of that contentious region and is credited with the reinvigoration of the old industrial city of Bilbao and its environs. It was Frank Lloyd Wright who designed the first Solomon R. Guggenheim Museum, completed in Manhattan in 1959. It, too, caused a sensation. Wright, who died that same year, used to be the architect of the moment. Today, it's Gehry.
Frank O. Gehry was born in Toronto, Canada, in 1929. He moved with his family to Los Angeles as a teenager and studied architecture at the University of Southern California. He worked for other architects, studied city planning at Harvard, lived in Paris, and eventually went back to California, where he started his own architectural practice.
The Gehry we know today began to evolve in the 1970s and '80s. He was hanging out then with a group of innovative artists in the beach community of Venice, west of Los Angeles, that included Ronald Davis, Larry Bell and Bruce Nauman. "Those weren't the only artists I knew," Gehry told me recently. "I had some involvement in New York too," but the California group, he explains, "was a family thing. I had a more intimate view of their making of art and it inspired me a lot and influenced the way I made architecture."
One of Gehry's early—1970-72—architectural successes was a collaboration with Ron Davis on Davis' studio and house in Malibu, California. It is constructed of basic building materials—fir, galvanized steel, plywood and concrete, and although reverent toward its setting, it is not designed to "blend in." The impulse to make buildings that nestle inconspicuously into their environments (a rationale given for a lot of dreadful 20th-century design) is the antithesis of Gehry. He designs buildings that stand out—vividly and audaciously. They are ardent in their expressiveness, rich in symbolism, assertive and individual. They can appear to be, and sometimes are, confrontational.
Gehry's own house in Santa Monica is his reinvention of the middle-class house on the middle-class suburban street. To the chagrin of his neighbors, Gehry transformed what was originally a conventional, pink two-story bungalow—a "normal" dwelling—into a work of residential sculpture eccentric by any standard. He used chain-link fence and other humdrum materials on the home's exterior, he explains, because they were so familiar—it was his way of using a visual language common to everyone. But the neighbors, he says, "did not understand that I was taking the chain-link fence from the backyard and using it in a new way."
Gehry resists naming one building as his personal best or his favorite. He doesn't want to single out one child for fear of hurting the others. Clients, he says, "especially sensitive clients, say 'What about my project?'"
Once a building is complete, he continues, "I freak about what might have been done differently or better." But he eventually gets over that concern and sees a project more clearly. Most of his buildings have been constructed in places other than Los Angeles, so he's not constantly confronted by past work. His 2003 Walt Disney Concert Hall, however, is an exception. He goes to concerts there regularly. "I've managed to get over the self-critical bullsh-t by focusing on the music and the musicians and experiencing them personally as friends," he says. His relationship with the hall is a rich, continuing experience in which architecture and music intertwine. "That is pretty much what I get excited about," he says.
That and ice hockey. "I have a weird, Walter Mitty-like relationship with hockey," he explains, though he seldom gets to play these days because of his hectic schedule. But he sponsors his own semipro team, the FOG.
Gehry's current projects include a science library for Princeton University, a hotel in the north of Spain and a residential and sports facility in England. He's also building a new house for himself in Venice. But this time, he says, "I did it differently." He gave his neighbors—including a convent next door—a heads up about his intentions. "The neighbors saw the model," he says, and "everyone seemed OK." Gehry's work, in fact, has weathered many storms—and not just from critics. His new, $30 million Ohr-O'Keefe Museum of Art—built to showcase the work of the eccentric, turn-of-the-century potter George Ohr—in the Gulf Coast town of Biloxi, Mississippi, was pounded by hurricane Katrina in early September. The five buildings in the complex were in various stages of completion at the time. One was demolished by a dislodged casino barge. Two others, nearly completed, sustained minimal damage. The remaining two were in early stages of construction and not affected, but a number of the stately live oak trees, around which the buildings were designed, were destroyed.
In 1989, former New York Times architecture critic Ada Louise Huxtable described Gehry as an "admirer of the quirky, the accidental and the absurd....an obsessive perfectionist engaged in a ceaseless and demanding investigation of ways to unite expressive form and utilitarian function." Gehry has also been described as an outsider, an outlaw. Most men and women who operate on the edge or beyond are dismissed, shunned, laughed at or locked up. But sometimes they triumph, as Gehry has. And when that happens, their influence is palpable and the world expands before our very eyes.