250 Years of Wedgwood
Two new exhibitions celebrate the enduring wares of ceramics designer and entrepreneur Josiah Wedgwood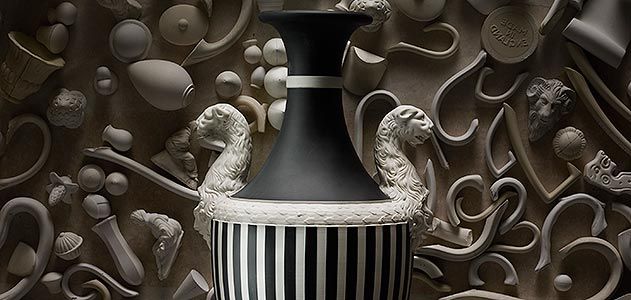 When Josiah Wedgwood, an apprentice potter in Burslem, England, opened his own pottery business in 1759, nobody expected him to change the world. But 250 years later, his Wedgwood china is still a perennial favorite of both brides and collectors. And the Wedgwood name is an international symbol of luxury and elegance.
This fall, two U.S. museum events will mark the 250th anniversary of Wedgwood's company, now known as Waterford Wedgwood Royal Dalton Holdings, Ltd. An exhibition at the Daughters of the American Revolution Museum in Washington, D.C., "Wedgwood: 250 Years of Innovation and Artistry," will be on display from October 3, 2009, through February 27, 2010. The exhibit includes a collection of 200 pieces dating from the 1700s that were contributed by American museums and private collectors. On November 19, the Birmingham Museum of Art (BMA) in Birmingham, Ala., will unveil its recently acquired Buten collection of more than 8,000 pieces of Wedgwood ceramics. When the new acquisition joins the museum's current Beeson Wedgwood collection of 1,500 pieces, BMA will become home to the world's largest Wedgwood collection outside of England.
For these museums and a host of Wedgwood collectors, a true appreciation for Wedgwood pottery requires an understanding of the man behind the name and how he built a global design powerhouse, long before terms like "globalization" and "branding" were coined.
"Josiah Wedgwood revolutionized the ceramics industry in the 18th century and his story is essential to the greater story of ceramics production," says Anne Forschler-Tarrasch, decorative arts curator at the Birmingham Museum of Art. "He was a Renaissance man who rose from an average family to become one of the wealthiest men in England."
Born into a family of potters, Josiah Wedgwood contracted smallpox as a child, which left him with a weak right knee that eventually caused the leg's amputation. Unable to work the potter's wheel because of his bad knee, Wedgwood focused on designing, rather than crafting, pottery. That focus on design allowed him to develop new products, such as the signature blue jasperware most commonly associated with the Wedgwood name. Jasperware is a dense, unglazed stoneware having properties that resemble the semi-precious stone jasper and is often ornamented by a raised white ceramic decoration.
When Wedgwood was nine years old, his father died, and although Wedgwood worked for four years as an apprentice potter under his older brother, his brother refused to accept him as a business partner. After working with various other local potters, Wedgwood started his own company in 1759. A cousin, Thomas Wedgwood, managed the company while Wedgwood continued to pursue his experiments with new wares and glazes. His innovative products gained popularity, and by 1763, Wedgwood was filling orders for kings, queens and nobles, and within 10 years of opening its doors, he had turned his company into the first true pottery factory.
"Up until the time of Josiah Wedgwood, the ceramics industry was very much a cottage industry," says Lord Wedgwood, an eighth-generation direct descendant of Josiah Wedgwood who now serves as international ambassador for the company. "Things were made in haphazard fashion." But inspired by the growth of industrialism in nearby cities, Wedgwood built a cutting-edge factory next to a new canal transportation system, and developed manufacturing processes to ensure quality standards.
Not only was Wedgwood the first to create a pottery factory, but he was also a "marketing genius," says Diane Dunkley, director of the DAR Museum. Long before corporations used celebrity spokespeople to flaunt their wares, Wedgwood understood the value of celebrity marketing. After Queen Charlotte ordered a set of Wedgwood's cream service, he styled himself "potter to a majesty" and renamed the product "Queen's Ware," a name still used today, Lord Wedgwood says. When Catherine the Great of Russia ordered a 952-piece table service, Wedgwood invited local nobility to preview the set at a private open house before shipping it off to Russia. Soon after, Wedgwood began mass-producing a line of china similar to Catherine's custom-made service, "and suddenly everyone wanted the same china as Catherine the Great," Dunkley says.
After drawing attention from nobility, "Wedgwood realized he could take his product beyond the local community, which is where his family had been selling pottery for five generations before him," Lord Wedgwood says. He began creating products specifically for certain regions; for example, Wedgwood designed medallions depicting the shackled hands of slaves and the words, "Am I not a man and a brother?" and sent them to his friend Benjamin Franklin in America, where they became popular among anti-slavery groups and were used to promote abolition. And when the first British fleet arrived in Australia in the 1780s and sent back clay samples, Wedgwood used the clay to create his Sydney Coast Medallions, which became collector's items.
More than just tableware and ornamental pieces, the company's product arsenal includes plenty of utilitarian items, what Josiah Wedgwood called "useful wares." This fall's DAR and BMA exhibits will include a wide selection of both useful and ornamental items.
Wedgwood "created ceramics for everything you did," including dog bowls, toilet bowls and sinks, Forschler-Tarrasch says. The company traditionally supplied dairies with dairy ware and apothecaries with mortar and pestles.
"If people don't know a lot about Wedgwood, they probably think of it as bridal china or blue and white jasper," Dunkley says. "But what they're going to see [at the DAR exhibit] is a huge range of objects, some of it quite artistic." Along with a wide variety of tableware and ornamental objects, the DAR's Wedgwood exhibit will include a mortar and pestle and a laboratory tray that was used in the taxidermy department at the Smithsonian until 1957.