Zika Goes on the No-Fly List
At Dover Air Force Base, crews are trying to keep mosquito stowaways off their cargo airplanes.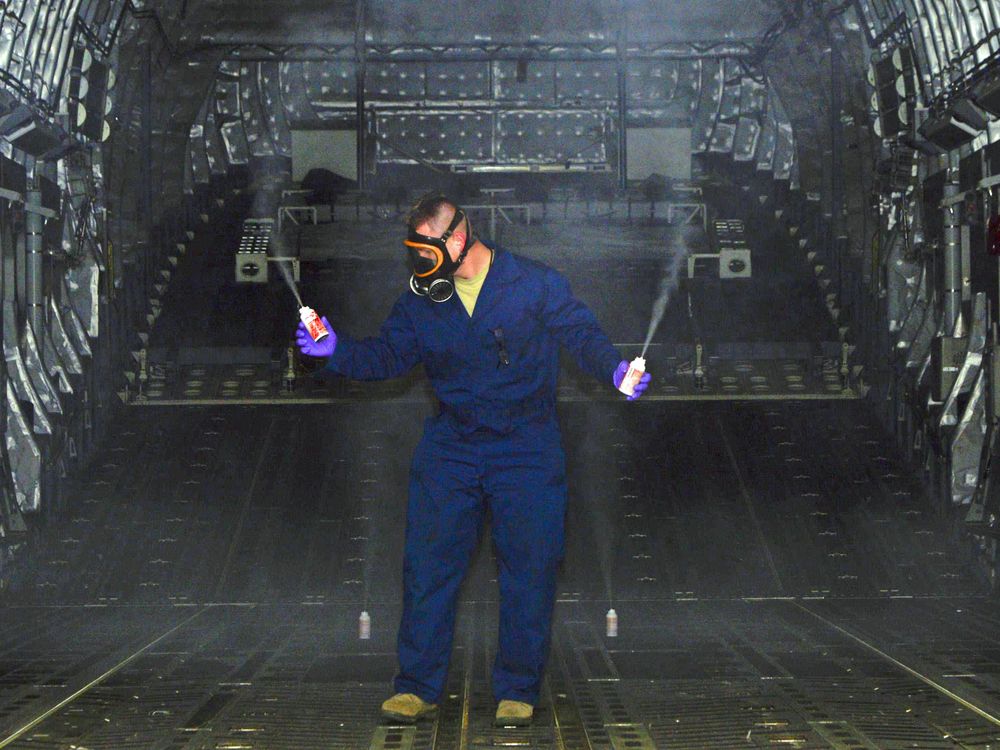 The U.S. Air Force has declared war on the Aedes mosquito, whose bite can deliver the Zika virus. These mosquitoes are hard enough to contain in their native areas: Central and South America, the Caribbean, and a few Pacific islands. Now the Air Force is trying to prevent its fleet from giving the bugs an airlift.
In May, the pest management section of the 436th Civil Engineer Squadron at Dover Air Force Base in Delaware began treating aircraft headed to Italy with 1-Shot, an "aircraft disinsection" product, after that country issued a requirement for all aircraft operating in its airports to be disinsected. With flights scheduled to head abroad, the team had just 24 hours to come up with a protocol. Dover's pest control squadron uses six cans of 1-Shot to treat a C-17 Globemaster, and 13 cans for a C-5M Super Galaxy. After spraying, the aircraft are sealed for 20 minutes, then ventilated before crew can enter without respirators.
The Dover squadron already had plenty of experience in the extermination business; it's been treating aircraft for Japanese beetles for years. That "highly destructive plant pest," as the U.S. Department of Agriculture describes it, has already infested most of the Eastern seaboard, so the agency has implemented a quarantine on nine western states that requested protection. If a flight is landing inside the quarantine, it gets a treatment that includes a spray-down of the cabin and visual inspection of the wheel wells and external fixtures for stowaways. The team's work is so effective, Air Force members from around the country head to Dover for training. When Zika began to be a bigger threat, the 436th fielded calls from all over the Air Force about how to handle it.
Disinsection chemicals used by the Air Force and more than 100 airlines come in a range of strengths to meet the various standards of the U.S. Environmental Protection Agency, the World Health Organization, Boeing, and Airbus. In addition to treating their aircraft fleets, some airlines have also allowed customers worried about visiting countries affected by the Zika virus, such as those who planned to attend the Olympic games this summer in Brazil, to postpone or cancel their travel and get a refund without incurring a fee. American Airlines offered the accommodation only to ticket-holders who could produce a doctor's note confirming a pregnancy; unborn babies are at highest risk from Zika.
As of June, the Centers for Disease Control reported almost 700 Zika cases in the continental United States, all of which were acquired overseas; no cases have been locally transmitted, according to the CDC. The Air Force is working to keep it that way; some bases in Florida are bottling bugs and sending them to Wright-Patterson Air Force Base in Ohio for analysis in case an early warning is needed.