X-37 Still Aloft, May Look to Carry Astronauts
While the "secret-ish" X-37 space plane continues to perform at 200 days in orbit, Boeing finally talks details, including a possible human-rated version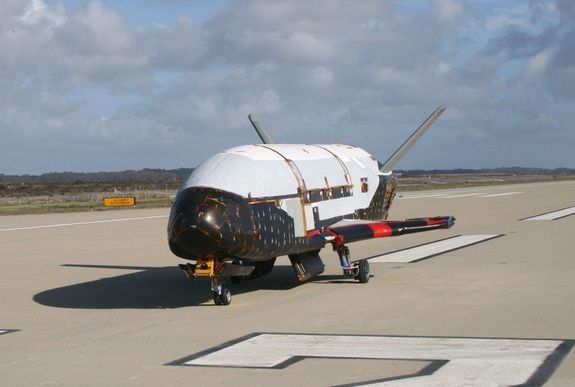 In our December 2009 issue we noted that: "Operationally, the X-37 could become a space version of a long-endurance unmanned aerial vehicle—the world's first space UAV."
Now it looks like we might be about to see that happen.  The second test mission for the U.S. Air Force semi-secret spaceplane, launched in March, has passed 200 days in orbit, and is on track to continue past the initial flight's 225-day run.  The original plan was for the X-37B to orbit for 270 days, but as Space.com has reported, the Air Force seems confident that it will extend the test if everything continues to operate normally.
After years of speculation about the vehicle's ultimate purpose, we're also starting to see some solid information, including a paper presented by Boeing's Chief Engineer for the Experimental Systems Group, Arthur C. Grantz, at the American Institute of Aeronautics and Astronautics SPACE 2011 conference in September. In it, Grantz discusses the benefits and uses of an unmanned, reusable space vehicle and the option for a derivative vehicle that can carry humans, as well.
Boeing bills the X-37 as, of course, a replacement and an improvement over NASA's space shuttle orbiter, at least when it comes to carrying experiments to and from low-Earth orbit. Unlike the shuttle, the unmanned X-37B can stay in orbit for months. With the shuttle retired, it offers a way to gently return fragile experiments from the space station, saving them from a risky high-impact landing aboard a Soyuz. (It can also carry much more mass than the cramped Soyuz). Grantz says the X-37 will "operate more like airborne space platform" where the reusable bus can adapt to a variety of payloads with "a true 'plug and play' integration environment."
The X-37B is the model currently in orbit, but Boeing has on the drawing board a 160- to 180-percent larger version called the X-37C. Though still significantly smaller than the space shuttle, the X-37C could "provide both cargo and crew transport to and from the ISS, Bigelow Space Habitats, or other forms of space tourism in LEO," writes Grantz, and could be launched "comfortably" atop an Atlas V-type rocket.
Inside the cargo bay, pressurized and unpressurized modules could be adapted to fit any combination of cargo and up to six people. All of the space plane's maneuvering — rendezvous, docking, deorbiting, re-entering, and landing – would be done autonomously, but there's room for a back-up pilot who would have "a virtual wind screen view and direct optical periscope views."
With this summary from Boeing and the declaration that future versions of the X-37 would be directed at the space tourism industry, it seems that the once super secret Air Force space plane might soon be ready to take off the veil.