WWI Pilot's Portrait Gets a Special Viewing
For Guillaume de Ramel, a heritage flight last week in Virginia had particular meaning.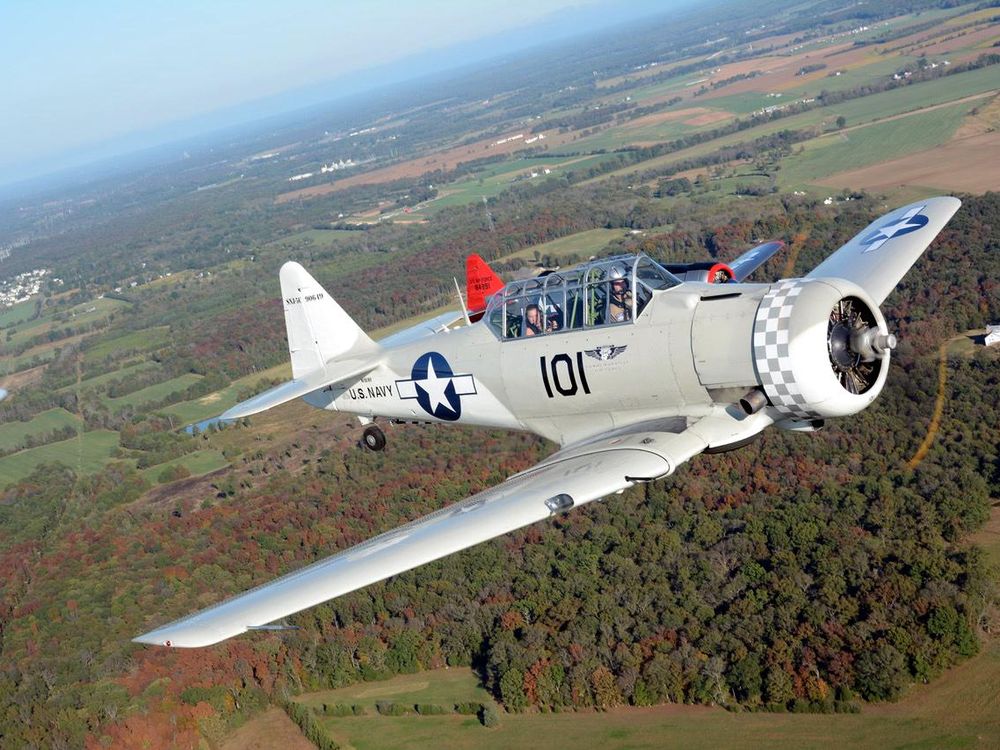 Warbird memorial flights are always a great way to imagine yourself in some bygone era of military aviation—especially if you're lucky enough to be in the cockpit of one of these vintage aircraft. For one pilot flying over Virginia's Shenandoah Valley last weekend as part of the annual Culpeper Air Fest, it was also an opportunity to connect to a famous ancestor.
Guillaume de Ramel is the great-grand nephew of Norman Prince, who learned to fly at the Wright brothers' school and flew eight months as a bomber pilot for the French in 1915 before co-founding the Lafayette Escadrille, the famous squadron of American volunteer pilots in World War I. On October 16, 1916, Prince died in a crash landing after escorting one of the first strategic bombing missions in history.
De Ramel has been flying since he was a teenager, but only now is gaining a deeper appreciation of his celebrated forebear. "I knew very little about Norman when I learned to fly," he says. "I knew of him, but I didn't know the significance of what he had done." Now 43, De Rame soloed in a Piper Cub at 16, with the goal of becoming a Marine aviator, but his eyesight prevented his serving. He's flown as a competitive aerobatic pilot, has built his own Carbon Cub and equipped it with floats, and this past year received training and certification from the North American Trainers Association to fly his SNJ in formations.
"When you get into the warbird community, you learn about formation flying, and the history—it's a big draw," he says. "And a great group of people too—the ex-military guys, the professional airline guys—they bring their discipline to this, so you learn so much." The experience has given him a new perspective on what Prince and his comrades faced. "I'm just learning the nuances of formation flying, but you think about these guys in World War I figuring it out—when the fighters are faster than the bombers, burning fuel—how do you rendezvous?" he says. "It's about trying to create a sense of order. Otherwise it'd just be a big rat's nest of airplanes up in the sky, banging into each other. We did a flight of 28 T-6s, and it's amazing how much goes into it."
The Culpeper memorial flight was originally planned for October 13, but when weather delays bumped it a day, de Ramel took advantage of the free time to reconnect with Norman Prince in a way he never had—by seeing a painting of him at the National Air and Space Museum's nearby Steven F. Udvar-Hazy Center.  Senior Curator of Aeronautics Tom Crouch took de Ramel into the art storage facility where the Museum has a life-size portrait of Prince by American impressionist Frank Weston Benson.
The painting, of Prince in his pilot's uniform, is so large that it's hung sideways in storage. The portrait was begun hastily in late December 1915, while Prince was in New York on leave, and was completed after he unexpectedly had to rush back to France. Until last week, de Ramel had only seen muddy black-and-white pictures of the painting.
Out on the Udvar-Hazy Center floor, he also got a chance to see several artifacts given to the Smithsonian by Prince's brother, Frederick, Jr., who also served in the Lafayette Escadrille. These included an altimeter and compass, and a strut from Prince's Nieuport with a bullet hole through it, a grim reminder of the dangers faced by World War I pilots. When the weather cleared the following day, de Ramel and the rest of the formation took to the air, just two days shy of the 101st anniversary of Norman Prince's final mission.