Will the Stratosphere Be 2020's Hot Tourist Destination?
Flights could begin as early as 2016.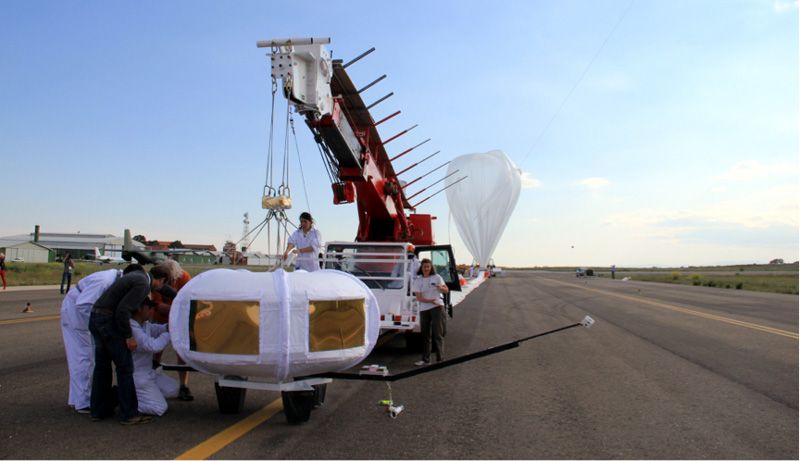 Companies on both sides of the Atlantic are making strides toward offering near-space balloon flights for tourists, starting as early as 2016.
Tucson-based World View last week completed a successful test flight of its Tycho payload capsule, a 1/10-scale version of the balloon-borne vehicle that will carry as many as six people into the stratosphere. The balloon, launched from Roswell, New Mexico, reached an altitude of 120,000 feet during the test—close to the height from which Austrian daredevil Felix Baumgartner jumped in 2012. That's high enough to see the curving Earth below and the blackness of space above.
Meanwhile, the Spanish company zero2infinity is making similar plans for near-space balloon flights, and hopes to begin piloted tests of its "bloon" next year.  The Barcelona-based firm started developing tourism plans in 2009, before World View got into the game, and already offers commercial and scientific balloon flights to the stratosphere, for payloads weighing up to a ton.
Bloon trips lasting five to six hours (including two hours cruising at an altitude of 36 kilometers) will be priced at $150,000, according to spokesperson Annelie Schoenmaker. That's twice World View's advertised price, but less than what Virgin Galactic's much shorter rocket rides to space will cost. Schoenmaker explains that the high-performance balloons for tourist flights will not be reusable, which adds to the cost.
Zero2infinity's balloon flights will launch from near Cordoba, Spain, and the six people onboard (two pilots and four passengers) should be able to see the entire Iberian peninsula from their cruising altitude (see the video above for a simulation of the flight). Eventually, the company envisions launching from other European sites, depending, in part, on legal questions. Right now, Schoenmaker says, "there is no [Europe-wide] regulation for high-altitude ballooning," and rules for licensing have to be worked out.
Schoenmaker sees next year's test program as a straightforward extension of the company's current balloon flights to the stratosphere. As for who will buy tickets, some few people—she doesn't say exactly how many—have already put down a 10,000-euro ($13,600) deposit. And, in the long term, "we think China is one of the biggest markets for space tourism."