Who Inspects the Navy's Aircraft Carriers?
It takes a (uniformed) village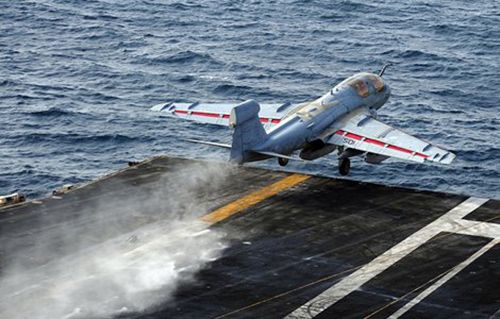 The aviation inspection checklist seems to go on forever. There are more than 40 items to evaluate on the catapult list alone. Add another 39 for the arresting gear systems, and you still won't have completed even one page of the nine-page spreadsheet. But it's all in a day's work for members of the Inspection and Survey team, who inspect all of the U.S. Navy's ships and reports on their readiness. The system was put in place by Congress 130 years ago, and last month the U.S. Navy announced major changes to its ship inspection program.
Ships used to be inspected every five years; now they'll be evaluated every 30 months. The inspections are critical: In the past, reports the Navy Times, commanding officers have been relieved of duty if their ship failed to pass. In 2010, the cruiser Philippine Sea and the frigate Nicholas failed inspection. In 2011, the cruiser Mobile Bay failed; Rear Admiral Rob Wray, president of the Board of Inspection and Survey (INSURV) noted "severe problems with engines, missiles, guns, links, comms and aviation."
We asked Captain Kris Croeber, director of external operations on the Board of Inspection and Survey (INSURV) to explain how inspectors—the Board has around 60 of them—evaluate a ship. Croeber, who has been an INSURV inspector for three years, spoke to us by email last month.
A&S: How long is the training, and what does it consist of?
Croeber: The most important part of the training of an INSURV inspector is the years of maintenance and operational experience a member brings to the board; our inspectors arrive at the board with an average of over 20 years of experience. The training for a newly reported inspector includes required reading (instructions, references, and navy technical standards) and several under instruction (UI) inspections: this is on-the-job training that includes pairing up with a qualified inspector. The average training time is 3 months, but that depends on the experience the member arrives with and how long it takes the new member to gain the required proficiency.
A&S: How long does an inspection take, and how many inspectors evaluate each ship?
Croeber: A typical inspection will take 5 work days and is completed by a team of 15 to 25 uniformed inspectors and approximately 40 technical assistants (depending on the ship size and installed systems); a CVN or LHD/LHA will be about double that. Inspectors with qualifications and experience in each particular area of a ship will inspect their portion and a qualified senior inspector (a captain with significant experience at sea) will compile all the data from the individual functional areas and pull it all together.
A&S: When you inspect an aircraft carrier, what are you looking for on the flight deck, the hangar bay, etc.?
Croeber: We inspect all installed equipment aboard the ship. For an aircraft carrier, we are not just inspecting the aviation aspects. Everything from propulsion to habitability to combat systems is inspected. From an aviation aspect, the operation and material condition of everything on the flight deck and hangar bay (catapults, arresting gear, visual landing aides, fuel systems, firefighting, electrical power, elevators, etc.) must support uninhibited flight operations. The crew operates their equipment to demonstrate it based on standard operating procedures…. We observe as the crew conducts the equipment checks.
A&S: How many inspections do you complete in a year?
Croeber: Each inspector completes an average of approximately 20 inspections a year.
A&S: What's the most difficult part of the job?
Croeber: Telling a ship's crew that even though they have worked hard, certain systems or equipment do not meet the Navy's material readiness standards. We have to give the crew and their chain of command the unvarnished truth, but sometimes that can be unpleasant. On the other hand, in the pursuit of determining the unvarnished truth, there are many instances that we are able to help the inspected ship. For example, by noting issues that pertain to Integrated Logistics Support, or other issues, the ship can then use this information to more easily correct the equipment that is not performing to standards.
A&S: What's the most rewarding aspect?
Croeber: The opportunity to share my knowledge and experience of a 27-year career with young sailors to help them do their jobs better and prepare their ship for combat.