Where Does All the Airport Snow Go?
Clearing runways in winter is no small operation.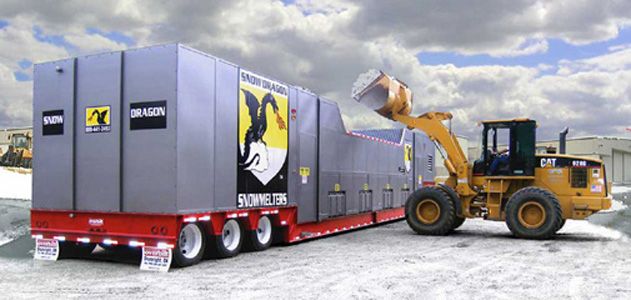 Snow is great for skiing, sledding, or just giving you an excuse to sit by the fire sipping cider, but let's face it: The fluffy white stuff can cause delays and cancellations at airports around the globe, stranding travelers and spoiling vacations. In this season of winter storms, Roger Mola, Air & Space's researcher, wanted to know what airports do with all the snow they have to remove from their runways.
"Basically, we move the snow away from the runways and taxiways so aircraft can operate. Then we let it melt," says Courtney Prebich, assistant media relations manager at the Metropolitan Washington Airports Authority, which oversees both Washington Dulles International Airport and Ronald Reagan Washington National Airport. "If we get a significant amount of snowfall, we have a 'snow dump area' at the airports where we pile it all."
In its whopping 54-page Federal Aviation Administration (FAA) lists specifications for how close snow piles can be to runway and taxiway centerlines, and how high they can be. The report includes everything from the definition of snow ("a porous, permeable aggregate of ice grains, which can be predominately single crystals or close groupings of several crystals") to charts indicating the maximum heights for snow piles to ensure adequate clearance for aircraft wings and engine nacelles. The height varies according to an airplane's "design group." The Dassault FAL-50, for instance, with a tail height of 22.9 feet, falls in group two (aircraft with a tail height of less than 30 feet and a wingspan between 49 to 78 feet). The snow bank height for this aircraft can't exceed five feet, and must be 32 feet from the runway. Passenger jets, such as Boeing's 767-300, with a tail height of 52.6 feet and a wingspan of 156 feet, fall into group four; snowbanks along runways servicing these aircraft cannot exceed 10 feet and must be 70 feet away from the runway. The FAA even includes clearance information for Lockheed's SR-71 Blackbird. While its tail height (18.5 feet) would place it in design group one, the SR-71's wingspan (55.6 feet) pushes it into group two. The largest aircraft referenced is Lockheed's C-5B Galaxy, a military transport jet with a 222.7-foot wingspan and a tail height of 65.1 feet. The C-5 falls into design group six; it can only operate on runways with snowbanks 112 feet away—although the pile can be 14 feet high.
Washington, D.C., however, doesn't get much snow. What about a place like Minneapolis, where one memorable storm dumped—over a three-day period—nearly 29 inches of snow on the Minneapolis-St. Paul Airport. Paul Sichko, MSP's assistant director of operations, explains the technique used there: "Similar to Washington, D.C., we also let Mother Nature take its course by letting snow piles melt at multiple points around the MSP campus. When the piles exceed FAA clearance limitations, we haul the snow from 'safety areas' to designated stockpile areas." In addition, the airport uses snow melters at 18 locations. "The snow melters are essentially 40 degree Fahrenheit whirlpools, heated by natural gas," says Sichko. "Our in-ground units are capable of melting up to 120 tons of snow per hour. One portable unit will melt 60 tons of snow per hour. The melters have eliminated the time-consuming task of hauling snow down to ground level through height-restricted areas."
The enormous portable snow melters—dubbed "Snowzillas" by Jeff Gray of Toronto's Globe and Mail—can convert snow into water at a rate of up to 750 gallons per minute. The FAA notes that airports using snow melters save money on snow hauling and help the environment by eliminating the need for de-icer chemicals.
So spare a thought for your Airport Snow and Ice Control Committee members this holiday season. Their hard work ensures that you get to your destination on time, even after the worst winter storm.