Bringing Inflight Movies to Airlines Was Harder Than It Sounds
Starting in 1961, passengers battled boredom with Hollywood films.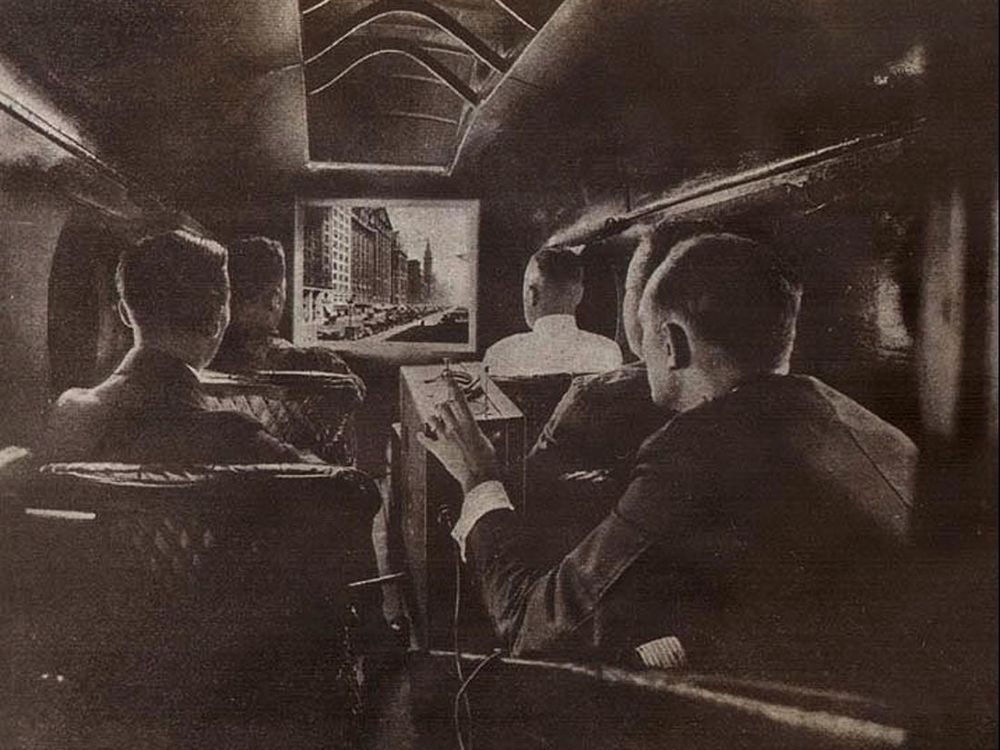 In 1961, TWA was the first carrier to regularly offer inflight movies, screening the (somewhat) steamy By Love Possessed. (The Internet Movie Database sums up the Lana Turner flick with: "Neurotic woman engages in an affair with the law partner of her impotent husband.")
But this wasn't the first onboard movie; that honor goes to a 1921 Aeromarine Airways flight during Chicago's "Pageant of Progress." Eleven passengers boarded a Curtiss F-5-L flying boat and watched Howdy Chicago! as the aircraft flew slowly over the city. Aerial Age Weekly pronounced the silent movie—"produced by the Rothacker Film Co. for the Chicago Boosters Club, for use in telling the world about the windy City's selling points"—a success.
In 1925, passengers on board an Imperial Airways World War I-era Handley-Page bomber watched part of The Lost World, an adaptation of the Arthur Conan Doyle novel, during a 30-minute flight near London. (The film is 75 minutes long.) By 1929, Transcontinental Air Transport (TAT) had equipped its airplanes with movie projectors and screens, writes Daniel L. Rust in Flying Across America: The Airline Passenger Experience. In addition to comedies, films promoting TAT services were shown.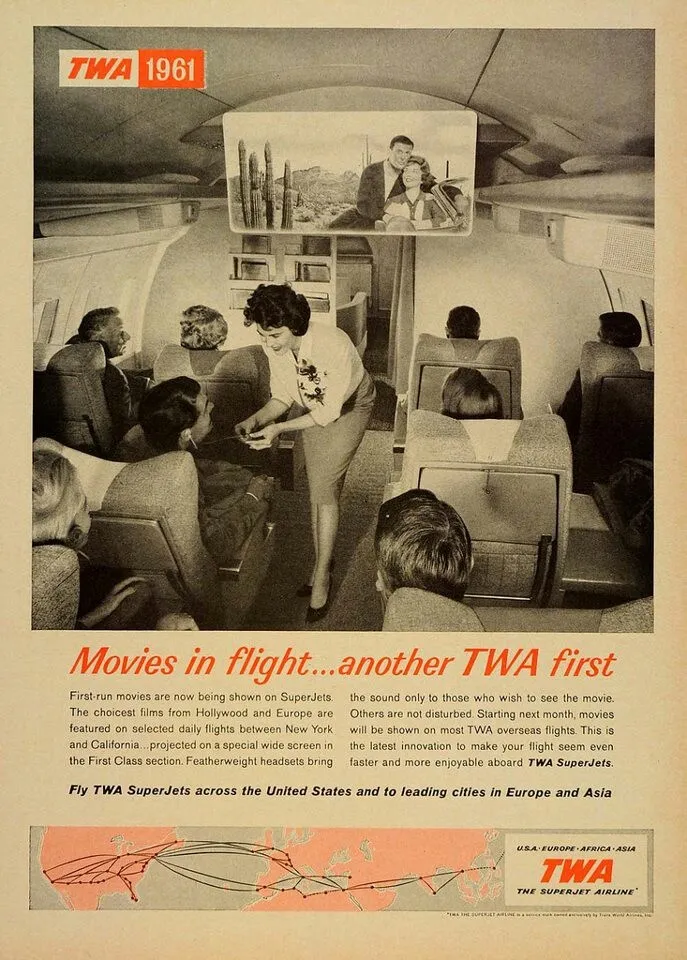 David Flexer, president of Inflight Motion Pictures, spent four years developing the system used on TWA aircraft. Company engineers prototyped a number of projectors, Flexer told the New Yorker in June 1962, but all were rejected for various reasons, including leaving too little headroom in the aisle and not measuring up to FAA impact standards (nine-Gs). The projector that was finally used weighed 75 pounds, and fit into a 34-inch-long extension of the life-raft compartment, the article notes. A single reel held the entire film.
"Putting a complete picture on one reel meant that we had to use a reel twenty-four or twenty-five inches in diameter, but we had only twelve inches of free height at our disposal," Mr. Flexer said. "What to do? Obviously, we had to put the reel in a horizontal position, but a projector will only take film that's in a vertical position, so we designed guide rollers to turn the film from horizontal to vertical as it goes into the projector and from vertical to horizontal as it comes out. We solved half a dozen other problems equally crucial; an awful lot of ingenuity has gone into this thing, which started from my simply thinking one day, in flight, that air travel is both the most advanced form of transportation and the most boring."