What's Under the Thames?
Almost 100 aircraft were lost in the river during World War II alone, and it's not certain how many are still to be recovered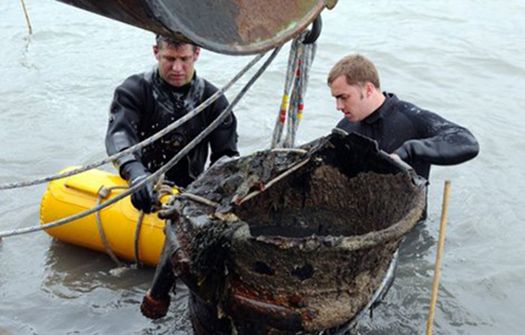 Watching the Royal Navy's HMS Ocean squeak past the Thames barrier to provide security for the Olympic Games got us wondering. What lies beneath London's  historic river?
You might be surprised: A Zeppelin from a 1916 bombing run. Two Hawker Hurricanes lost in 1940. A Junkers Ju 88 shot down in 1941. The remainder of two Boeing B-17 Flying Fortresses that collided mid-air in 1944.
And that's not all. As historian Peter Ackroyd writes in Thames: The Biography, "It was estimated, at the end of , that approximately 15,000 high-explosive bombs, 350 parachute mines, 550 flying bombs and 240 rockets had fallen upon the Thames and dockland in the course of 1,400 raids. It may have been surmised that to destroy the Thames was, essentially, to destroy England; but the river, and the country, somehow survived."
The Zeppelin L-15 was one of five airships that raided the east and northeast coasts of England on April 1, 1916, killing 28 people and wounding 44. The L-15 was brought down at the mouth of the Thames: "the airship's back had been broken by gunfire, her gondolas were riddled with shrapnel bullets," reported the New York Times on April 2. "She came down like a sick bird, flopping at both ends as though they were wings," said a sailor who watched the airship descend.
The Thames is just 215 miles long—by comparison, the Mississippi River meanders for almost 4,000 miles—and almost 100 aircraft were lost in the river during World War II alone. During the first few months of the war, more than 100 ships were sunk in the Thames Estuary, taken out by German magnetic mines.
It's difficult to determine how much of this debris remains to be recovered. When approach channels were being dredged for  London Gateway (a deep-sea container port that will open in 2013), marine archaeologists noted,  "Although World War II took place only 70 years ago, records of the positions of aircraft lost at sea are often vague or incomplete."
As recently as April, an unexploded 1,650-lb German mine was detonated in the Thames estuary, propelling water and ash nearly 400 feet into the air.