What's driving China's space program?
What's driving China's space program?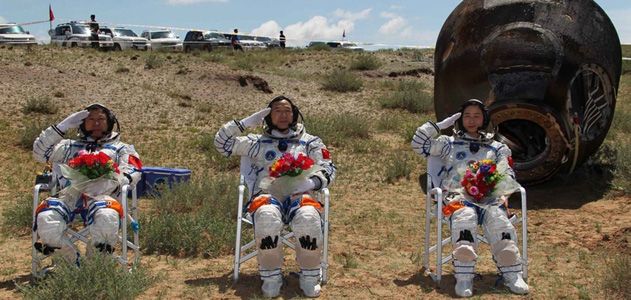 With the first Chinese space station crew now back from a 13-day mission to a prototype station, it's fair to ask what's behind China's ambitions in space? And what are the implications for the United States?
Beyond the national prestige, key drivers in China's space program are economic, political, and strategic, says Kevin Pollpeter, deputy director of the East Asia program at Defense Group Inc. of Vienna, Virginia. He and other China watchers spoke June 29 in Washington, D.C. at a forum sponsored by the Techamerica Space Enterprise Council and the George C. Marshall Institute.
From a commercial standpoint, China wants to show the world it can safely and reliably launch both humans and satellites. Beijing already has launched communications satellites for Nigeria and Pakistan and a remote sensing satellite for Venezuela. "They're not out to eat our lunch, yet," says Pollpeter. "The U.S. still launches more satellites each year than China."
If China is competing with anyone in space, it's two of its space-faring neighbors, India and Japan, says Dean Cheng, research fellow in the Asian Studies Center at the Heritage Foundation. "China is not racing with the U.S. The Chinese have their own program and their own timeline. If you want a race analogy, it's a marathon, not a sprint. A manned space program is a form of advertising. If you have a satellite, our rockets are sturdy enough to put people up."
Politically, a space program "has payoffs," says Pollpeter. "It shows that China can do great things. A human space program fits into that." And it also sends a powerful political message to Taiwan, says Cheng: "We can look down on you."
Militarily, China is determined to use space to gain strategic superiority. "They see that the United States relies on space for 80 percent of its communications and 80 to 90 percent of its intelligence gathering," says Pollpeter. "They see that if they can knock out search-and-find satellites, they can make us blind."
Papers from researchers in China indicate that Beijing has been testing space weapons since 2004, Cheng says, three years before the anti-satellite missile test that destroyed a Chinese weather satellite. The papers also refer to space "war games" to gain an advantage over future adversaries.
For now, U.S. space assets are both longer-lasting and more capable than Chinese satellites. "Chinese satellites only last three to five years while ours last 15," says Pollpeter. And the best resolution China can get from its reconnaissance satellites is one meter, while the U.S. commercial firm GeoEye resolution is now .41 meter. Where the U.S. could be vulnerable, he says, is in the age of its aeronautical workforce: 45- to 60-years old, compared to 33 to 35 for China.
But relatively few Americans are worried about anything China does in space, says Leslee Gilbert, vice president at the lobbying firm Van Scoyoc Associates and a former staff director of the House Science Committee. "It's highly unlikely the U.S. will be spurred into action, given our austerity," she says. "The country as a whole does not see China's program as a threat. China building a space station will not generate angst because China is not leading in space exploration. It's simply following the U.S."
Whatever plans China has in space, it is spending carefully. In what the Associated Press called "a rare admission," a Chinese spokeswoman said last week that China had spent $3.1 billion on its space program between 1992 and 2005, and planned to spend $3 billion more by the time the next manned mission is completed later this year. That's a pittance compared to NASA's budget estimate for this year: $17.7 billion.