The Astronaut Tapes, Uncensored
Apollo onboard voice recordings captured the moon astronauts' conversations when no one else was listening.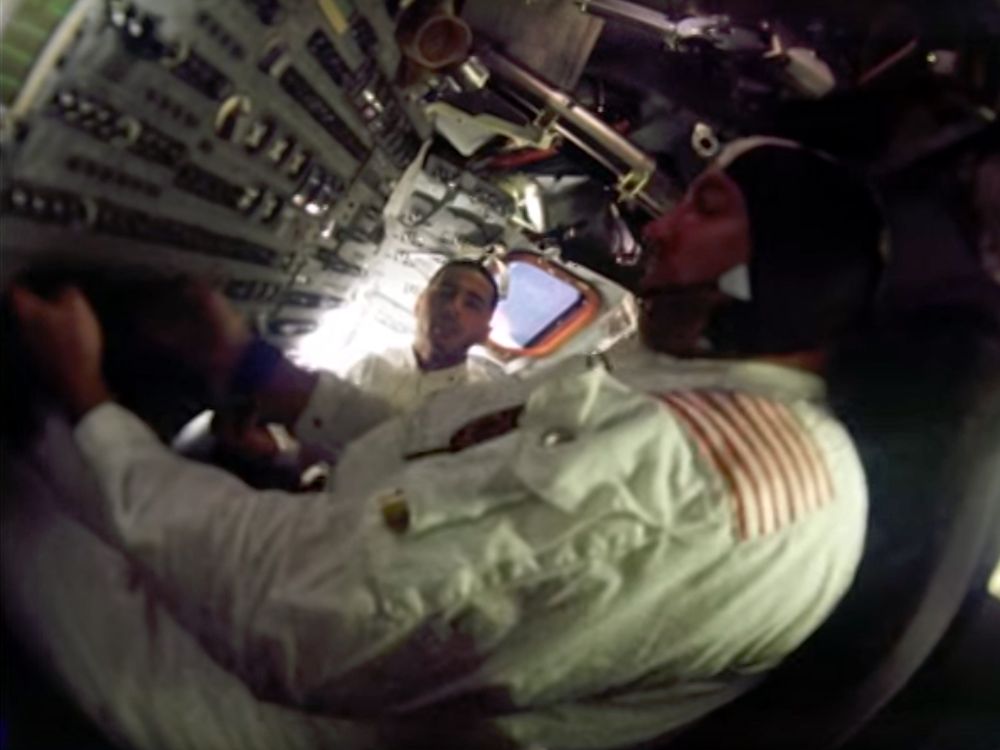 The first time I read transcripts of the Apollo "onboard voice" recordings, back in the 1980s, I was knocked out. Like many people, I'd heard and read the public, air-to-ground conversations between Mission Control and the lunar explorers. But the onboard voice transcripts were altogether different in content and tone. During times when the Apollo astronauts were out of radio contact with the ground, they had a tape recorder running inside their tiny spacecraft, preserving for posterity their private, unguarded conversations. As Apollo historian Andrew Chaikin says, reading the transcripts can feel "like being a stowaway inside the spacecraft."

The transcripts were initially classified (officially, because they included detailed information about Apollo operations), but by the late 1970s they'd been declassified. I still recall the excitement of browsing through stacks of documents with the word CONFIDENTIAL crossed out at the top of the page, reading for the first time what the lunar astronauts had actually been saying to each other during their historic flights, when no one else was listening.

Back then, I had to go to a NASA library to read the transcripts. Now you can download them as PDF documents (pick the ones marked "onboard voice"), or read them in context as part of the online Apollo Flight Journal.

Here, to choose a random excerpt, are Pete Conrad and Alan Bean, over breakfast on the morning of their Apollo 12 lunar landing:
Bean: Going to have some music to cool it. I'm about as jumpy as I can be this morning.
Conrad: You noticed!
Bean: Huh? Jumpier than I was on launch day.
Conrad: I kind of have the same feeling; it's a bigger day.
Bean: It is. You've got more things under your command today, Launch day, you're just - kind of along for the ride. Be safe; stick with that freaking list - stick to the list and be careful you don't throw the wrong switch. Don't get in a hurry.
Bean: Don't get too fancy.
Conrad: No fancy shit; you're right.
Oh, about Conrad. He cussed. A lot. Most of them did. The astronauts managed pretty well to clean up their language over the open mike to Earth, but when it was just them and the onboard voice recorder, there was no decorum at all. And the word wasn't really freaking, either (the transcriber struggled heroically to make it PG-13). Even Mike Collins, the most literary of astronauts, admitted in his book Carrying the Fire to having an "uncouth mouth." Here he is, during Apollo 11, enthusing about the view:
Collins: Jesus Christ, look at that horizon!
Armstrong: Isn't that something?
Collins: God damn, that's pretty! It's unreal.
Reading the onboard voice transcripts, you find moments of casual chitchat mixed in with the ubiquitous jargon and housekeeping details, as in this exchange between Apollo 14's Al Shepard and Stu Roosa:
Roosa: I will bring on Bank B as soon as I can.
Shepard: Okay...
Roosa: Let me try that, Edgar . Edgar Allan Poe. Man, I used to love to read his short stories. He can - he can write about a person being dead better than anybody I've ever seen.
Shepard: Yes. I guess he was a real - he led kind of a tough life, didn't he?
Roosa: Yes. Yes, he - he got a lot of his inspiration coming in and out of the DTs, I understand. How did you have it? Did you have it hooked like that?
Shepard: No, I had a strap on it before.
At other moments, the tension is evident in the spare dialog. Here are Conrad and Bean, alone in the lunar module (there was a tape recorder in there, too), about to make their descent to the surface:
Conrad: Man, there's the lunar surface.
Bean: We're going down, Pete, babe.
Conrad: Yes, I know.
Bean: Fly that thing in there.
Conrad: I'll do my best.
Bean: I know it.
Conrad: I just hope it's enough. What the hell is that?
Bean: Where?
Conrad: What in Christ's name is this?
Bean: That's the plug; they put them in there. Just slide it out.
Conrad: What is it?
Bean: It's just a dummy plug.
Conrad: Jesus Christ, I never saw that before either.
One of my favorite excerpts is from Apollo 8, right after the crew of Frank Borman, Jim Lovell, and Bill Anders has read from Genesis at Christmas time—one of the most famous TV broadcasts in history.
Borman: ....And from the crew of Apollo 8, we close with good night, good luck, a Merry Christmas and God bless all of you - all of you on the good Earth.
Lovell: That's it.
Borman: Don't say anymore now.
Anders: I just turned it off. You want it on again?
Borman: No. leave it off. Great! Great!
Anders: Off?
Borman: Yes.
Anders: Okay.
Lovell: Camera's off?
Anders: Yes.
Borman: Hey, how can you beat that? Geez, we just went into the terminator right in time.
Lovell: Okay, let's get the spacecraft back in even keel again. Here, here's this, Frank.
Borman: All right, let's get the Flight Plan out here.
Borman: We've got to get it.
Lovell: Okay.
Anders: Whew! Pretty impressive out there.
Borman: Boy, it sure is.
Borman: Okay, men.
Lovell: It's 86 hours.
Borman: Houston, how do you read? Apollo 8.
Borman: Don't tell me they didn't hear us.
If you want a feel for what really went on during the Apollo missions, you can hardly do better than the onboard voice transcripts. Magellan and Captain Cooke didn't carry along a tape recorder. But fortunately for us, their 20th century descendants did when they went to the moon.

Note: Listen to highlights from the Apollo 11 onboard voice recordings, posted by NASA in time for the mission's 40th anniversary in 2009.