Weightless Workouts
A new fitness machine on the space station brings astronaut exercise into the 21st century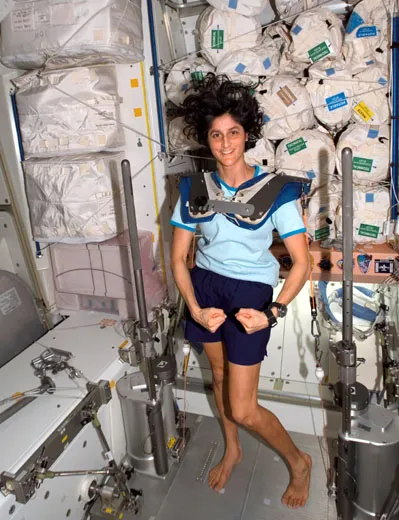 Every holiday season, we Earth-bound types do penance on the treadmill for having scarfed down too much fudge and eggnog. Astronauts exercise not out of guilt, but to stay healthy (gotta keep the bones strong and the muscles from going slack in weightlessness). Toward that end, the crew of the International Space Station got a present just in time for the holidays—new exercise equipment.

Astronauts Mike Fincke and Sandy Magnus have spent much of this week setting up the Advanced Resistive Exercise Device (ARED), which arrived on space shuttle Endeavour last month to replace the crew's old fitness equipment (modeled above by astronaut Suni Williams on-board the station in 2007). As of midweek Fincke and Magnus were still struggling, like many a parent on Christmas morning, to unpack and assemble their new equipment—a restraining bolt didn't want to come loose. But assuming everything finally comes together, the ARED will be bigger, better, and generally more deluxe than any fitness machine ever used in space.

Click through the photo gallery below for a brief history of orbital exercise.
ARED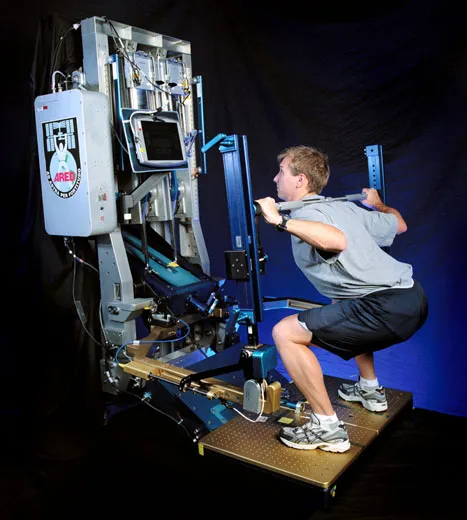 The space station's new Advanced Resistive Exercise Device (ARED) uses vacuum pressure to give the astronauts a workout. Think of an oversize, high-tech bicycle pump. Crew members can exercise their upper and lower bodies on the versatile machine, which also includes cable-and-pulley and flywheel mechanisms to simulate free weights. Astronauts will typically exercise on ARED for two and a half hours each day, and can customize their workouts using digital displays.
Exer-Genie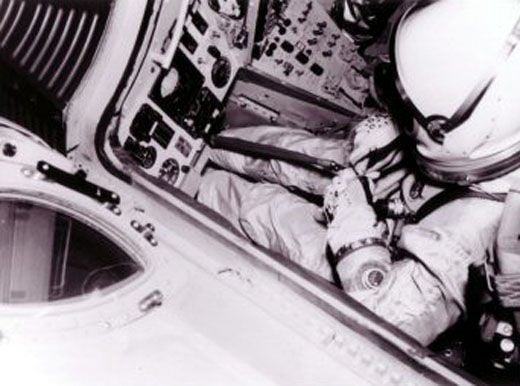 The first rudimentary exercise equipment used by U.S. astronauts was a simple bungee cord device, first flown on Gemini IV in 1965. Pulling the rubber cord required 70 pounds of force.

The Apollo astronauts took along the commercially developed Exer-Genie on several missions, but reported mixed success. Mike Collins complained after his Apollo 11 flight, "If you got a good workout on the Exer-genie, it got so hot that you couldn't really touch it." Pete Conrad was also frustrated by the device. He told NASA debriefers, "I tried after the Apollo 12 flight to learn how to use the Exer-Gym right. And I never did like it."
Skylab Bike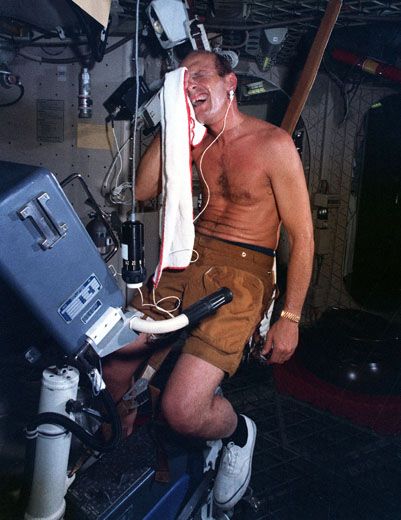 The Skylab space station of the 1970s had a bicycle ergometer on board. Pete Conrad (shown here after a workout session on the ground in preparation for his 1973 Skylab 2 mission) reported after his flight that even though the bike didn't exercise every muscle (working the calf muscles was especially hard), "It does make you feel good if you can work out twice a day." His Skylab 2 crewmate Joe Kerwin added, "Even just running around [Skylab's] ring lockers or throwing the ball around in the evening for 15 minutes makes you more relaxed."
Rowing and the Dyna-Band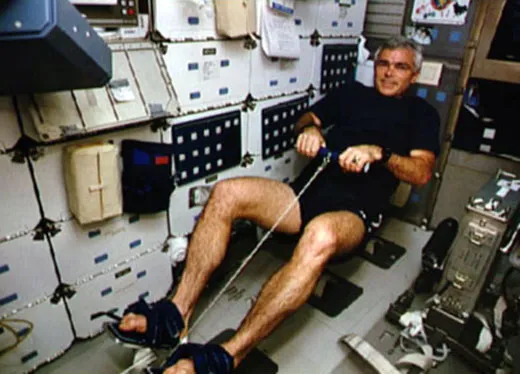 The space shuttle mid-deck, far more cramped than the International Space Station or even Skylab, still had room for stowable exercise equipment, like this rowing machine used by Rich Clifford during his STS-59 mission in 1994. Shuttle crews found other, more creative ways to exercise, according to Clifford. In a 2000 interview he recalled, "We took a large rubber band—called a Dyna-Band—that we used for exercise and stretched it across the airlock hatch on the mid-deck. Then we'd shoot ourselves down the tunnel. One of the crew members would shoot you down, and we had a competition to see who could do it without touching the tunnel walls. Nobody ever made it."
Mir Treadmill
The Russian Mir space station had a treadmill on board that benefited both cosmonauts and U.S. guest astronauts. Here Shannon Lucid works out in 1996, while John Blaha, who was replacing her on the Mir crew, studies a daily planner.
Vibration Isolation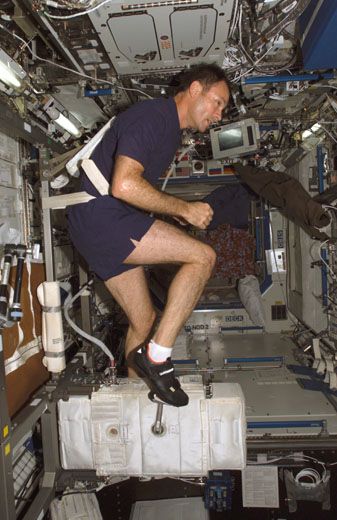 The bicycle ergometer on the International Space Station is an improvement on the device used by shuttle astronauts. This model includes a vibration isolation system designed to reduce disturbances to sensitive experiments. Here Michael Lopez-Alegria works up a sweat in the station's Destiny science laboratory during his Expedition 14 mission in 2006.
T2 Trainer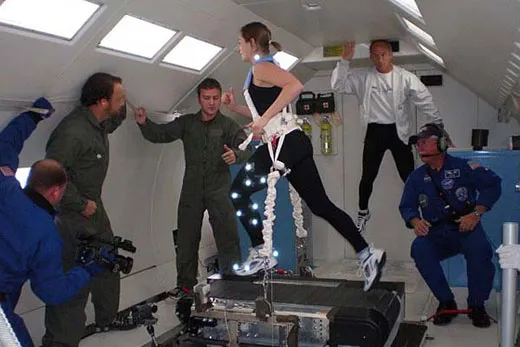 This second generation treadmill for the International Space Station (called T2) is shown during testing on a DC-9 aircraft that provides short periods of weightlessness. The new treadmill will be carried up on a future shuttle flight, after the station crew expands from three to six people.
Zero-Gravity Simulator
With NASA once again planning to send people to the moon, space exercise specialists are starting to think about how astronauts will exercise in one-sixth gravity on the lunar surface. Shown here is a Standalone Zero-gravity Locomotion Simulator under development at NASA's Glenn Research Center in Ohio as a way to train future moonwalkers. See the simulator in motion here.