We Recycle
Used airplane parts can appear in the strangest places.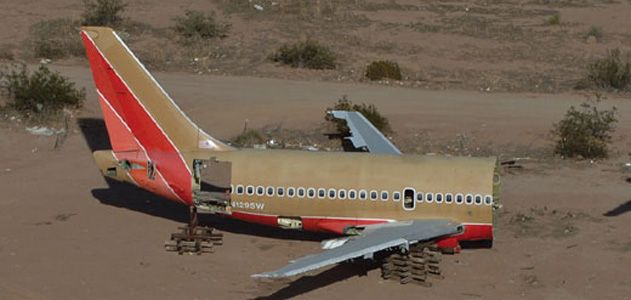 Deep in the Arizona desert, a grapple at the end of a 25-ton excavator chomps into an aircraft fuselage, crunching the metal before hoisting and dropping it into a nearby dumpster. It swings back for another bite of aluminum, which crackles as it rips away from the hull. The excavator continues ingesting until all that remains are the blocks on which the airplane shell once stood.
It's the humiliating end for another stripped aircraft at the busy Evergreen Air Center in Marana, Arizona, which dismantles between 24 and 48 commercial aircraft a year. But thanks to emerging advances in the aircraft recycling industry, some parts that otherwise would end up in a landfill could find new life as transformed products. If new carbon fiber recovery techniques can be refined, aircraft composites in ailerons, elevators, and rudders may be converted into computer laptop cases, cell phone cases, or even skateboards. The technology is close to becoming commercially available, says Ron Allred, president of Adherent Technologies in Albuquerque, New Mexico. "The technology is ready; we're just waiting for an investor," he says.
Finding new uses for old airplanes is the mission of recycling centers like Evergreen, located 37 miles north of Tucson. The facility is one of the biggest and busiest aircraft dismantlers in the country. "Right now, we have a bigger backlog than we've ever had," says Jim Toomey, the company's president. "It could just be a spike, but I don't know. If it goes this way through spring, I'll definitely think there's something really going on. A lot of these planes are just about obsolete, so maybe they're just trying to get any value they can out of these parts before they terminate the airframe."
The line to the excavators is growing. An estimated 6,000 to 8,000 commercial aircraft—mostly wide-bodies—are expected to be retired worldwide in the next 10 to 20 years, according to Martin Fraissignes, general manager of France's
Chateauroux Air Center, another aircraft recycler.
That's a lot of material to chomp. It's also a lot of material that, left unattended, could become an environmental hazard or, if uncertified, pose a safety risk if reflown. That's why recyclers like Evergreen and Chateauroux last June joined forces with nine other U.S. and European manufacturers to form the Aircraft Fleet Recycling Association. The group is seeking to develop best-practice standards to manage retired aircraft parts.
The good news, as recyclers and aircraft operators see it, is that about 80 percent of all commercial transport aircraft material can be reused in some fashion. "There are a lot of materials that are very valuable in aircraft. I mean, really valuable, and you need to know those," says Toomey. "If you're just taking apart a plane, you could be throwing away $40,000 to $50,000 worth of stuff."
The bad news is the risk of worn-out parts being reflown, particularly in countries where aviation oversight is lax. "Bootleg parts, especially in Third World countries, already are a problem," says Toomey. For parts that are inspected, found to be no good, and then thrown in the trash, he says, "somebody could pull them out and try to sell them" to aircraft parts suppliers.
That's where the new association comes in. Its mission is to develop and encourage aircraft recycling practices that are both economically viable and environmentally sound. So far, the industry is responding; within months of the group's launch, between 20 and 30 parts suppliers or manufacturers in the United States and Europe expressed interest in joining. Nineteen have already become members and AFRA expects at least five to 10 more companies to join this year. Committees within the association are working to set standards for retiring aircraft and to lay down technical recommendations for reusing parts.
"I think that [AFRA] will help people in how they take planes apart," says Toomey. Association members are likely to avoid doing business with individuals or companies that are "not legitimate," he says. But "a crook is a crook, and they're going to figure out ways to forge paperwork and do whatever they want."
Airbus and its partners are setting up a center at Tarbes Airport in southern France to look for the best ways to decommission and recycle aircraft. Airbus' project, called PAMELA (Process for Advanced Management of End-of-Life Aircraft), has the same aims as AFRA, but Airbus is controlling the process, rather than collaborating with the partners.
At a center like Evergreen, it typically takes about a month to dismantle a Boeing 747. Workers first have to park the aircraft on a cement slab to keep hydraulic fluids and other toxic substances from seeping into the soil. Then, Federal Aviation Administration-certified airframe and engine mechanics go through it and remove every usable part: "the wings, flaps, ailerons—everything that can be taken off," says Toomey. Those items, along with the avionics, are tagged with their serial numbers and sent to used-aircraft parts suppliers such as The Memphis Group in Tennessee and Volvo Aero in Sweden for resale.
Parts most in demand include engines, landing gear, winglets, and avionics. Second-hand-parts suppliers with FAA repair station certificates can refurbish and recertify those parts with service life remaining. Once the usable parts are out of an aircraft, mechanics go in and rip out the guts —including miles of wiring—and toss them into dumpsters. Then the shell is hoisted on top of blocks and the grapple and shears start devouring. The munching takes about 10 days for a 747. "It's three stories tall and you can't just start chomping at it because it would fall over and kill you," says Gary Kippur, president of Tucson Iron & Metal, which works with Evergreen.
The aluminum remains of a 747, worth at least $20,000, will fill five 50-foot trailers; an early-model 737 will fill just one. Tucson Iron & Metal then drives those trailers to a secondary smelter, TIMCO, in Fontana, California, which melts the aluminum and separates it into ingots by specific chemistries, says Kippur. The metal then can be recast into such everyday things as car wheels, automobile transmission casings, or lawnmower engines.
New technologies that can sort aluminum by alloys or recover carbon fiber from composites are extremely timely, not only because of the volume of predicted aircraft retirements in the next decade, but also because the price of raw material—particularly for composites— is rising. Aerospace-grade carbon fiber, for example, sells for about $25 per pound. But, unlike aluminum, composites can't just be crunched, melted, and recast. They have to be broken down under heat in a complicated process that turns them into a sort of hydrocarbon "soup." From there, the various resins can be separated and mixed with other substances to produce recycled carbon fiber, which can be used in the wood products industry.
Wringing the most use out of old aircraft parts is a major issue for both dismantlers and manufacturers, such as Boeing, which is using a significant amount of composites on its new 787 Dreamliner. The aerospace giant already is working with Milled Carbon in Britain and Adherent Technologies in New Mexico, both of which are developing carbon fiber composite recycling technologies, and Boeing is manufacturing the 787 with recycling in mind, says Bill Carberry, Boeing's project manager of aircraft and composite recycling. Carberry is enthusiastic about the prospects for composite recycling. "Boeing is confident that [the technologies] will provide an environmentally preferred alternative that will dramatically increase the value of end-of-life aircraft," he says.
If recyclers have their way, the commercial airliner you fly today—or pieces of it, at least —could wind up as tomorrow's building material for your house, deck, car, or cell phone.