Where airplanes have floats, and everybody flies.
Water World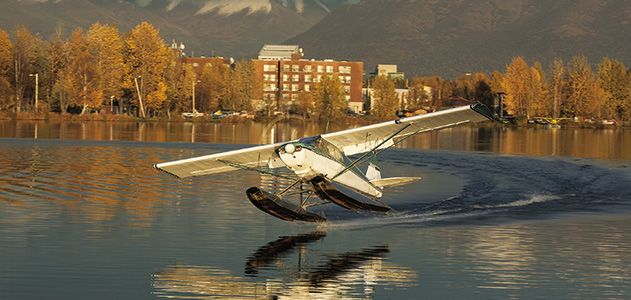 Anchorage is a city of airports. Approaching it from Alaska's Cook Inlet, you come first to Ted Stevens Anchorage International, a great scissor of long runways and a steady stream of in- and outbound heavies. Its name memorializes the state's longtime U.S. senator who died in a 2010 seaplane crash in southwest Alaska, and who helped make this mid-size city on the southern rim of the American Arctic one of the world's busiest air-cargo operations. Cargo and passenger aircraft make more than 90,000 landings here a year.
A bit farther on lies Merrill Field, a general aviation hub that opened in 1930, was Anchorage's first airport, and is still municipally owned and operated. More than 1,200 tie-down spaces line the taxiways, and the field is home to nearly 900 aircraft.
Farther north, Joint Base Elmendorf-Richardson hosts a flock of F-22 Raptors, which come and go, small as bees in the distance.
But what many regard as the aeronautical jewel in this air-minded city's crown lives on a pair of shallow, lung-shaped lakes—smaller Spenard to the east, Hood to the west—scooped out by ancient glaciers as they crept toward the sea. In 1939 the two lakes were united by a dredged channel, and a 2,200-foot east-west gravel runway was laid south of Lake Spenard. That strip was replaced some 30 years later by a north-south gravel runway still in use today. (Gravel is kinder than concrete to tundra tires.)
The facility's true destiny lay with seaplanes. During the 1950s, the seaplane capacity was enlarged and five watery fingers were carved from the north side of the connecting channel. A control tower, a rarity among seaplane operations, regulated Lake Hood traffic from 1954 to 1977, when it was folded into the Anchorage International complex, and Lake Hood's traffic came under the control of International's tower.
According to Clark Wolverton, interim operations manager at the Anchorage tower, the airport has one controller answering Lake Hood calls, and several others for all the other arrivals and departures. Unlike the old days, when most seaplanes had about four dials on their panels, aircraft using Lake Hood must have a radio to talk to the tower and should have a transponder, although many still do not.
"It usually works pretty well," says Wolverton. "You have professional pilots, military, and less seasoned pilots out of Lake Hood. You learn to talk to your audience."
On Friday afternoons in summer, Lake Hood swarms with outbound aircraft, both floated and wheeled, heading for cabins and ponds and gravel spits in the Alaskan bush. The heavies lumber in from both halves of the globe, one after the other. Merrill becomes a hive within a hive, while the odd Raptor sails down Knik Arm across the Lake Hood departure route, bound for Elmendorf. The tower talk on a Friday afternoon in summer makes one think of jugglers with a dozen eggs in the air.
Like International, Lake Hood is owned and operated by the state, not the city, with much of the maintenance work provided by the larger airport. Taxiway Victor , blocked by a radio-activated sliding wire gate, lets aircraft taxi between the two. According to John Stocker, Lake Hood's interim airport manager (before retired Air Force fighter pilot Tim Coons came aboard last October), aircraft without radios sometimes follow a radio-equipped comrade, slipping through the open gate behind him.
***
About a thousand aircraft have congregated at Lake Hood, where nearly 200 takeoffs and landings occur daily.
For residents and visitors, however, the conjoined lakes are much more than an aquatic aerodrome. Wonderfully accessible to the public—the lakes are circumscribed by a two-lane road and a pedestrian path—it is also a place to take the kids and walk the dog. Unlike most urban airports, it is not coveted by hungry developers; Anchorage likes Lake Hood as it is.
One reason for its popularity is that the Lake Hood complex takes us back to an earlier style of aviation, when runways were mostly level patches of grass or gravel and bodies of water. There are few places left where you can watch a 60-year-old de Havilland Beaver in gleaming vermilion livery step-taxi across the water like an out-sized Gar Wood runabout, and hear the old radial's nine cylinders pounding like the hammers of Asgard on takeoff.
In some ways, and under ideal conditions, seaplanes are easier to fly than other aircraft. Ideal conditions may exist at takeoff from Lake Hood, but not at landing in some remote destination. "Next time you fly," advises one pilot, "try touching down with your eyes closed. That's about the way it is out in the bush in the dark." Without runways, you don't worry about crosswinds, and, in coastal Alaska, the whole world is your airfield. But stir in plummeting temperatures, lowering stratus clouds, high winds, and dirty weather, and a seaplane loaded up to its gross weight—and then turn out the lights—and you begin to see the challenge.
Government safety pamphlets are full of photos showing tails sticking out of the water, generally the result of a pilot's failure to keep that nose up on landing. Touching down in isolated lakes and braided rivers, you have to look out for floating and sub-surface debris, avoid encroaching trees, and read the wind and currents, always keeping in mind that seaplanes land short but take off long—you don't want to set down on a lake that's too small for a takeoff.
At the Lake Hood base, the shore is rimmed with leased seaplane slips—500 of them. The allocation of slips says a lot about the Alaskan aeronautical mindset. "There's a waiting list for slips and commercial leases," says Dee Hanson, the executive director of the Alaska Airmen's Association. Her office is a small cabin on what is called Airmen's Point. "It used to be 17 years. When kids were born, people put their names on the list." The expectation was that if the child were a normal Alaska child, by the time she got her slip, she would have a license and an airplane. The current waiting time is about seven years, according to Hanson, who flies her grandfather's Super Cub 150A.
The slips cost $105 a month, plus another $10 for commercial operations, and they are not intended for stashing derelicts one hopes to fix up someday. All the aircraft in the Lake Hood slips are airworthy.
But they are not young. Most date from the 1970s, or earlier. Here and there one encounters something extraordinary: an immaculate Cessna 195 on floats, a Grumman Widgeon. Super Cubs and antique Aeroncas line the shore, along with a host of 1960s and 1970s Cessnas. The newest airplane on the lake is probably a white RV9A two-seat homebuilt, sitting toy-like on floats as dainty as dancing pumps.
The commercial operators here lean more toward the Cessna 206 and the big classics: de Havilland Beavers and Otters, some converted to turbine power, and the turbine-powered Cessna 208 Caravan.
Pilots brag about the older airplanes' ability to fly with whatever can be loaded into, or onto, them. The old de Havillands take off with lumber, sea kayaks, an aluminum fishing boat, snow machines, and various other bulky objects strapped to the floats, the cabins stuffed with a four-by-four vehicle or a rank of 55-gallon fuel drums—or a half-dozen passengers.
***
More than 60 businesses and several government offices are arrayed along the lakeshore. Some of the enterprises are dedicated to keeping old aircraft maintained and updated. Some sell used airplanes or fuel, offer instruction, or provide storage for floats.
In some respects, the Lake Hood business community evokes the towns in movie westerns, with their shopkeepers, smiths, livery stables, rugged individuals, farmers, sharecroppers, and dynasties. In those settlements, everybody owns and rides a horse, but the only ones who make their living with one are cowboys. Everybody in this community flies, but only a handful make their living doing it.
Occupying a slip in Lake Spenard's northeast corner is Ellison Air, run by John and Diana Ellison. A tiny manicured lawn and bank of flowers front a shack finished off like a dollhouse, and a sparkling Cessna 206 floats in its moorings by a narrow pier.
"I came here in 1967," Ellison says. "My dad had been flying a Maule M4. I just grew up around floatplanes."
He met his wife in 1989, after the Exxon Valdez spilled oil in Prince William Sound; he was hauling people and supplies, and she was working in Valdez as a helicopter dispatcher. They started Ellison Air with his father's 206, then added a second 206 with a Robertson short-takeoff-and-landing mod.
"When we first started, it was everything and anything to make a buck with those airplanes." Back then, commercial seaplane flying was heavy hauling, but over the years, air tourism has grown, while hunting and fishing have tapered off. "Most people want to come up and take a picture." Hauling people is easier work, Ellison says: "The cargo walks on, the cargo walks off." There is no heavy lifting, no large carcasses to hump around, and no antlers to rip up the airplane's interior.
***
If Lake Hood Seaplane Base were a frontier settlement, Rust's Flying Service would be its Ponderosa Ranch. After retiring from the Air Force as a command pilot, Hank Rust merged his lifelong interests in wilderness sports and aviation. Starting with a Super Cub, he gained experience flying the Alaskan bush, then bought a Cessna 185 and, in 1963, established Rust's Flying Service at its present location on Lake Hood.
"At that time," explains his son Todd, "there were already several operators on the north side of Spenard Lake supported almost entirely by hunters and fishermen. The season started in March with polar bear hunters, then the fishermen showed up in May through August, and moose, bear, caribou, and sheep hunters rounded out September and October.
"We added aircraft during the 1970s," Rust adds, "typically one Cessna every two years. The late '70s brought bigger aircraft such as the de Havilland Beaver, partly because of more passengers and partly because sportsmen no longer considered a sheet of Visqueen and sleeping bag to be an adequate camp. We probably added a Beaver to the fleet every three years, and then we scored a major tour company account in 1988 that brought in 44 people three times a week. It was a fleet effort, with seven aircraft launching in sequence from Lake Hood."
That contract continues to this day, as do the hunting and fishing excursions. But, increasingly, Rust's clients come for flightseeing and bear viewing—and to have the experience of flying in an honest-to-God bushplane, enveloped in the reviving din of a big radial.
Rust's fleet now comprises a DHC-3 Otter and Cessna 208 Caravan, three DHC-2 Beavers, and four Cessna 206s, all based at Lake Hood. A second squadron was added by Rust's acquisition of K2 Aviation in Talkeetna (see "The Pilots of Mount McKinley," p. 46): four DHC-3 Otters, three DHC-2 Beavers, two Cessna 185s, a Piper PA-31 Chieftain, and a PA-32 Cherokee Six. This huge stable has made Rust's one of the largest bush operators in the United States.
There seems never to have been a time when Todd Rust was not surrounded by aircraft. After high school, Rust got his commercial ticket with a seaplane rating and, the following season, started flying for money "after my dad convinced the insurance guy that the 18-year-old kid was a good stick. We flew all the time, seven days a week, until the job was done. And it never seemed to be done until October."
By then, Todd would be back in school, probably "the only kid bush pilot at Occidental College and Caltech." After graduating, he spent several years with Lockheed and Northrop.
The powerful gravity of the Alaskan bush drew him back to Lake Hood. In 1983 he returned to Rust's as chief pilot; when his father stepped down in 1995, Todd became director of operations.
But things are not as they were. "The hunting and fishing trade is down," Rust says. "That's one reason that there are not as many commercial aircraft on Lake Hood as there were 10 years ago. But air tourism is way up, particularly bear viewing and the volume of people who want to see Mount McKinley. That's what has driven the market for turbine Otters. Ten years ago we had the only one around locally. Now there are eight in Talkeetna and probably another eight in Anchorage and vicinity."
Todd no longer flies regularly, but he keeps his hand in with a Super Cub—the same one, greatly modified, that was present at the creation of the family business.
***
On a cool, windless morning in September, Rust's Caravan, large enough to be classified as a short-haul airliner, taxis across the lake. The airplane seats eight; each passenger has a big window for viewing and photography, and each seat is equipped with its own David Clark headset, which links the octet of strangers and pilot. It is like flying in a winged Bentley.
The Caravan's pilot, Mark Stadsklev, came to aviation almost by accident. After high school in Nebraska, he fell victim to wanderlust: "I bought a motorcycle and went out to California." He worked as a waiter, roofer, chimney sweep, scuba diver, and actor, and earned a theater degree from the University of Oregon. But he changed his path: He entered a flight technology program at a community college and, two years on, got piloting credentials. He discovered immediately that you don't fly professionally in Alaska without many years of experience, so he returned to Oregon for a time, then got a job with Forty-Mile Air, in Tok, a tiny Alaskan community about 60 miles west of the Canadian line.
"I don't think we ever took a tourist flight," he says. "Kids, prisoners, gold miners, fuel. Everything. In and out of villages. Highways, dirt strips. We flew year-round. I was there about five years."
Back in central Alaska, Stadsklev flew for a time with Frontier Flying Service. After a few years of floatplane experience, he took a job with Rust's, as chief pilot.
On this day, Stadsklev puts the Caravan down on Lake George, high in a narrow mountain valley, and taxis up close to the crumbling rim of the advancing glacier to show his passengers the four-story wall of ice that has shattered into giant translucent molars. Back in the air, he flies close enough to the sheer mountainsides so that the passengers see the occasional Dahl sheep, balanced high on shards of black granite.
Stadsklev is not sentimental about his work, or about aircraft—to cowboys, most of the time a horse is just a horse. But, as cowboys must be, he is keenly aware he follows a precarious profession. One of the only sure things in aviation is that there will always be more pilots than airplanes. "Owners have no incentive to pay things like retirement or medical," says Stadsklev. "No pilots' union, like there is for taxicabs, forklifts, roofers." A talented professional photographer, he sees himself migrating into the arts. But he gives no sign that he's ready to stop flying in Alaska.
"In spite of a life of chronic unemployment," Todd Rust says, "most Rust's pilots return each season for a four- to five-month job. I've got pilots who've been with me for 10 years or better, and some off and on for 20 years. There's something about the job that keeps these guys coming back year after year. And it's not the benefits, of which there are darn few in a seasonal position. There's a base monthly salary and an hourly wage if they fly, yes, but they get paid to turn around and come back to base if the weather's bad. Not everyone is cut out for our type of flying."
***
In late September, a thin sheet of ice forms on Lakes Hood and Spenard. When the ice is six inches thick, airplane owners trade floats for wheels or skis, and the lakes become runways.
Most owners have traditionally had their floats installed at one of several float specialists on the lakeshore. According to Robert Tasker at Floats Alaska, the company used to do two full changes a day for a month and a half. This seasonal transformation, like everything, has changed. "More and more," Tasker says, "they just haul their floatplanes out and let them sit out the winter."
At Rust's, the workforce drops from about 40 people to a dozen in winter. The big floatplanes are hauled out and stored.
The meteorological winter is kinder to Lake Hood operations than the recent economic winter has been. While the larger operators still thrive on a growing air tourism trade, the smaller outfits have seen hard times.
"I'd had the best year I ever had in 2008," says John Ellison. "But 2009 was the worst year ever, down from 400 hours to 275. We used to have another pilot, dockhand, office person. Now it's pretty much a one-man show."
But the Lake Hood Seaplane Base and all who make their living from it—pilots and ground crews, husbands and wives, fathers and sons—are sticking around despite lean times. Many see themselves as part of a brotherhood of neighbors and kindred souls—a unique aeronautical ecosystem. As Dee Hanson says of Lake Hood, "There will never be another one like this one."
In 1976, longtime contributor Carl Posey flew a wheeled Cessna 182 from Colorado to Point Barrow, Alaska, and back (and lived to tell about it).