The Warbirds Road Show
Ride along as the Collings Foundation brings World War II flying legends to 120 cities.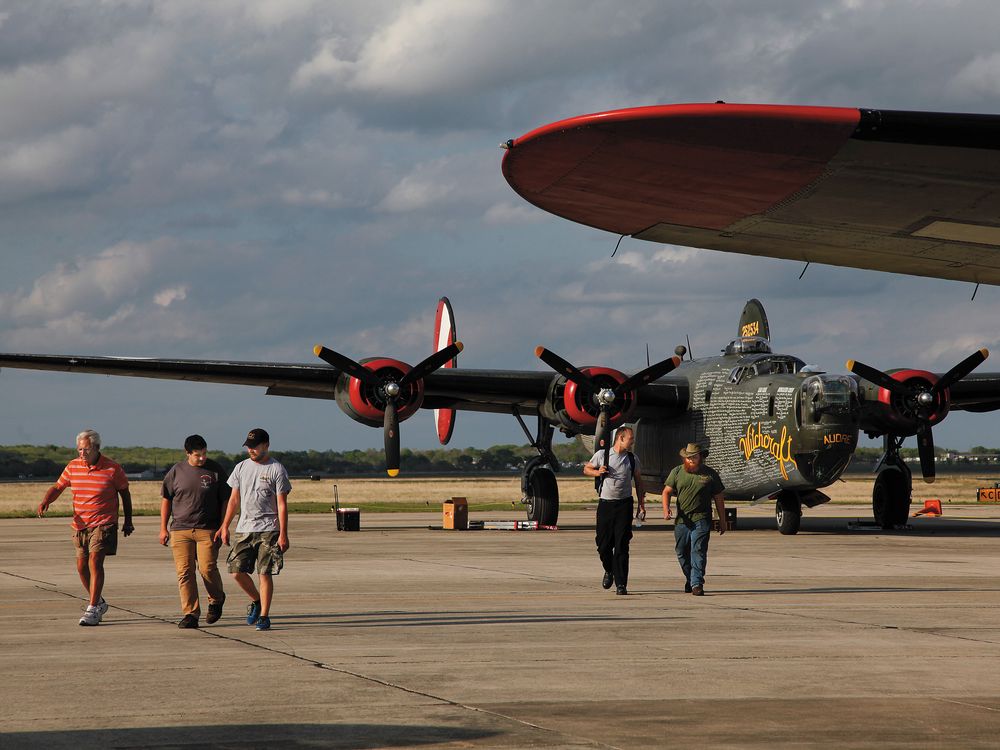 Until she took a 30-minute ride 1,000 feet over the green hill country of central Texas in a North American B-25J Mitchell bomber, Karen Thurmon hated to leave the ground. "I used to be afraid of flying, but no more," says Thurmon cheerfully, fairly bouncing along the tarmac of San Marcos Regional Airport just after landing in the B-25 Tondelayo.
I was on that flight too, along with Thurmon's husband John, who flew F-4s in the Air Force. I'd only ever flown inside pressurized cabins before, and in creature-comfort terms, a commercial airliner is to that old bomber what a limousine is to a motorcycle. Now that we're back on terra firma, my legs are a little shaky, and I just want to do it again.
To enjoy the thrill of aviation is certainly one of the reasons the Thurmons and I are in San Marcos today, but there's another: to remember the sacrifices of the tens of thousands for whom flying and maintaining airplanes like this old B-25 was not a hobby, but a duty.
The B-25 occupies an honored place in the pantheon of World War II aviation legends—not because it was one of the most versatile aircraft in the Allied arsenal, though it was. It served in every theater, strafed targets as well as bombed them, transported troops, knocked down bridges, and sank ships. What makes most people stop and think when they see one, though, is that valiant mission in 1942 when 16 of them took off from the USS Hornet and struck Tokyo. In every B-25 that flies today is the ghost of Jimmy Doolittle.
The B-25 Tondelayo is named for the seductress played by Hedy Lamarr in the 1942 film White Cargo. (At the outset of World War II, Lamarr also helped invent a torpedo guidance system for the Allies.) On Tondelayo's fuselage is a painting of Lamarr reclining suggestively, dressed only in a grass skirt. Borderline indecency aside, it's a decent likeness of the woman MGM Studios once promoted as the most beautiful in the world.
The airplane painted in Lamarr's image doesn't look so bad either, especially considering it was born in 1945. But then like most star performers, it's got a retinue of attendants pledged to keep it in good working order. Three full-time mechanics, in fact. And the B-25 is not even their most demanding client.
Tondelayo is one of four historic warbirds enjoying a three-day midweek stay at San Marcos airport, the 15th stop of the Collings Foundation's 2017 Wings of Freedom tour—a traveling "living history flight experience" that's been giving World War II buffs and aviation enthusiasts the opportunity to experience classic military aircraft since 1989. While the Massachusetts-based foundation has about 30 aircraft in its collection, including a baker's dozen from World War II, the current Wings of Freedom detachment comprises Tondelayo, the North American P-51D Mustang Toulouse Nuts, the Boeing B-17G Flying Fortress Nine-0-Nine, and the Consolidated B-24J Liberator Witchcraft—the last J-model still flying.
For $15 ($5 for ages 12 and under; free for World War II vets), you can get close enough to these airplanes to touch them—in fact, you can touch them. You can take all the pictures you want. You can even climb up into the bellies of the B-17 and the B-24 and put your grubby hands on anything you can reach, though the cockpits are webbed off. (The Flying Fortress' pivot-mounted .50-caliber waist guns—unloaded, of course—are especially popular with kids.)
"If I get a group of Boy Scouts going through, I know every other circuit breaker is going to be pulled," says Mac McCauley, one of the tour's two full-time pilots. At 73, he has over half a century of experience in the cockpit, and 6,000 hours in the B-17; he's flown for the Collings Foundation since 1999. Soon after we begin talking, he opens a new window on the web browser where he's looking at weather radar to show me a photo of the 1942 Boeing Stearman he keeps hangared in Chino, California.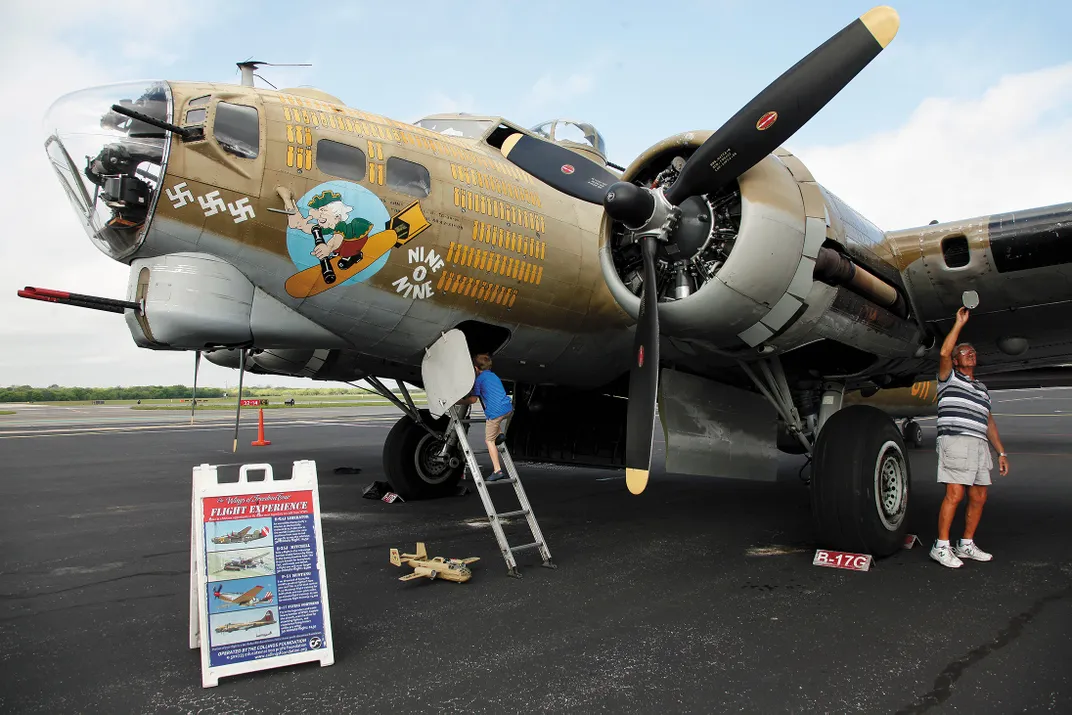 One thing you grasp immediately when you turn sideways to walk the length of the Liberator's bomb bay on what's essentially a balance beam, or wiggle beneath the pilots' seats to reach the nose turret of the Flying Fortress, is that the men tasked with operating these war machines in the 1940s were—even discounting their youth—shorter and thinner than your typical late-model American. The B-17 I'll fly the following day offers a smoother ride than the B-25, but neither aircraft was built for comfort. "They're engines, ammo, and gas tanks, and that's it," Mike Aleman told me a few days later in San Antonio, when he showed up on an overcast Saturday at Stinson Municipal Airport to check out the tour with his wife and their 10-year-old son and seven-year-old daughter.
But you don't have to take his word for it, or mine. For a partially tax-deductible donation of about $450, you can fly in any of the bombers for half an hour. Going up in the Mustang will set you back considerably more—$2,200 for 30 minutes; you can fly for an hour for another $1,000. That sum buys you some aerobatic derring-do, some stick time, and lifetime bragging rights, even if you don't have the ambition to make it a habit.
"It's a one-time thing for most of them," says Fred Bower, a former U-2 and A-10 pilot who looks like a more physically fit version of the comedian Tim Allen. He takes a leave of absence—some 30 to 60 days each year—from his job as a pilot for Southwest Airlines to fly the Mustang on tour. Flying the Mustang is easy, he says, assuming a person has experience in other, lower-performance warbirds. His favorite thing to fly, however, is a gyrocopter. He's built three of them.
Bower is one of the more zealous of the volunteer staff, which numbers nearly 100 over the course of the year. The members help out at various points during the 330-day, 100-stop journey around the United States. Some come out for only a weekend or two, while others join for several weeks at a stretch—like Tony Dyer, a flight test engineer and World War II aviation obsessive from Salisbury, England.
Dyer is the flight engineer on my maiden flight on Tondelayo; during our preflight safety briefing, he quips: "Isaac Newton has a lot to be sorry for." (The briefing is no more elaborate than what you get on a commercial flight—basically, don't touch the control wires, and stay buckled in until Dyer signals you it's okay to move around. He'll do this in gestures, because you'll be wearing ear protection.)
Mike Macon is volunteering with the tour from Pensacola through Dallas; he says he'll try to join up again once it swings back closer to his home in Burlington, North Carolina. Macon maintained KC-135s, B-52s, F-4s, and other aircraft before retiring from the Air Force in 1991.
Because of a Federal Aviation Administration regulation, Collings cannot charge money for the flights between airfields, so it uses those flights as a reward for volunteers when there's space available, and for journalists, students, or other observers. (The range between stops varies from 10 to 500 miles, depending on the region.) Collings also uses them to take up World War II veterans free of charge if they're hardy enough to go. A few still are; I met several during my five days in Texas.
The full-time touring staff numbers only half a dozen: pilot McCauley; chief pilot Robert Pinksten; mechanics Chris Hurford, Robert Wyatt, and Gary Dunn; and flight coordinator Jamie Mitchell, the tour's public face.
Compact and energetic, Mitchell is the person you need to talk to if you want to fly. She's the one who rises at dawn to do some promoting if the tour has been fortunate enough to score local TV coverage in the town where they've just arrived. She's the one who'll walk out onto the tarmac with a megaphone—and stand on the wing of the Mustang, if necessary—and try to coax reluctant visitors into opening their wallets.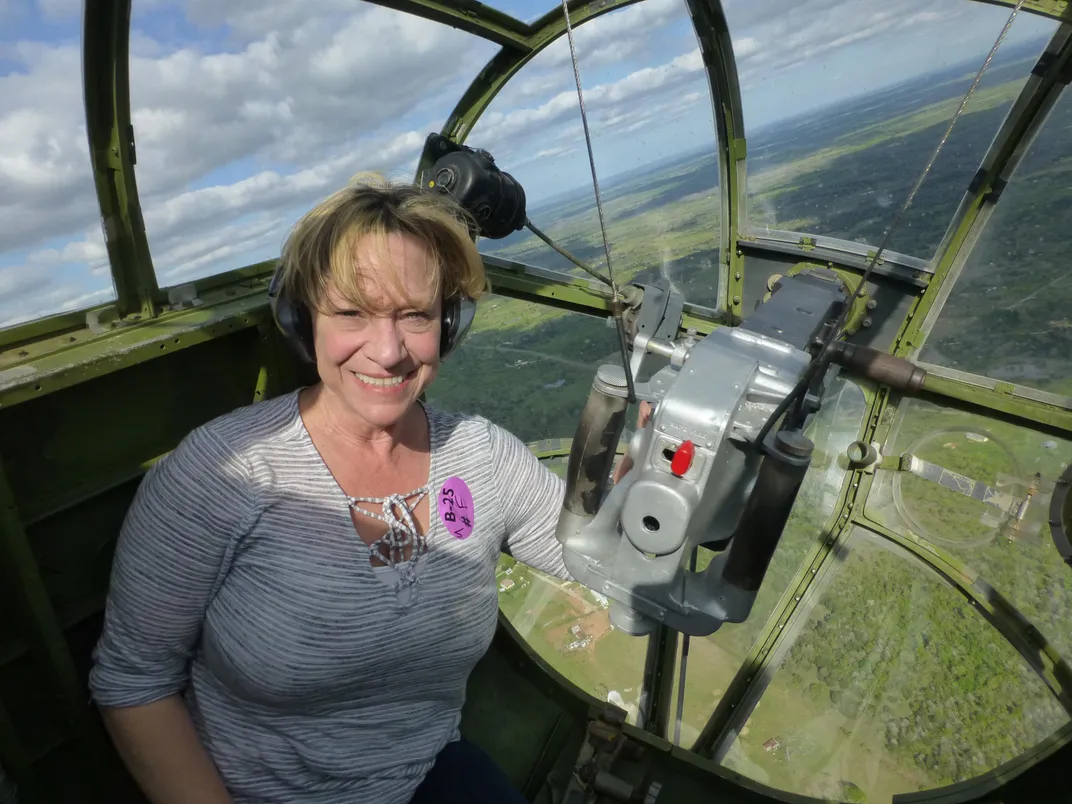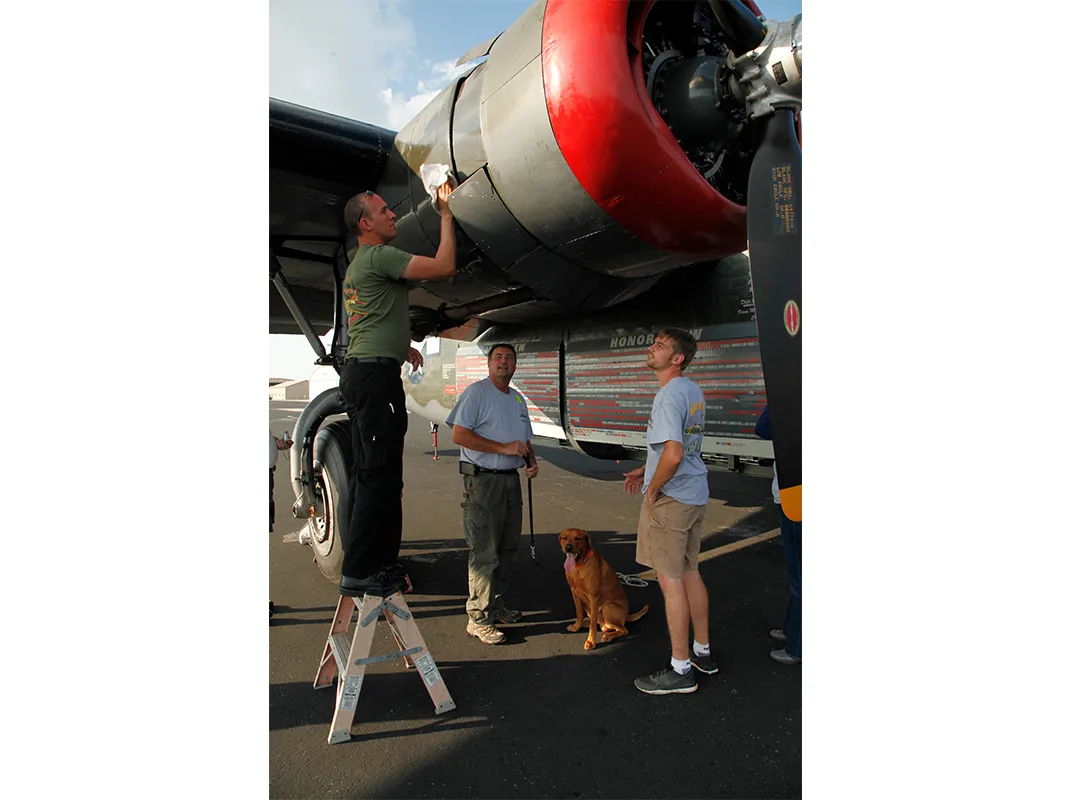 The Collings Foundation is a nonprofit; keeping one noble relic airworthy costs between $4,000 and $5,000 per flight hour. Without a minimum of six passengers, neither the B-17 Nine-0-Nine nor the B-24 Witchcraft—each of which can take 10, plus the pilot, copilot, and flight engineer—can take off. The foundation simply can't afford to fly them. The B-25 has a maximum of six passengers, and it doesn't fly with fewer than four.
Because Witchcraft and Nine-0-Nine are on the tarmac for walk-throughs all day, they fly only at 9 a.m. and 5:30 p.m. or later; generally, Mitchell must decide by 6 p.m. if there'll be a 9 a.m. flight the following morning so she can call everyone who has signed up and let them know to check in with her by 8:30. She is rarely permitted the luxury of turning off her phone.
**********
Like Mitchell, Pinksten—everyone calls him Pinky—is in his second year as a full-timer. He flies all four of the aircraft on tour.
It's his responsibility to schedule the many volunteers on whom the tour relies to fill seven pilot seats for 330 days of flying per year. He also trains pilots and certifies them; more pilots ease his logistical burden. "There's only like 15 or 20 of us in the world rated [to fly] the -24," Pinksten says. "And nine of those are our people."
Pinksten is just shy of 21 years old. One day in 2014, he showed up to help clean the airplanes and learned the tour was short one copilot. Being rated for multi-engine aircraft, he offered to help fly the B-24 to the next location. "I just stuck with it," he says.
As a teenager, he started flying helicopters, then went on to fixed-wing aircraft. He soloed on both types on his 16th birthday and was licensed in both by his 17th. His mother insures aircraft, so he was always around them. He'd probably be performing in airshows if he wasn't doing this, he tells me. Because he already has his dream job—in what is one of the few such positions in the world—I feel a little silly when I ask if he plans to go to college. He's in no hurry.
Mitchell is used to comments on how much responsibility rests on such young shoulders. "Most regular people think it's crazy. I'll hear 'You're stupid to let someone so young fly these,' " she says. "But the veterans love it. They come out and they talk to him and they see a crewmate. Because he's the same age as the guy who flew right next to them. They really connect to that."
The B-24 is Pinksten's favorite to fly, and the most challenging. "It's extremely unstable, and very hard to control," he says. "What makes the B-24 so hard to operate comes down to flight instability rooting from a relatively crude airfoil design. The aircraft is highly unstable in pitch and roll, and requires constant input. This makes it interesting to fly from a modern perspective, but it must have been incredibly taxing to fly for 10 hours at a time, in formation, while being shot at."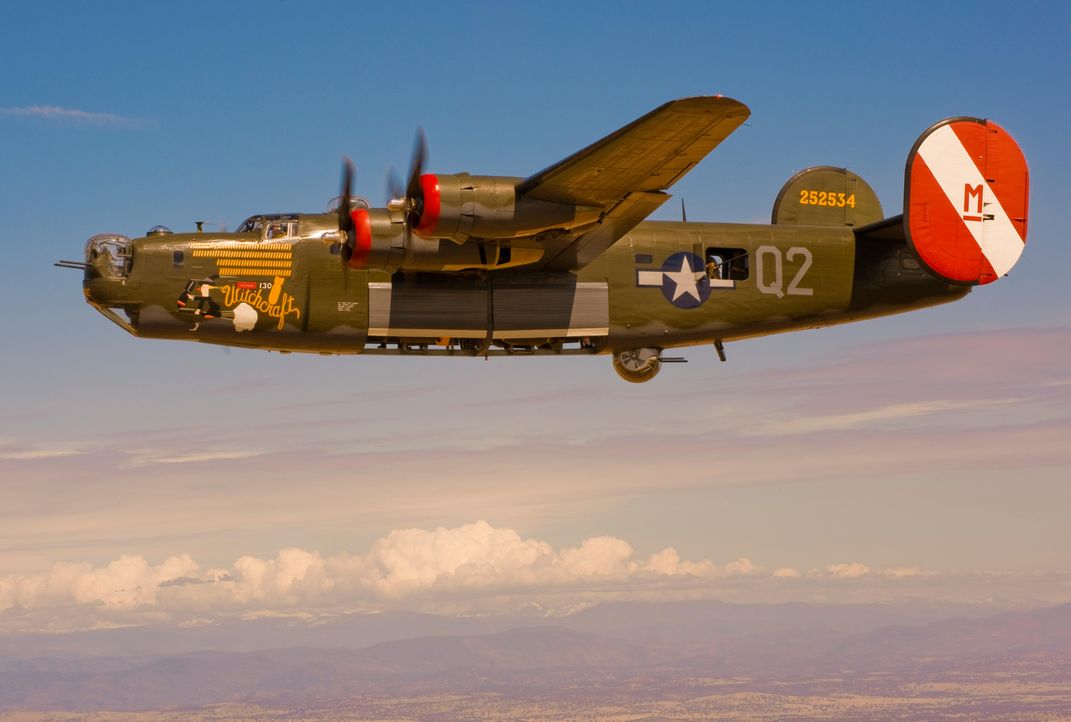 The Consolidated B-24 could fly farther and carry more bombs than its Boeing brother, but it didn't fly a successful, well-publicized national tour to sell war bonds or star in a Hollywood feature film (like the B-17 Memphis Belle). And it's not pretty. This slight underdog status has increased its allure.
**********
Mitchell is frustrated at the turnout in San Marcos. Even for a midweek stop, it's sparsely attended. But maintenance work continues.
Sitting in the lobby at San Marcos Regional, Pinksten gets a text from one of the mechanics outside working on Witchcraft: Its No. 1 engine needs a carburetor.
The crew carry lots of spare parts with them: "starters, generators, fuel pumps, stuff like that," says Pinksten. "We carry two cylinders per airplane. Anything we don't have, we can get sent to us overnight, or the maintenance shop will drive it to us. We can have a new engine ready to go in a couple of days."
Pushrod tubes are a frequently changed item. "There are seals at either end [of the tubes]," Pinksten explains, reading the unspoken question on my face. "A 14-cylinder engine has 28 pushrod tubes with constant oil flow, each with two seals. It's one of the primary sources of oil leaking on a radial engine. We have 120 cylinders between the three bombers' 10 engines. We end up changing cylinders probably once a month; it's a constant job and we take it very seriously."
**********
On the B-25 flight that I take my first day in San Marcos, I'm in the bomb bay with three generations of one family: Bill D'Avanzo of nearby New Braunfels, Texas, was an Air Force chief master sergeant who spent more than 24 years on active duty. He's come with his 19-year-old son Matthew, a freshman at Texas State University, and his father-in-law, Ken Combs, who was active-duty Air Force in the mid-1960s before taking a civilian job at Kelly Air Force Base in San Antonio.
I get a ride the next day in the B-17 Nine-0-Nine. It's a more comfortable flight than the one I had in Tondelayo the day before. It's also a clearer day. Our flight path takes us over a verdant patch of central Texas—the geo-tags on the dozens of photos I take will later tell me we flew over Maxwell, Dunbar Park, New Braunfels, Canyon Lake. During our 30 minutes in the air, I crawl all over the aircraft. From the nose turret, I gape down at the ground below us. I poke my head out of the open top of the bomb bay, sticking out my tongue like a dog, and with about as much self-consciousness.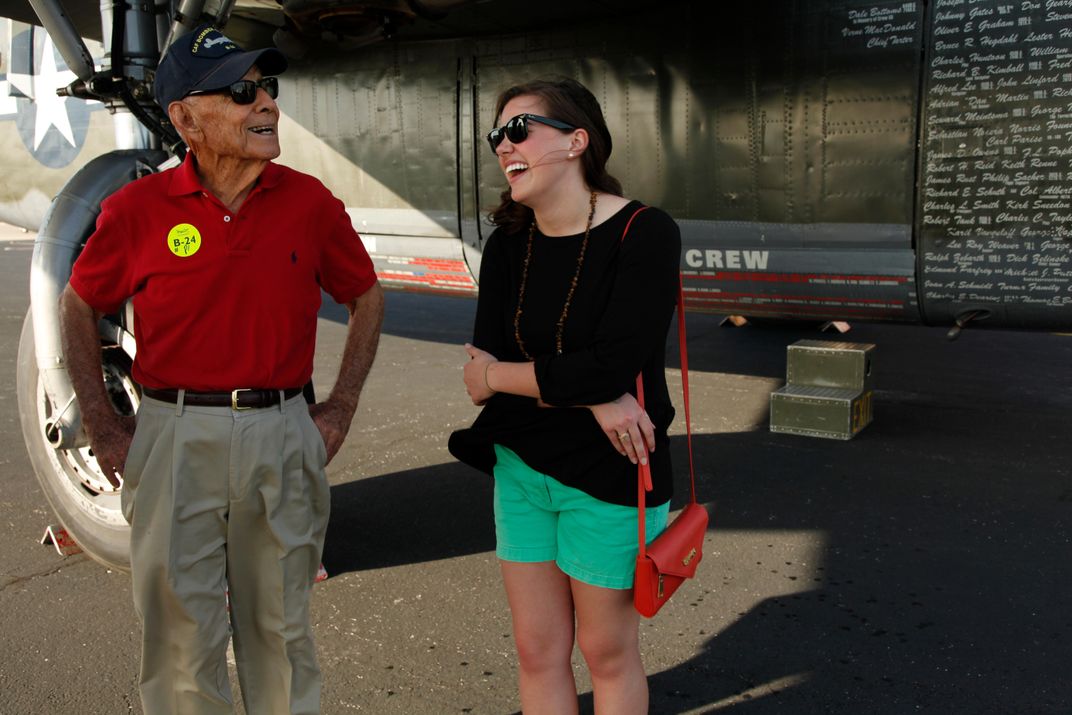 Back on the ground, I think about how people love these aircraft for different reasons. They're obvious monuments to U.S. industry. They're a reminder of a time when the country was united against an unambiguous evil, and the right thing to do was equally clear. For many visitors, the connection is more personal.
"My dad was a navigator in a B-25," says 61-year-old Joe Chesney of Austin, who flew in Nine-0-Nine with me. He looks admiringly at Tondelayo minutes after we land. "I seriously thought about flying [in the B-25]. But the -17 is the romantic choice."
I asked him which part of the flight he enjoyed most. "It's gotta be the open top," he says. "But the bombardier compartment is hard to beat. You feel every ripple, the thermals and the hot air. It's a little rough."
It's clear from his expression this is not a complaint.
The next day, Mickey Roth shows me his Air Force Academy ring—Class of '63, he says. He's here at San Marcos with his friend Dick Zucker from the Class of '65, who told him the B-25 would be here today. In the Air Force, Roth flew KC-135s and the A-26 Invader—a twin-engine bomber somewhat similar to the Mitchell. Zucker flew F-4s because, says Roth, he was a better pilot.
While we wait to board, Roth sings a few bars of a satirical number he heard comedian Bob Hope sing on a USO tour stop in Nakhon Phanom, Thailand, 50 years ago. He remembers the scary stuff just as vividly. "One skill I do not savor having developed is to be able to tell the difference between being shot at by .30-caliber, .50-caliber, 37mm, and 57mm shells," he says.
A little while later, Erin and Matt Clayton make an early afternoon visit with their two boys and George Wilhite, Erin's father. Now 74, Wilhite served in the Air Force, and is retired from the Austin Police Department; he's currently a flight instructor with Texas State Aviation, which has a facility at the San Marcos airport. He took Erin for her first flight in his Piper J-3 Cub when she was just one month old. Six or seven years later, Erin would ride her bike on the tarmac here at San Marcos. One of her first dates with her husband Matt was to an airshow.
The tour is packing up to migrate 50 miles southwest to San Antonio. Maintenance volunteer Mike Macon will check an item off his bucket list by flying to San Antonio in the back seat of the Mustang. Veterans Roth and Zucker get honorary flights in Tondelayo. And I'll be inching along in early Friday evening traffic on Interstate 35, grumbling over the steering wheel. But first, from the outdoor observation deck of San Marcos Regional's control tower, I get to watch Witchcraft taxi out to the runway and take off.
When I finally walk out onto the tarmac at Stinson Municipal Airport in San Antonio, the sun has begun to set. This "magic hour" glow makes all four airplanes—even the squat, snub-nosed, all-business Witchcraft—look downright regal. It's the start of the weekend, and already there are more people admiring the aircraft here than I saw in three days in San Marcos.
As in San Marcos, it's a family affair. Hugh Kelley is here with his children and grandchildren. Kelley flew 400 hours in the B-24 when he was stationed in China with the 308th Bombardment Group. He came home to San Antonio in September 1946, and that was the last time he flew in a Liberator—until today. His son, son-in-law, and 24-year-old grandson all went up with him. "It's for the boys," Kelley's granddaughter Gretchen, a junior at Texas A&M, tells me as we watch Witchcraft taxi back in.
A few minutes later, I ask Kelley what he thought of his first Liberator flight in seven decades.
"It's a whole lot farther up from the ground to the pilot's seat than it was then," says the 94-year-old Texan, grinning. Everyone within earshot laughs.
Kelley did his flight training here in San Antonio; he says the B-17 was his first choice, though he never got to go inside one until this evening, when we took a tour of Nine-0-Nine. He spent his career outside of aviation, save for a period in the early 1950s when he was recalled into Strategic Air Command to fly B-29s.
"I never had that longing to fly as a civilian," he says. Nor, indeed, as a serviceman. "I looked into being a navigator," he recalls. "They told me I was going to be a pilot, and when I asked why they said 'Because we need pilots this month.' The Army has a good method," he laughs.
**********
It's a Saturday morning in San Antonio, and arrayed in neat rows on the folding table in front of her, Mitchell has some two dozen clipboards with passenger lists on them. A few have been filled in, but there are spaces for many more names. And nobody's flying until the cloud layer lifts. When the Collings crew showed up around eight this morning, it was only at 700 feet.
"We come out and we have a slow weekday, and the weather's beautiful. And then the weekend, we have a busy crowd and we have to wait all day for the weather to clear," says volunteer pilot Will Dismukes. To be here, he uses his scheduled time off from flying for an airline (which he declines to name).
Flying passengers in the warbirds requires a minimum ceiling of 1,500 feet. "That's more restrictive than if we were just flying our own personal airplane up," Dismukes says. "And of course we want good visibility for the passengers to see the scenery."
"1,300," says Pinksten, reading from an app on his phone. Almost there.
Darren Bond, a Southwest pilot and a representative of the Tex Hill Wing of the Commemorative Air Force, pulls up in a World War II-era Army jeep in military livery. The Tex Hill Wing just moved here to Stinson, and it doesn't have an airplane at present, he says, but they're looking.
In the jeep with Bond is the CAF's unofficial mascot, Major, a flirtatious one-year-old Fox Red Labrador, who makes a point of enthusiastically greeting every female of any age who walks out onto the tarmac while mostly ignoring the men. Bond strikes a deal with Mitchell: He'll buy three seats on the B-24 flight that evening if Major can fly for free.
Bond has a Cessna 180, and says Major loves to fly in it, though he usually goes to sleep right after takeoff. Bond estimates Major has 30 hours in his log. "In a year, that's not bad," he says. "For a dog."
**********
A current of electricity runs through the crowd on the tarmac as the word spreads that Dick Cole has arrived. He's escorted by his daughter, Cindy Chal, and her family from the hamlet of Comfort, Texas, 55 miles northwest of Stinson.
Cole, 101, was Jimmy Doolittle's copilot on that raid on Tokyo 75 years ago. He is the last survivor of that legendary mission. While he has men on either side of him, gently guiding his elbows as he shuffles over to Tondelayo, he still looks notably spry for a man who has beaten the average life expectancy for his demographic by approximately 100 percent. A crowd begins to form around him as people wait for an opportunity to shake his hand. Cole speaks to each one in a quiet voice.
When Pinksten's turn comes, he says, "It's an honor to meet you, sir. Thank you for your service."
Cole looks at the young man, and his reply is loud and clear. "Thank you for yours."