Warbird Obsession
It's an addiction. Admitting you have it is the first step.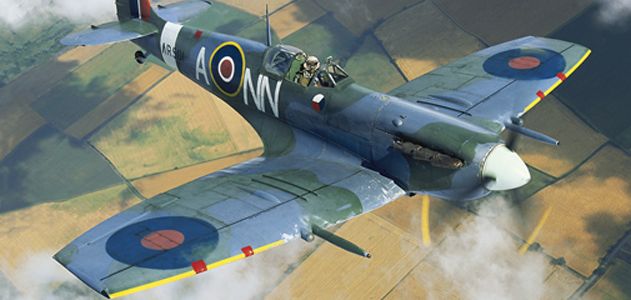 "Warbird intoxication is a widespread ailment, even if most of the afflicted get no closer than photographs or static aircraft displays and flybys at airshows," according to author John Fleischman. One of the most deeply afflicted is photographer John M. Dibbs, who for more than a decade has shot air-to-air photographs of World War II-vintage aircraft for his "Flying Legends" calendars. In 2006 he gathered some of his favorite images in The High Battleground: Air to Air with World War II's Greatest Combat Aircraft, with text by aviation writer James Busha. Click on the thumbnail images below to see more photographs from this remarkable book.

"There are few more dangerous afflictions than Spitfire fever," says Fleischman. The single-seat fighter aircraft, with its distinctive elliptical wing, was the only British fighter to remain in production throughout World War II; during its nine-year run, more than 22,500 Spitfires were manufactured.

"Our dive-bombing technique in the Spitfire was pretty standard and very quick," Squadron Leader Charles Edmondson told Busha. "You dive, you bomb, you pull out and then you black out. When you awoke a few seconds later, you got the hell out of there!" The Spitfire pictured above is part of the Shuttleworth Collection, based in Old Warden, U.K.
P-38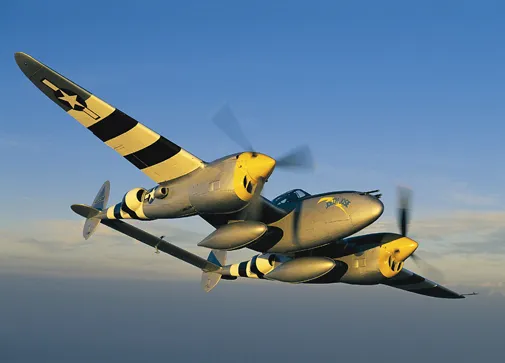 The French writer-aviator Antoine De Saint-Exupéry considered the P-38 "a flying torpedo that has nothing whatever to do with flying and, with all its dials and buttons, makes its pilot a sort of chief accountant." The sturdy Lightning, however, is considered the most successful twin-engine fighter ever flown—by any nation. The first P-38s reached the Pacific Theater on April 4, 1942, joining the 8th Photographic Squadron (based in Australia), and flying combat missions over New Guinea and New Britain later that month. Meanwhile, back in the United States, the Army Air Forces was trying to dispel reports that Lightnings were death traps. "[There's a] common rumor out there that the whole West Coast was filled with headless bodies of men who jumped out of P-38s and had their heads cut off by the propellers," Col. Arthur Ennis, chief of public relations, told a fellow officer. (Read more about the P-38's history.) More than 10,000 P-38s were built before production ended in 1945. The P-38J pictured here, Joltin' Jose, is from the Planes of Fame Museum based in Chino, California.
Zero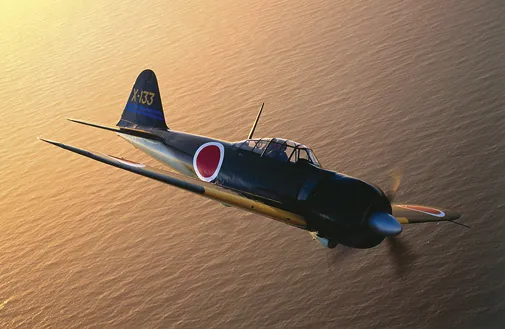 "If one had any sense or a desire to stay alive, you didn't try and mix with a Zero, at any costs," Squadron Leader Robert W. Foster, RAF told James Busha, who wrote the text of The High Battleground. In 1937, the Japanese Navy requested an airplane with a maximum speed of more than 310 miles per hour at an altitude of 13,000 feet. The fighter also had to be able to climb 9,800 feet in under three and a half minutes, stay airborne for about one and a half hours, and operate from a carrier deck. (All this with an engine in the 1,000-horsepower class.) "Just glancing at the requirements made me gloomy," aircraft designer Jiro Horikoshi later recalled. But Horikoshi's Zero remains the fastest fighter ever powered by a 1,000-horsepower air-cooled engine, and was rated by the U.S. Army Air Forces as superior to the P-38, P-39, P-40, P-51, F4F, and F4U—the best U.S. fighters of the day. The Zero pictured here is part of the Commemorative Air Force, based in Pacific Coast, California.
P-40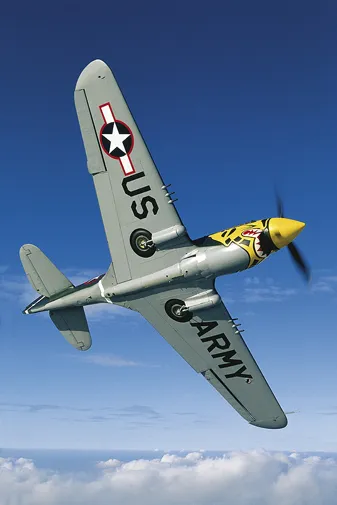 The plucky Curtiss P-40 first flew in 1938. The single-engine, all-metal aircraft remained in service throughout World War II, and by December 1944, when production ceased, some 13,737 had been built.

When the United States entered the war, P-40s equipped many of the Army Air Forces' fighter units, especially in the China-Burma-India Theater, most famously with the American Volunteer Group, or the Flying Tigers. The unit, the first real opposition the Japanese military encountered, destroyed 115 Japanese aircraft, losing only 11 airplanes in air-to-air combat.

In 1945, when 22-year-old Donald Lopez began instructing newly arrived pilots destined for China, he discovered some resistance to the aircraft. "Some of the students who had trained on P-51s took a dim view of having to fly the old P-40s," Lopez, the late deputy director of the National Air and Space Museum, wrote in his memoir Into the Teeth of the Tiger. "They acted as though the P-40s were relics of World War I and never flew them enough to learn them as we did. They were not as fast as the newer fighters, but they were rugged, maneuverable, steady workhorses."

The Curtiss P-40M pictured is part of the Fighter Collection based in Duxford, UK.
Messerschmitt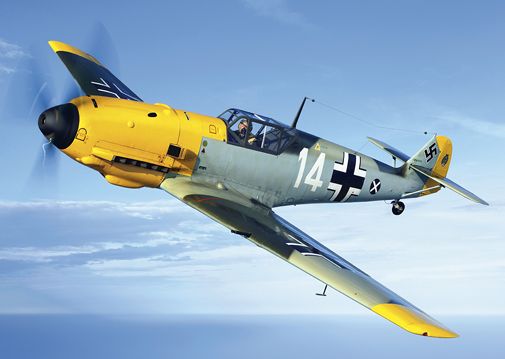 Meant to replace the Heinkel He 51 and the Arado 68, Messerschmitt Bf 109 prototypes were unveiled at the 1936 Olympic Games in Berlin, and first flew later that year. The E model was the first mass-production model, and saw action throughout World War II. Approximately 35,000 Bf 109s (of all versions) were produced.

In 1944, flying above Hungary, 2nd Lieutenant Mihaly Karatsonyi of the Royal Hungarian Air Force saw American aircraft approaching. "I could see the handwriting on the wall," he told Busha, "and I knew we were going to lose the war as 1,200 brand-new, shiny American-built airplanes flew toward Hungary against the 40 of us in our tired-out old 109s. It was the beginning of the end for us." The aircraft pictured is owned by Ed Russell of Toronto, Canada.
P-47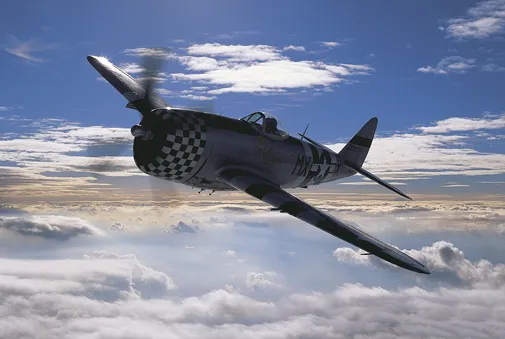 Called "the Jug" because of its milk bottle shape, the Republic P-47 Thunderbolt was designed to be a high-altitude interceptor, but became an excellent long-range bomber escort. "The Jug was solid and stable in flight and carried a tremendous load of bombs, gas and guns," 1st Lieutenant Frank Oiler of the U.S. Army Air Forces told James Busha. "It was a hard-hitting, tight-turning, flying truck. It didn't climb worth a damn, but it sure could dive. As a matter of fact, it dove like a homesick brick!" According to authors Thomas D. Jones and Robert F. Dorr, the P-47's "brutish fuselage was married to a pair of graceful, semi-elliptical wings mounted with eight heavy .50-caliber machine guns. It derived its power from a 2,000-horsepower, 18-cylinder, Pratt & Whitney R-2800 Double Wasp radial engine with a turbo-supercharger. With full tanks, ammunition, and two 1,000-pound bombs, later models weighed in at a hefty 19,400 pounds, more than any other single-engine fighter of World War II."

Some 15,600 Thunderbolts were eventually built. The P-47D pictured is part of the Fighter Collection based in Duxford, UK.
P-51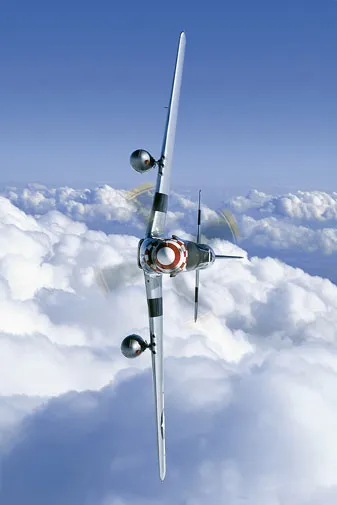 So, how does one go about getting a P-51? The short answer: It helps to have a lot of money—the beloved aircraft can sell for $1 million and up.

Considered the world's best long-range, propeller-driven escort fighter, the P-51 remains one of World War II's most recognizable warbirds. North American built more than 14,000 Mustangs, and more D-models, such as the one pictured here, than all other variants combined. The distinctive warbird remained in service with the U.S. Air Force until 1957.

The P-51D pictured is from the Air Combat Museum in Springfield, Illinois.