VIDEO: Red Bull's Amazing Aerobatic Helicopter
Master pilot Chuck Aaron takes some wild rides on the airshow circuit.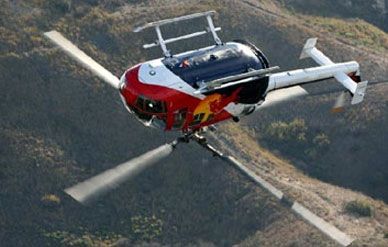 Helicopters aren't supposed to do the kinds of things seen in this video, are they? At the urging of master pilot Chuck Aaron, the vehicle manages to defy physics and common sense. Aaron has the distinction of being the first civilian to receive an aerobatic helicopter license from the Federal Aviation Administration, an honor that speaks to his more than 30 years flying. His routine for Red Bull is performed in a Eurocopter/Messerschmitt BO-105 CBS. Since it is classified as an experimental aircraft, Aaron can take it on some wild rides and maintain his license.
Video courtesy of Red Bull
If you have trouble viewing this video, you may need to download the free Quicktime player.