The Transforming National Air and Space Museum Hits a Big Milestone, With the First Artifact Installed
The Saturn F-1 rocket engine assumes pride of place.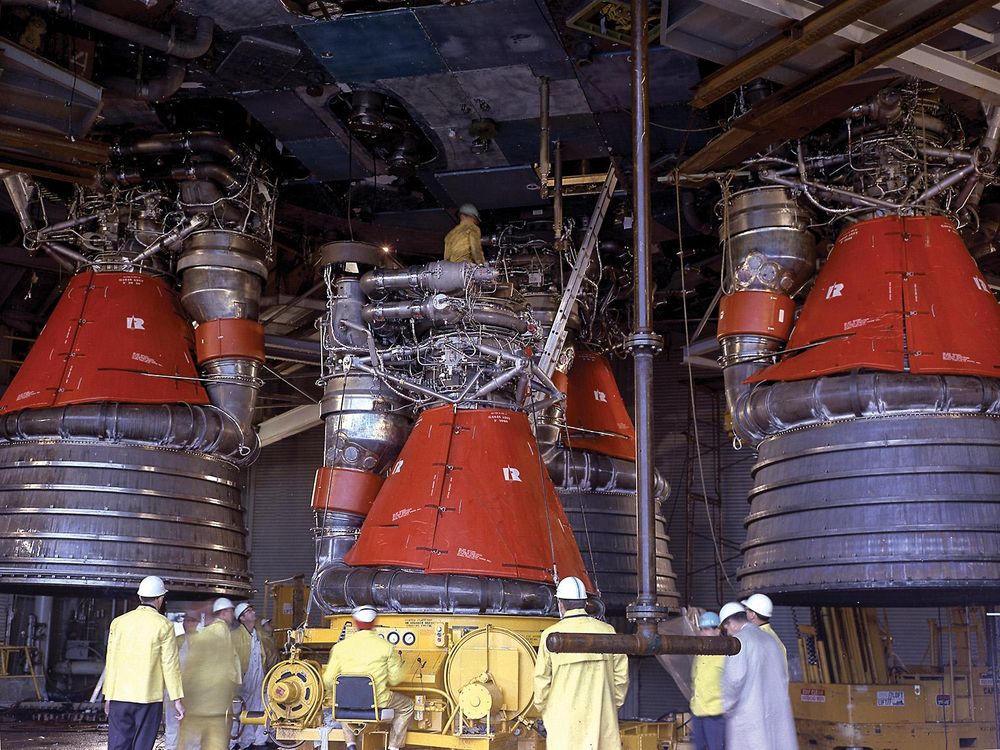 In the spring of 2003, construction was nearing completion at the Steven F. Udvar-Hazy Center ahead of our grand opening on the centennial of the Wright brothers' first flight that December. Almost finished and completely empty, the Center, in Chantilly, Virginia, was already a sight to behold—hundreds of thousands of square feet of polished concrete, with soaring, 10-story rafters supporting a structure designed to encompass the scope and ambition of the first century of human flight.
But the first artifact moved into the Center wasn't the stately Concorde or the sleek Blackbird. It was a humble Piper Cub—a tiny, yellow trainer monoplane. It sat, in the words of curators Mike Neufeld and Alex Spencer in National Air and Space Museum: An Autobiography, "alone, unarmed, and unafraid" in the middle of the vast hangar.
Although it wasn't history's first or fastest, the Cub was an inspired choice to symbolically lead our Museum into a new era—more men and women learned to fly in Piper Cubs than in any other aircraft in history. Much of our collection is unique or close to it—for having transformed whole industries, economies, or fields of exploration. The Piper Cub transformed individual lives. As our curators know well, would-be innovators and explorers find inspiration in countless ways—and many found their wings in that simple two-seat airplane.
As you will read on p. 18, we have reached a similar milestone in the transformation of our flagship building on the National Mall. After several years of work, and many years of planning, the first artifact has been moved into our first new gallery.
But instead of the modest Piper Cub, we are celebrating the installation of the mighty F-1 rocket engine that powered the Saturn V and with it the entire Apollo program. The Apollo missions will become the centerpiece of our Destination Moon gallery, set to open with our first new exhibits in 2022. The years of preparation and the care that went into moving the nine-ton engine reflect the thoughtful, meticulous approach that we are taking in reimagining every facet of our institution.
This milestone marks a midway point. We have worked hard to get this far, and though more hard work lies ahead of us, our dream of a new National Air and Space Museum is beginning to take shape.