The Upside-Down Dinner
To celebrate inverted flight, the Hendon Aviators ate their meal upside-down and backwards.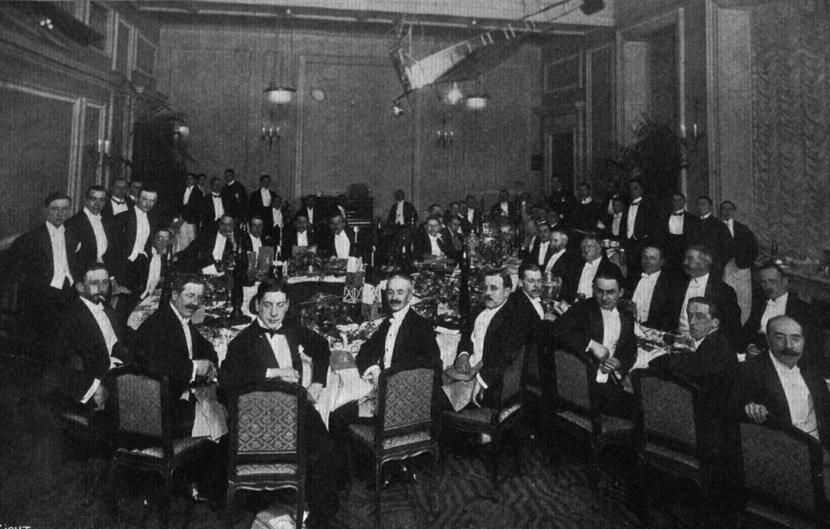 Dinner started with a toothpick. It was a backwards dinner, and so it began at the end, with a toothpick, a round of cognac, and the singing of "God Save the King."
It was January 1914, and the Hendon Aviators had gathered to celebrate the inverted flight of two of their members: Gustav Hamel and Bentfield Hucks.
In September 1913 Hucks witnessed the aerobatics of Adolphe Pégoud, and swore he'd be the first British pilot to make the same maneuvers. Hucks enrolled at the Blériot school, and just two months later he was flying inverted, performing the S-dive, and looping. He returned to England and began wowing the crowds in a Blériot XI with a 70hp Gnôme engine. Hamel had a bit more experience: He'd learned to fly in 1910, had made 21 flights crossing the English Channel delivering mail, and often flew in air races. Hamel knew Pégoud, and it's likely he learned to loop from him. Hamel even demonstrated the maneuver for the Royal Family, making 14 loops, then landing on the east lawn of Windsor Castle.
Before the dinner, Club members had been sent invitations in reverse writing that had to be read in a mirror, reported the (New Zealand) Timaru Herald. The diners arrived to find the tables upside down and arranged in the form of a loop. Napkins were the same canvas used in making airplane wings, reported the New-York Tribune, and the men ate Soufflé à la Hucks and Looping Lobster under an inverted Blériot suspended from the ceiling. Entertainment was provided by a popular music hall comedian who sang while standing on his head. Claude Grahame-White presented medals to Huck and Hamel, and gave a speech that began "and finally," and ended with the prelude "Good evening!"
Hucks would join the Royal Flying Corps when World War I began in August 1914; he died in November 1918, probably a victim of the flu epidemic. Hamel disappeared over the English Channel on May 23, 1914 in his new Morane-Saulnier monoplane; his body was recovered by fishermen in July. Annette Carson adds a sad footnote in her book Flight Fantastic: "A year after his death, rumours started to the effect that Gustav Hamel was still alive and was flying for the Germans. No doubt the anti-German hysteria of the time can be blamed, for he was then (and often is today) believed to have been of German descent. His grieving family was obliged to print a rebuttal in The Times, pointing out that his body had been found in the sea…. [A]long with others such as Claude Grahame-White, [Hamel] had campaigned ceaselessly to awaken England from her lethargy in the face of a growing aerial threat from across the water, and he had undertaken his epic flight to Cologne purely to emphasize how distances between the two great powers had ominously shrunk."