UAV U.
How to train the next generation of pilots—who will never take to the skies.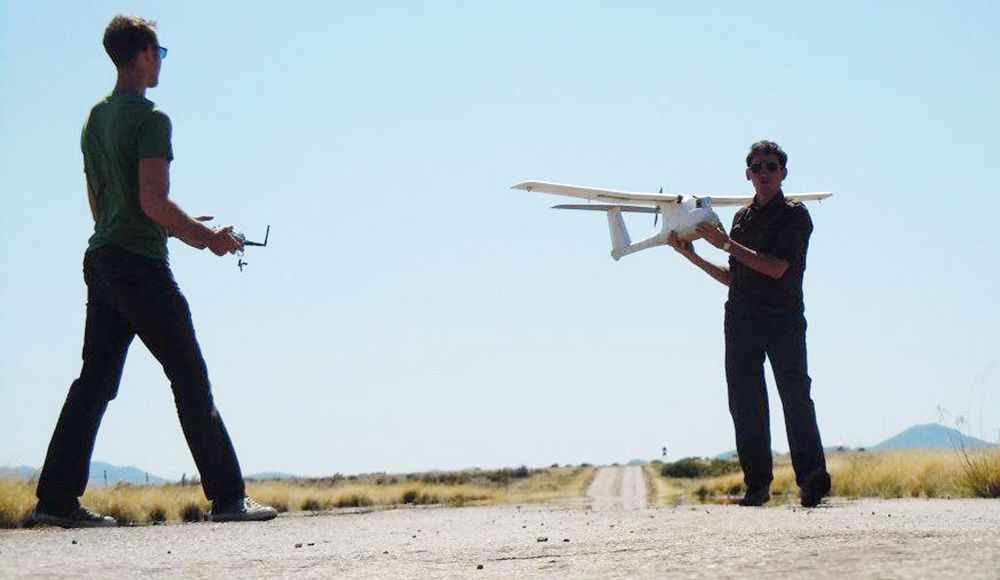 "I'm losing control!" Pedro Gonzalez is three hours into his first day of unmanned aerial vehicle flight training in the blistering heat outside Florence, Arizona, and he's nervous about the fate of the white speck fluttering a few hundred feet overhead through the sun-drenched sky. It's a small, remote-control scale model of an ICON A5, a two-seat amphibious light sport aircraft.
But Unmanned Vehicle University instructor pilot Matt McCurdy, who flew a 22-foot-wingspan, 260-pound TigerShark UAV in Afghanistan as a civilian contractor for the U.S. Navy, is blissfully unconcerned. Sitting in a sliver of shade in a bare-bones airfield, gazing through a pair of Oakley sunglasses at a computer screen showing the view from the tiny camera mounted in the distant aircraft's cockpit, he calmly tells Gonzalez, "That's because we're a little bit behind the roof. Go to half power."
"Half power," Gonzalez confirms.
"Turn to the right," says McCurdy.
"To the right?" asks Gonzalez.
McCurdy nods. "Pull back on the stick a little bit."
Gaining confidence, Gonzalez guides the airplane over the field and lines it up with the runway. "You could totally land it from here," McCurdy tells him. But he wants Gonzalez to get some more seat time before attempting a landing, and the batteries in the airplane are nearly spent. So McCurdy takes control of the vehicle and lands it himself. "You did really well for the first day," he tells Gonzalez. "Now let's get something to eat, and we'll go over some of the autopilot functions."
Gonzalez, 28, served as a U.S. Marine in Afghanistan and recently earned a degree in Arabic and Middle Eastern studies from the University of California at Los Angeles. He'd originally intended to return overseas to work in security. But he's intrigued by the potential of UAVs. "Drones are like the wave of the future, and I really want to pursue a career flying them," he explains. "So when I heard about this program, I said, 'I'm going to give it a shot.' I didn't even think twice about it."
Gonzalez came across Unmanned Vehicle University—a new, largely online school devoted entirely to remotely piloted vehicles—through a Google search. With a bit more effort, he would have discovered that bigger, more-established schools with noteworthy aviation curricula, such as Embry-Riddle Aeronautical University and the University of North Dakota, have created UAV programs of their own during the last few years. And several other schools are now offering short courses in UAV pilot training.
But the lion's share of the new pilots are coming from the hobby segment of the market, where "drone" is the preferred term. Some of them have transitioned from the radio-control community. Many more are aviation newbies seduced by a new breed of relatively inexpensive multi-rotor aircraft fitted with cameras and a suite of sophisticated electronics that make flying them ridiculously easy.
For this emerging breed of do-it-yourselfers, flight training usually consists of breezing through the owner's manual, watching some YouTube videos, and lots of trial and error. "I literally charged the battery, and then I took off," says 28-year-old Scott Edwards, who was so amped by his first experience that he founded PDXDrones, a UAV club in Portland, Oregon. Granted, Edwards already held a private pilot's license, and he was flying an entry-level, ready-to-fly quadcopter. Still, he says, "I have taught five-year-olds who are familiar with iPads to fly."
At the moment, the Federal Aviation Ad-min-istration generally prohibits UAVs from being used for commercial purposes (though this ban is routinely flouted by, among others, real estate agents who want video footage of the properties they're listing). Last September, the FAA exempted six aerial photo and video production companies from the ban on commerical use of drones. But for the time being, the vast majority of civilian UAVs are governed by the rules originally written for radio-control models. These entail not exceeding an altitude of 400 feet and, if flying within five miles of an airport, notifying the airport operator and air traffic control tower. Also, drones must be kept in sight at all times, so that even if the pilot is flying with a first-person view, an observer must track the vehicle visually.
The FAA is working on comprehensive regulations scheduled to be released sometime this year (though several deadlines have already been missed). When the rules go into effect, "the growth will be tremendous," says Michael Toscano, president and CEO of the Association for Unmanned Vehicle Systems International.
Toscano points out that unmanned vehicles are much cheaper and safer than manned aircraft, and they're perfectly suited for repetitive or dangerous missions. (Agriculture, from soil analysis to crop dusting, is projected to be the most popular application.) Toscano is forecasting that within three years after the FAA approves commercial UAV operations, there could be nearly 40,000 commercial drones zipping through the skies, with the new industry generating billions in revenue. Where are the pilots going to come from? And who's going to train them?
As has traditionally been the case for conventional airplanes, the military will be a primary source of UAV pilots. The U.S. Air Force, Navy, Army, and Marine Corps all have training programs. Stephen Rayleigh, who flew a Shadow UAV for the Army in Iraq, recalls the starting-from-scratch instruction he received at Fort Huachuca in Sierra Vista, Arizona. "They took people with absolutely no understanding of how things worked," he says. As it happened, Rayleigh had already earned his private pilot's license. But he still spent 60 hours in an Army simulator before getting any time with the real thing.
Of course, a Shadow costs more than $500,000, so you can't blame the Army for being careful about who flies them. For much the same reason, the manufacturers of other complex, high-end UAV systems often provide pilot training for their customers. Longtime radio-control aviator Gene Payson, who designed the flight training program for Unmanned Vehicle University, also serves as an instructor for the Latvian-built Penguin B UAV, which he sells at his Troy Built Models hobby shop in Sarasota, Florida.
Still, the vast majority of the growth in the field is expected to come in small UAVs, loosely defined as less than 55 pounds and most of them much, much lighter than that. Until recently, this market had been virtually ignored. Says Dan Macchiarella, chairman of Embry-Riddle's Aeronautical Science Department: "We realized that the unmanned pilot training was about where manned pilot training had been in 1926."
In 2011, Embry-Riddle established a four-year UAV degree program with two complementary tracks. One, designed for students more interested in the engineering side of the business, focuses on operations. The other, aimed at would-be aviators, concentrates on the nuances of flying. Besides getting a large dose of UAV training, students in that track earn commercial pilot's licenses. So graduates will have feet in both manned and unmanned camps. The school now has 220 students in the program at Daytona Beach, Florida, and it recently started offering UAV classes at its campus in Prescott, Arizona.
Zachary Wehr, a 23-year-old senior at Embry-Riddle, has already decided that he'd prefer to fly UAVs, assuming the right job comes along. "The biggest drawback of the UAS [unmanned aircraft systems] platform is that you do not get feedback, which makes it a bit difficult to fly," he says. "But when I'm flying a UAV, if I'm high or low, I can correct without worrying about crashing it because I'm not sitting in it. When I'm flying a 'real' airplane, I seem to take fewer risks, honestly."
In 2013, gambling that UAVs would be the biggest growth segment in aviation, former Air Force F-4 and airline pilot (and Ph.D. engineer) Jerry LeMieux established Unmanned Vehicle University. He believed that the biggest need in the UAV community was technical, so he put together undergraduate and graduate degree programs heavy on design, engineering, and project management courses. LeMieux died unexpectedly last summer, leaving the future of the school in limbo. But late last year, the university was purchased by Stampede Presentation Products, a global information technology company. Payson is continuing to offer short-course flight training through the school, as well as factory-authorized training through Troy Built Models. McCurdy, meanwhile, has left the school and now flies for Sensintel, a UAV systems integrator in Tucson, Arizona.
LeMieux was convinced the UAV flight training would be handled in the future by FAA-certified instructor pilots. But members of the small-drone community foresee a much different future, at least in their segment of the market. At most, they envision something like a watered-down driver's license earned by passing an online test. But more likely, they say, is a lack of any formal training regimen, though some restrictions—on altitude, say, or a designated airspace—might be written into the GPS code that all drones will carry.
Unlike traditional radio-control aircraft, which have a steep learning curve, modern drones tend to be no-brainers. GPS and onboard sensors underpin a return-to-home function that enables a drone to land autonomously back where it took off. "It makes it very easy for a newbie to learn how to fly," says Pablo Lema.
Lema, 34, speaks from personal experience. His interest in drones was sparked after receiving a tiny radio-control helicopter as a gift. He ended up becoming not only a first-person-view flying expert but also going to work at 3D Robotics, a major small-drone manufacturer. He's since taken a job at GoPro, which sells tiny but robust cameras that have become favorite small-drone accessories. Both companies attract customers who have no prior experience—or interest—in aviation. Says Lema: "I get a lot of people who say, 'I don't care about flying. I just want to get my camera in the air.' "
To this day, some drone pilots still start with private instruction. Taylor Chien, who sells small drones through his company, Dronefly, in Westlake Village, California, recently gave film director Steven Spielberg a personal lesson. "He got it up in the air right away," says Chien. Increasingly, though, newcomers are turning to the Internet for instruction.
Parrot's three tutorials for its AR.Drone 2.0, for example, have gotten more than two million hits on YouTube. Meanwhile, 18-year-old Korey Smith's how-to-fly video has scored 112,160 views. But Smith, who builds his own drones, offers a piece of advice not found on most corporate websites. "It's not a question of are you going to crash," he says. "It's a question of when you're going to crash."
The potential for disaster is one of the FAA's major concerns as the agency considers new regulations for UAVs. The goal, obviously, is to safeguard U.S. airspace and protect people on the ground. But UAV operators appear not to be waiting for the FAA to rule. Cheap, simple to operate, and amazingly useful, drones might finally fulfill that old dream—the subject of endearingly buoyant articles in magazines such as Flying and Popular Science in decades past—of an airplane in every American garage.