Where Amelia Earhart Tried, Geraldine Mock Succeeded
The 88-year-old pioneer recounts her solo flight around the world in 1964.
Jerrie Mock was 11 when Amelia Earhart launched an around-the-world flight. Every day after school, Mock tuned in to the radio reports of her idol's progress, then to the news of efforts to find her. In 1964, when Mock was a 38-year-old mother of three, she set out from Columbus, Ohio, in a single-engine Cessna, and 29 days later, became what Earhart had hoped to be: the first woman to fly around the world. Mock recounted her experience to journalist Amy Saunders a few months before she passed away on September 30, 2014, at the age of 88.
Saunders: At seven, you got your first airplane ride and declared that you wanted to be a pilot. How did Amelia Earhart influence you?
Mock: When I heard about her, that made it more exciting. I was going to fly around the world, not just fly around Ohio! I also had a geography book about that same time—my goodness, there was a man on a camel and an elephant and all these strange things. When Amelia was flying, I said, "Well, that's the way to get to see all those things."
In 1958, you and your husband earned private pilot licenses. When did you start seriously thinking about flying around the world?
We went up to northern Canada and chartered a plane to the French island of St. Pierre. In the hotel, off the dining room, was the radio room. I could listen to pilots crossing the [Atlantic] ocean. So I thought, Well, I've got to fly the ocean, and then I thought, I might as well go all the way around.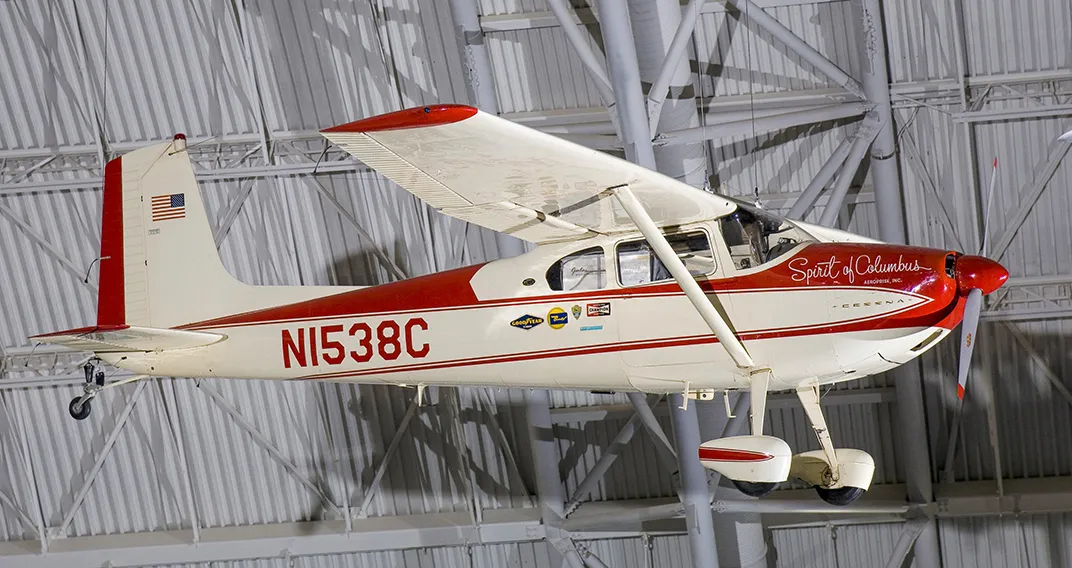 When you began planning, you weren't aware that you could be the first woman to circle the world. When did you realize it?
I wrote to the National Aeronautic Association to get some information and that's when I found out. Then I had to be rather secretive about it. There were quite a few women in Ohio who had flown during the war and were more experienced. I had to be real quiet because one of them could have easily gotten a sponsor [Mock's was The Columbus Dispatch] and done it.
A friend in the Air Force helped you chart your route. What did the planning entail?
Some air force bases were strictly no-nos; certain countries didn't want me. That took time, cablegrams back and forth. I went to embassies all around Washington, wrote letters, and did a lot of research. That was the hardest part—the flying was easy.
Of all the cities you visited, which was your favorite?
That would just be too difficult because there are so many interesting places. But I had a wonderful time in Casablanca. I had some friends I stayed with...at their home, and that was very, very nice. They took me to a wonderful restaurant. The main dish was a couscous with all kinds of delicious things. In all my meals in all my life, that's Number 1.
What were the more exotic places?
In the Azores at that point, you could only place telephone calls to Portugal. It was a very isolated place. I could not call home. But it was wonderful to see a place where Christopher Columbus and his men had been, a church where they had worshipped. It was so old-world and different, like nothing I had ever seen before. It's beautiful; they get a fair amount of rain and it's very green.
Your flight was safe, except for a couple frightening incidents, like the time when an antenna wire began burning over the Libyan desert. How dangerous was that moment?
If it had caught fire, well, there would have been a fire by the gasoline tank. That was the scariest part of the trip. But fortunately, I had enough sense to realize what it was, so I turned [the antenna reel switch] off and it cooled down. You study these things; you know if this happens, you do that.
Another pilot, Joan Merriam Smith, coincidentally set out with the same goal two days before you did. You were the first to finish the flight; how much did her presence influence you?
I was confident I could make the flight, but if she made it ahead of me, that was nothing I could control. I was not at all sure I was going to come in first.
You were the only woman in your class when you studied aeronautical engineering at Ohio State University. What was the atmosphere for women when you were learning to fly?
The guys would make jokes. I remember sitting on a bench outside and a young woman came to take a lesson. One of the pilots was sitting next to me. He said, "Well, she's out to get a man."
In 1966, you flew from Honolulu to Columbus, setting the record for longest nonstop flight by a woman. What did that mean to you?
There were three Russian women who flew along a river in Siberia and took a distance record away from Amelia Earhart. It was all for Russia; they all got medals from Joseph Stalin. Well, I took the record away from them. And of that, I'm very proud.
Now that 50 years have passed since the flight, how do you feel about the achievement?
I didn't think it was such a great thing; it was just lots of fun. It was a good, practical thing that dozens of women, both in the United States and other countries, could have done before I did. You just use your common sense, know how to fly the airplane, do what you're supposed to do, know the routes and all the rules and regulations. Just nobody else had the sense—or shall I say, the stupidity—to try it [laughs]. There were women who told me that they flew because of me. I'm glad I did what I did, because I had a wonderful time.