Tuning In
What to listen to when you're pretending to be a pilot.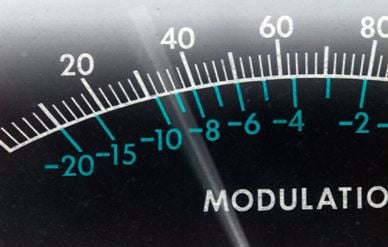 "I listen to Sky Blue Radio nearly every time I fly," says Benjamin Van Eps, a 33-year-old virtual pilot living in Springfield, Missouri. Van Eps, who works as an architect in his day job, likes to fly Boeing 767s on the Virtual Air Traffic Simulation Network after a long day at the office. On lengthy flights, he enjoys listening to the music and news on Sky Blue Radio, an Internet-based radio station that caters to the flight simulation community.
Sky Blue Radio, which began broadcasting on May 13, 2007, draws up to 750,000 listeners a month. "Not fascinating figures in the world of radio, but for the flight sim community, that is pretty good," says Sky Blue's founder, British media entrepreneur Richard Rudd. Instructions for how to tune in can be found at iTunes, Winamp, and RealPlayer.
The music selections are largely pop/rock, old and new, everything from Frankie Valli and the Beatles to John Cougar Mellencamp. "We have a little something for most," says Rudd. "We prefer to stay away from songs containing vulgarity, as we like to think of the station as family-orientated."
A check of Sky Blue's 24/7 DJ schedule reveals that most of the slots are filled by Otto Mattix, the name of an automatic DJ system. On every day but Wednesday, however, live DJs (Mr. G, Scooter, and Willy Wheels among them) host two- or three-hour shows. Based in the United Kingdom, the United States, Canada, Australia, France, and Belgium, they work as volunteers. "With the power of the Internet, we can host a show from virtually anywhere on the planet," says Rudd, whose DJs all use off-the-shelf Internet broadcast software. Although Rudd hopes to someday transform Sky Blue into a commercial, revenue-generating enterprise, he currently covers all operating expenses with income he earns from Corporate Radio Services, a media company he owns in Lancashire, England.
When he's not running his business, Rudd is a flight simulation enthusiast, or "flight simmer." As a virtual pilot, he favors the Boeing 737-700 for short hops and the 767-300 for longer hauls. He's also a home-builder of simulated cockpits, with two projects in the works: cockpit replicas of the Aero Vodochody L29 and the Beechcraft 65A. With Sky Blue Radio, Rudd wants to entertain his fellow flight simmers with music, yes, but he also wants to keep his listeners informed about the latest trends in flight simulation. "As far as news is concerned, we tend to only look at things that are happening within the flight simulation community," says Rudd. "We will not cover world topics. The belief is that people tuned in to Sky Blue Radio are carrying out their hobby, and so do not need or want to have 'real life' thrust on them during that time."
As far as simulating the real life of airline pilots, however, virtual airline pilots who listen to Sky Blue while "on duty" are taking liberties. Real airline pilots are, of course, not allowed to listen to commercial radio broadcasts in the cockpit; doing so would distract them from communications with air traffic control and possibly jeopardize safety. But many Sky Blue listeners are willing to compromise the perfection of their chosen flight simulations by tuning in while seated in the cockpit. For architect Van Eps, listening to Sky Blue helps pass the time at 34,000 (virtual) feet. Still, he's choosy about when to dial in. "On a short hop such as KLAS [Las Vegas] to KLAX [Los Angeles], there isn't enough time to listen to air traffic control, do all the checklists, and listen to Kenny Loggins pumped out on the radio. I suppose you could tune in, but Los Angeles Approach really wouldn't like all the 'Say again, please' requests. But if I have a two-hour cruise time, bring on the tunes as it gets lonely up there."
Besides the tunes and news about the world of flight sim, Sky Blue broadcasts occasional feature stories on aviation topics, interviews with real-world pilots, and field reports from such institutions as the annual mass gathering at Oshkosh, Wisconsin, and the air races in Reno, Nevada.
Whether they are sitting in the virtual cockpit of a Boeing 747, a Lockheed Martin F-16, or a Cessna 172, flight simmers of all stripes are frequently objects of curiosity for non-simmers, who can't help but wonder why these (mostly) guys go to such great lengths to be armchair pilots. "People ask all the time, 'But why?' " says Van Eps. "I can only respond with 'Why not?' " As Sky Blue Radio catches on, it's becoming known as a place where flight simmers get more than a little respect. "I know when I hear the DJs, they are talking to a very select group of people," says Van Eps. "Those who are cruising the virtual skies."