Tucker's Teardown
The final act of the airshow season, in time-lapse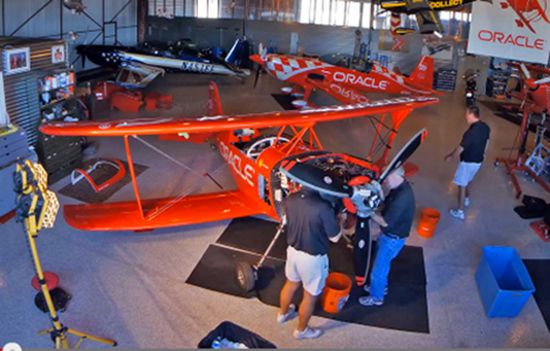 Ever wonder what happens to high-performance aerobatic airplanes at the end of an airshow season? They get taken apart, that's what.
Brian Norris, who handles aircraft maintenance for veteran show pilot Sean D. Tucker, writes in an email:
We ended our 2012 airshow season on Saturday, November 3 in Thermal, California.  We then repositioned the airplane to the Team Oracle hangar at our home base in Salinas.  On Monday morning, November 5th we began the teardown at 9:06am.  We worked until noon, then took a one-hour lunch break.  We then re-attacked the plane at 1 pm and finished with the initial teardown at 3:19pm.  Of course, the airplane has been torn apart even further since then, but this is the first swipe at it.
After the team (Norris, Tom Dygert, Clyde Greene, Jimmy Graham, and Chad Colberg) disassembled the Oracle Challenger III, they started in on their postseason to-do list. Norris runs through the steps:
- The entire airframe is being inspected and all hardware replaced
- All sheet metal and carbon fiber is stripped and repainted
- The fuselage fabric is replaced and repainted
- The fabric from the wings is removed, the wings are inspected, recovered and repainted
- The prop is sent back to Hartzell to be overhauled
- The engine is sent to our engine shop and completely overhauled
Norris says they hope to have the airplane back together and ready for its first test flight by the third week of February.
Photographer Dennis Biela captured the teardown in this two-minute time-lapse video.