Travels with Churchill
A World War II flight engineer dishes on the most "I" of the VIPs he flew with.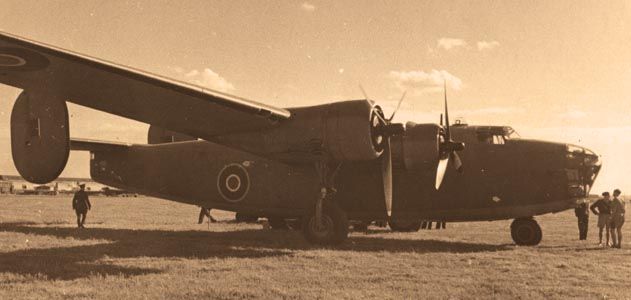 Winston Churchill was anxious to leave the country. It was July 1942, and he wanted to go to Cairo and Moscow to confer with his generals and with Soviet leader Josef Stalin, but the pilot assigned to fly him urged caution. "I'd like…a bad night to get out of England to go to Gibraltar," William J. Vanderkloot told the British prime minister. Years later, he explained to his son, Bill, "I didn't want to get shot down over England."
Vanderkloot was recounting, in a taped interview with his son, how he came to be the captain of a B-24 Liberator bomber that had been turned into a VIP transport. "Mr. Churchill said, 'Go ahead, pick your night,' " Vanderkloot recalled. " 'I can give you a 10-day envelope.' " The long-range Liberator, painted black in an early attempt at stealth, flying at night, with no one but the crew knowing the flight plan, was considered the safest bet to transport a prime minister on a route that was within range of enemy fighters.
In the late summer of 1942, Churchill was faced with critical decisions, notably what to do about weaknesses in the leadership of the British Eighth Army, which was facing Field Marshal Erwin Rommel's formidable Afrika Korps, as well as how to persuade Stalin to reinforce Europe's eastern front. "It had become urgently necessary for me to go there and settle the decisive questions on the spot," Churchill wrote in The Second World War. But such a trip would have ordinarily involved six days of flying and several nasty inoculations. "However," he continued, "there arrived at the Air Ministry a young American pilot, Captain Vanderkloot, who had just flown from the United States in the aeroplane 'Commando,' a Liberator plane from which the bomb-racks had been removed and some sort of passenger accommodation substituted…. I could be in Cairo in two days without any trouble about Central African bugs…"
Vanderkloot had been flying U.S.-built bombers across the north Atlantic, known for its deadly weather, for the Royal Air Force's Ferry Command for some 18 months and had logged over a million miles, occasionally carrying VIPs to exotic sites. Such credentials, along with renowned navigation skills, brought him to the attention of Air Chief Marshal Sir Charles Portal, responsible for transporting Churchill through Africa. When Portal asked Vanderkloot how he would fly to Cairo, the Ferry Command pilot told him: "Certainly not through the Mediterranean with the Germans flanking both sides," and suggested a route with a single stopover in Gibraltar. Portal hired him on the spot, and Vanderkloot chose the B-24. "That was some airplane, the Liberator," Vanderkloot later said. "Nicely built."
Commando got under way. In Cairo, Churchill eventually replaced Eighth Army General John Eyre Auchinleck with Lieutenant General Bernard Montgomery. On October 24, the Associated Press reported, "Britain's rebuilt and refreshed 8th Army charged into the Axis' El Alamein line today in…what may be the battle to decide the fate of the Mediterranean this winter." Liberators were part of the action. The September 3, 1942 issue of Britain's Flight magazine ran the headline "Liberators over Egypt: Anglicized Heavies in Western Desert." In Moscow, Churchill met with Averell Harriman, representing the United States, and Stalin to plan the North African campaign.
Churchill was enthralled with flight. He celebrated his 39th birthday by taking his first flying lesson. According to Churchill biographer Martin Gilbert, when the prime minister's instructor was killed shortly afterward, Churchill's wife and family expressed their sentiments about his taking up a pastime "fraught with so much danger to life," as his cousin, Sunny Charles, ninth Duke of Marlborough, put it. "It is really wrong of you," the duke continued. After takeoff at London's Croydon airport, Churchill stalled his trainer in a tight turn, plowing into the ground and injuring his instructor. He vowed never to fly as a pilot again.
But he still enjoyed air travel. "He used to like to come up [to the cockpit]," Vanderkloot said. "He'd stay maybe an hour, and he'd ask questions about things. He was a good old sport, he'd have his scotch up there and look around."
Commando was usually flown by Vanderkloot and another American, copilot Jack Ruggles. Flight engineers John Affleck and Ronnie Williams and radio officer Russ Holmes were Canadian. Today, Affleck is the only surviving crew member. He joined Vanderkloot on the first run with Churchill in August 1942. At the time, the young civilian flight engineer and racing car enthusiast was in West Palm Beach, Florida, fresh off a Liberator that had flown ammunition to Africa for the Eighth Army. "You didn't have to be in the military to do that—they'd take anybody," says Affleck. When asked if he would go to Cairo that night, he said, "Sure, I always wanted to see Cairo."
At 93, Affleck still walks nine holes at the Saskatoon Golf & Country Club. Relaxing at his home in Saskatchewan in khaki chinos and a golf shirt, he remembered that night in 1942. "So they said, 'Get the car, get some clothes, and come back.' I was on the way to Prestwick [Scotland] that night."
From Prestwick they flew to Lyneham Royal Air Force base and on to London. "And there is where we learned we were to fly Churchill out to Cairo and Moscow," says Affleck. It was also there that he learned he was to fly with the legendary William J. Vanderkloot. "I didn't know him well because our paths hadn't crossed," says Affleck, "but I knew he was a good pilot—in fact an excellent, super pilot. And a super navigator too."
In the days of navigation by maps and checkpoints, Vanderkloot's skills were critical. "It was obvious that if you were really going to stay alive, you better know how to use celestial navigation," Vanderkloot told his son. During much of his time in England, he had worked on perfecting the art, learning it from RAF navigation officer Bill White, "someone [who] really knew it." Vanderkloot and a handful of other aspiring celestial navigators would spend night after night on London's rooftops practicing with the sextant. "Be it summer, winter, rain or whatever, we'd take our shots, then go downstairs and plot them," said Vanderkloot. "We learned celestial navigation in a hurry. It sure put me in good stead for later on."
Indeed, Vanderkloot did nearly all of his own navigating. It was unusual for a pilot, "but…I figured if I'm going to get in trouble, I'm going to do it [myself]. I'm not going to have some other guy do it."
When Affleck arrived in London and met Vanderkloot, they learned they were to fly a newly modified B-24 Liberator, number AL504, nicknamed Commando. "The bomb bays were sealed, of course," said Vanderkloot. "The bomb racks were taken out and…kind of a half-baked cabin was put inside. We had no windows, so it was dark. The only place where it was light was up on the flight deck, where you had windows on the side and the front. So the poor passengers sat in the back, [in] four rows of single seats." Up under the wing, with the big gas tanks, was a sort of berth about the size of two king-size mattresses where Churchill could sleep. "The other fellows had to sleep in their chairs," Vanderkloot recalled. "His doctor sat in one seat. Sawyer [his valet] sat in the other." There were maybe 15 people on the flights, including many admirals and generals. "Churchill had his ADC [aide de camp], who was Commander Thompson. There was the man from the CID [the Criminal Investigation Department of Scotland Yard], and always some other ministers with him."
Transporting VIPs over dangerous territory didn't faze Affleck. "Some people said later, 'Aren't you feeling a lot of responsibility?' I said 'No, I'm going to get there; so as long as they stay with me, they're all right.' It didn't bother me who [Churchill] was. I never was impressed by ranks, or by who they were. I always looked at them and thought they do the same things as I do.
"I can't say that I admired [Churchill], other than for what he was as a person. He was a great actor, he was a great egotist; oh, his ego was as big as a mile."
Affleck says Churchill didn't interact much with the crew. "We were only lowly mechanics." But, he says, the prime minister talked to Vanderkloot, whom he greatly respected.
He remembers Churchill's vices: "He liked to drink. And always, he wanted his cigar. Fortunately, you could open a small blister window right beside each of the pilot's seats and it would vent, so you could keep the smoke out."
As they normally flew in darkness, "[Churchill] would have his pajamas and slippers and dressing gown and he'd come up and ask, 'Where are we?' Then he would go back to bed," says Affleck. "We had like a camp stove, and they would prepare nice sandwiches—that kind of thing."
Affleck came to prefer the company of other passengers. "The nicest guys were [British politician] Anthony Eden, [Chief of Combined Operations] Lord Louis Mountbatten, and all the generals," he says. On occasion the aircrew themselves were treated like VIPs. "When Lord Louis was head of Southeast Asia Command, we stayed at his summer palace in New Delhi," Affleck says. "And he had the whole crew down for dinner—all the top-brass Americans and Brits—at the same table."
The crew always had to be wary of enemy eyes. The Allies "were a little apprehensive in Cairo because the Germans were only 75 miles away," recalls Affleck. Despite the best efforts to maintain secrecy, he says, the Germans seemed to know where they were. When Commando first got to Cairo, RAF photographers "took a picture of the airplane. It had '504' on the side, but they blanked out the number" on the copies the photographers gave to the crew members. "But when we left Cairo and went to Moscow, there was the headline in the [Cairo English-language] paper, 'Churchill arrives in Cairo,' and a picture of the airplane with 'AL504' on it. We laughed a lot about that."
The Germans were desperate to shoot down Churchill's aircraft. Affleck says the Germans "knew our takeoffs because Lord Haw Haw [nickname of German propaganda broadcasters] was saying that Churchill left so-and-so tonight. Somebody always knew something."
Just two of Commando's excursions included Churchill and his retinue. "We flew him to Cairo, Moscow, and Turkey," says Affleck. "We also went to Morocco, Tunisia and Algeria, and Libya in 1943." A few improvements had been made for the later series of flights, including the addition of primitive heaters that Churchill thought a bit dangerous. They were turned off, prompting the cold-soaked prime minister to drape himself in blankets in strategic places. "The P.M. is at a disadvantage in this kind of travel, since he never wears anything at night but a silk vest," wrote his physician, Sir Charles Wilson, in his diaries. "On his hands and knees, he cut a quaint figure with his big, bare bottom."
When he flew with the prime minister, Affleck says he wasn't allowed to keep a logbook. "They didn't want anyone to know where we had been"—such as LG224, the code for RAF Cairo West—he says, showing me a yellowed carbon copy list of the airplane's flights, which he had obtained from Britain's Air Ministry after the information was declassified.
After the second extended trip, Churchill never again flew in Commando, instead switching to the York, a passenger version of the Lancaster bomber. In September 1943, Liberator AL504 was withdrawn from VIP service and flown to a Tucson, Arizona U.S. Air Force base, where it underwent major modifications and emerged as a one-off transport with single tail fin, extended fuselage, and upgraded engines. AL504 flew again in March 1944 as the trial version of the U.S. Navy's RY-3 transport. Vanderkloot and the crew continued to fly it—Affleck's last logbook entry for AL504 is November 24, 1944.
In early spring the following year, with a new crew, Commando made its last trip: After taking off from the Azores, it was lost without a trace. Affleck remembers testifying at a Board of Inquiry. "The last message they got was—and it was the only message—there was an oil leak on number-two engine," he says. "No signal, no SOS. And there was nothing in the German records to say they had shot it down."
Affleck knows Liberators well, and suspects that the oil leak could have caused the crash. He says the Wasp engines normally never leaked. But "they had a big oil tank, and you only filled them about two-thirds full to allow for foaming. If you overfilled them it would push [oil] out." And hot oil burns. "It would soon put a hole in that bulkhead and then, BOOM, because that's where all the gas was."
During his service on Commando, Affleck was offered a commission in the Royal Air Force, but turned it down. "It was easier to get things done as a civilian," he says, "because you could talk directly to the generals without having to work your way up the chain of command."
Vanderkloot received the honorary Commander of the Order of the British Empire in November 1942. He occasionally used the ribbon to fasten panels in Commando to keep the sun off Churchill. Commando's crew members were recognized for their Royal Air Force Ferry Command service and their safe transport of wartime VIPs; Affleck also received a Member of the Order of the British Empire. In 1944 Vanderkloot wrote Handbook of Air Navigation, which a reviewer described as "literally tremendous in scope…an air-navigation encyclopedia." The following year, Vanderkloot returned to the United States and became a corporate pilot. For years, he and Churchill remained a mutual admiration society of two.
A graduate of the U.S. Naval Test Pilot School, Calgary-based freelance writer Graham Chandler can be reached at www.grahamchandler.ca.