The TWA Hotel, Design Icon From the Mad Men Era, Is Back in Business
Where else can you find a Lockheed Constellation turned into a cocktail lounge?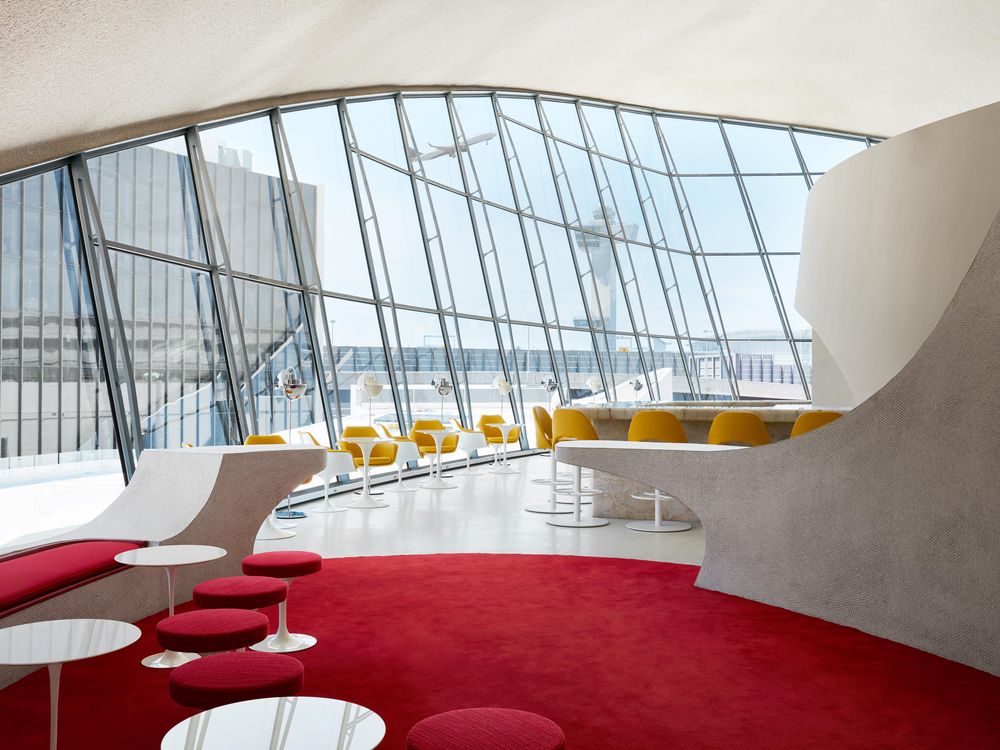 There are attempts to make airports more pleasant, and then there are $265 million attempts to make them places you might want to be seen. John F. Kennedy International Airport's TWA Terminal—commissioned by Howard Hughes and designed by Eero Saarinen—is back in all its swinging '60s glory. Opening in 1962, it served as a transatlantic hub for TWA until it was abandoned in 2000, a year before the airline declared bankruptcy for a third and final time.
But millionaire Tyler Morse, a one-time baggage handler at LAX who is now CEO of a hotel development firm, was intrigued by an invitation circulated by New York's Port Authority: Who wants to turn the iconic building into a hotel? Three years later, the dream is a red and white reality, created in partnership with JetBlue. Late arrival? Early morning flight? If you can spare $139 plus taxes and fees, you'll have a room to crash in worthy of a Hughes-Hepburn tryst, one where no one can hear the jets roar in because the glass is 4.5 inches thick.
Brooklynites Erica Kenia and Jon Nicholson opted for a "staycation" at the TWA Hotel because they are "design geeks." Kenia, a tattoo artist, stayed up late the night before watching Mad Men episodes to whet her appetite for mid-century modern architecture, furniture, and poster art. "It's like a beautiful oasis in the middle of JFK," Kenia said. The couple sipped cocktails at the hotel's swanky rooftop pool, bossa nova music competing with the roar of jet engines.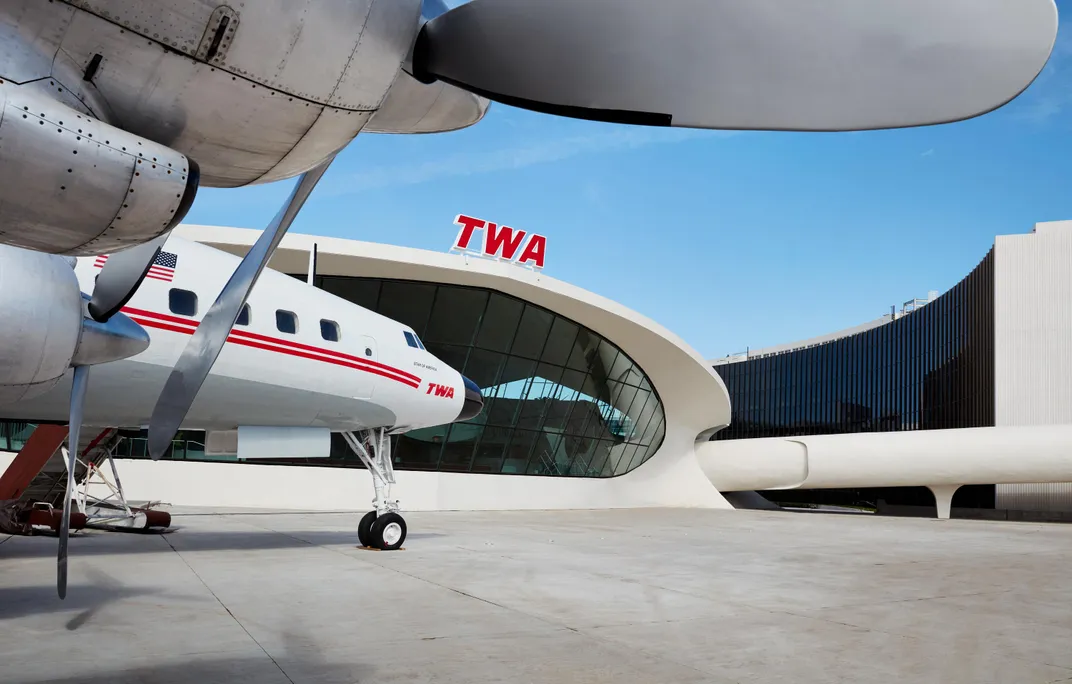 The Pool Bar is one of five within the TWA Hotel, but not the most buzzed-about. That would be "Connie," a repurposed Lockheed Constellation Starliner now serving as a cocktail lounge. Its post-TWA life included flying cargo to Prudhoe Bay, Alaska and delivering marijuana for a Colombian drug cartel. Connie was eventually abandoned in Honduras, and bought by Maine Coast Airlines owner Maurice Roundy for $150 in 1979. The airplane had been grounded until the TWA restoration began in early 2018.
Connie's hostesses, all wearing comfy red-and-white TWA tennis shoes, have the tough job of seating just a small percentage of folks who wander in, and answering aviation history questions from the vast majority of tourists who climb the steps to Connie's door. "Can I just take a look around?" one potential customer after another asks. The answer is always, "Yes."