Top Ten Shuttle Memories
Highlights from America's longest-lived space program.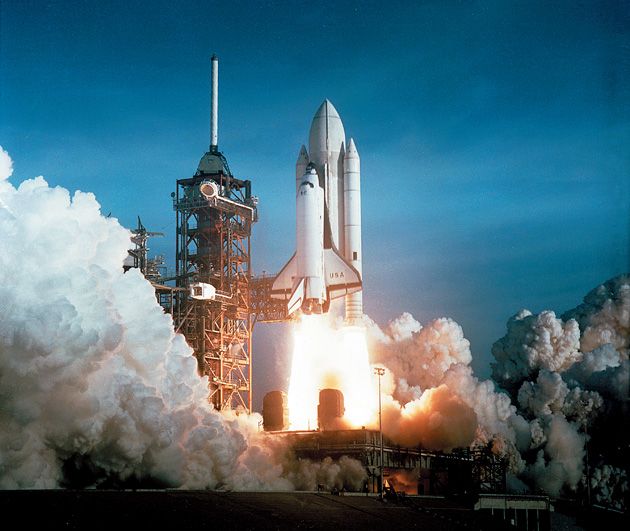 Almost from the beginning, the space shuttle was a victim of its own success. NASA set out to establish routine transportation to Earth orbit, and that's just what the shuttle became in the public eye—routine. The astronauts and flight directors knew different, but casual viewers could be forgiven if they tuned out space missions that all seemed alike, and were so well executed that they became predictable.

Occasionally, though, the public did tune in. There were the accidents, of course—Challenger in 1986 and Columbia in 2003. But beyond those tragedies, there were moments when the personalities, or the payloads, or the sheer beauty of the photos turned our attention to NASA's spaceplane and the people who flew it.

Here are 10 of those memorable moments, starting with the launch of the first shuttle, STS-1, in 1981 (above). No space vehicle had ever launched with astronauts on its first flight. And none is likely to do it again.

See the gallery below for more of our Top 10 Shuttle Moments. Let us know your favorites, and tell us which ones we missed.
STS-7: Ride's Ride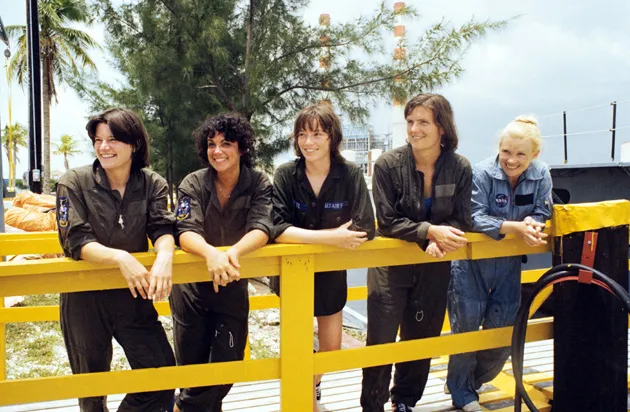 Sally Ride didn't much like her celebrity—it was a distraction from the work. But when she launched on June 18, 1983 as America's first woman in space, the public face of NASA's astronaut corps changed forever. Soon other pioneers, including Guy Bluford, the first African-American in space, and Kathy Sullivan, the first U.S. woman spacewalker, were knocking down more stereotypes. Here's Ride (far left) with fellow shuttle fliers Judy Resnik, Anna Fisher, Sullivan, and Rhea Seddon in 1978, the year they were selected as astronauts.
Untethered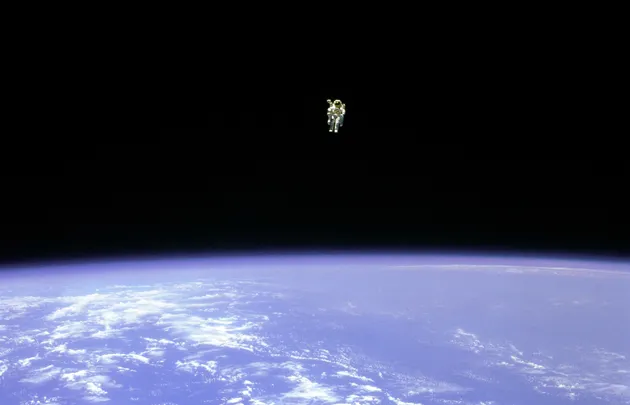 Bruce McCandless's solo test flight of the Manned Maneuvering Unit backpack, during mission STS-41B in February 1984, produced some of the shuttle program's most spectacular photos. The nitrogen gas-propelled jetpack, which McCandless helped to develop, allowed early shuttle astronauts to fly up to 100 yards from their vehicle without a tether. By 1985, though, the bulky MMUs had been retired. They were replaced by smaller backpacks on later spacewalks.
Satellite Salvage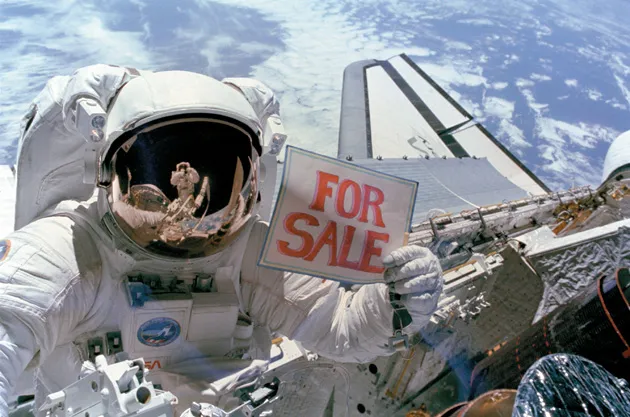 Some of the most dramatic early shuttle missions were salvage and repair operations. In November 1984 the crew of mission STS-51A retrieved two malfunctioning communications satellites in orbit, stowed them in Discovery's cargo bay, and brought them back to Earth to be refurbished and relaunched by new owners. The sign held by Dale Gardner neatly summed up NASA's early attempts at commercializing the shuttle.
Three on a Spacewalk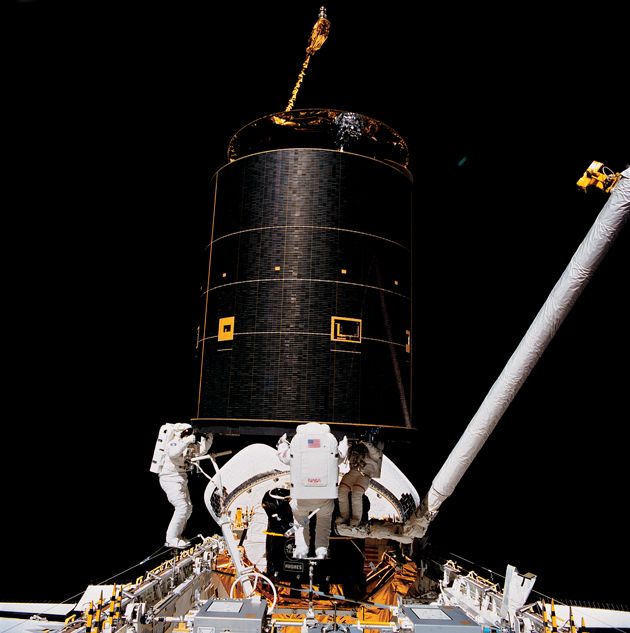 When a planned one-man capture of the Intelsat VI satellite failed during the STS-49 mission, the astronauts themselves came up with an improvised plan for three people to manually grab the 9,000-pound spacecraft and stow it in Endeavour's cargo bay. The successful spacewalk by Rick Hieb, Pierre Thuot, and Tom Akers on May 13, 1992 is still the only time three astronauts have ventured outside their spacecraft at the same time.
Fixing Hubble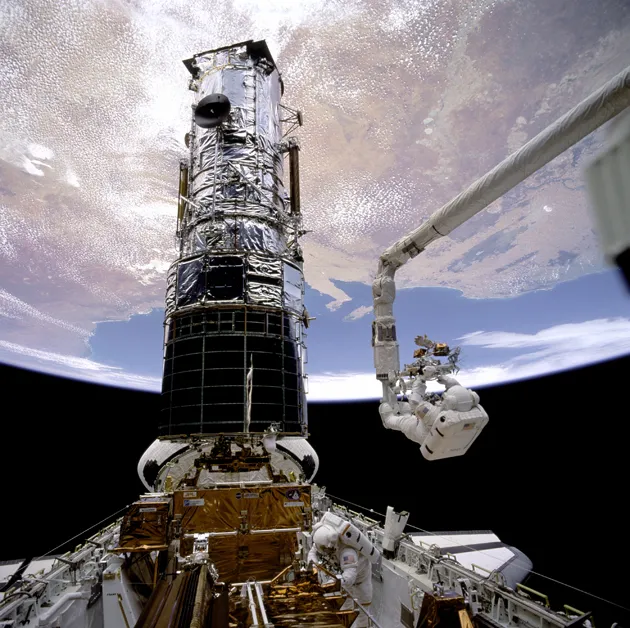 More people probably remember the December 1993 mission to repair the Hubble Space Telescope than recall its launch three years earlier. That's because the stakes were so high. NASA managers were mortified by a flaw in the multibillion-dollar telescope's mirror that blurred its vision and gave the agency a black eye in the press. But after engineers on the ground devised a package of corrective optics, a spacewalking team led by veteran astronaut Story Musgrave (pictured) was able to restore Hubble's sight on mission STS-61.
Stuck on a Space Station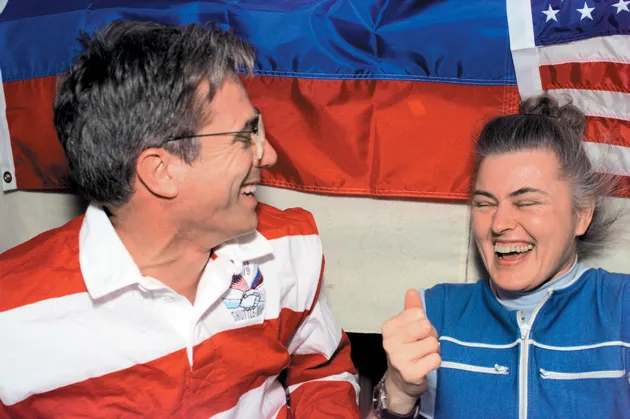 Something about Shannon Lucid's saga won the public's affection. With her easy manner and her cravings for M&Ms and books, the 53-year-old grandmother became a minor celebrity when she was temporarily "stranded" on the Russian Mir space station due to shuttle launch delays. Actually, her stay was extended by only a few weeks, and she finally came home with the STS-79 shuttle crew in September 1996. Here she shares a laugh onboard Mir with her NASA replacement, John Blaha.
First Female Shuttle Commander
Sixteen years after Sally Ride's pioneering STS-7 flight, former Air Force test pilot Eileen Collins became the first woman to command a space shuttle mission, on STS-93 in July 1999. Only one other woman beside Collins (shown with her daughter after the landing) became a shuttle commander—Pam Melroy. But the shuttle era ended with a woman, Peggy Whitson, as NASA's chief astronaut.
A Hero's Return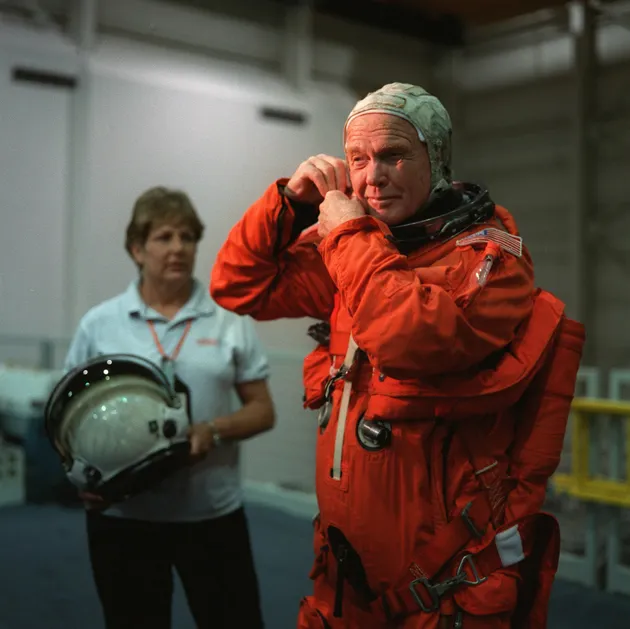 John Glenn made two voyages to space. The first was in 1962, when he orbited alone in the Friendship 7 Mercury capsule. The second was in October 1998, when the 77-year-old ex-Senator launched with the crew of STS-95. NASA medical experts devised a list of experiments for Glenn to perform, but most considered the flight a victory lap for the aging hero. And no one seemed to mind.
Seeds of a Space Station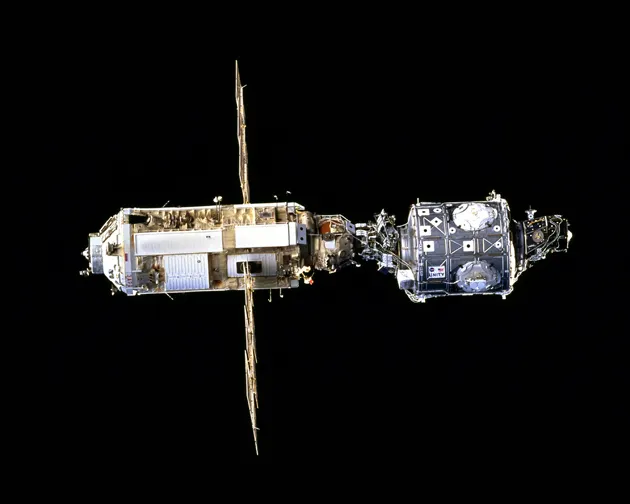 Construction of the International Space Station in orbit was a monumental achievement that lasted more than a decade and involved thousands of engineers, mission planners and astronauts. But it started with a single moment—the joining of the U.S. Unity module (right) and the Russian Zarya module on December 6, 1998, during mission STS-88. By the time the station was completed in 2011, the orbiting lab would weigh a million pounds and stretch the length of a football field.